Collecting Avant-Garde Fashion
The Fashion Collector-Turned-Dealer Octavius La Rosa
Interview:

Adam Wray

Photography:

Victoria Rebelo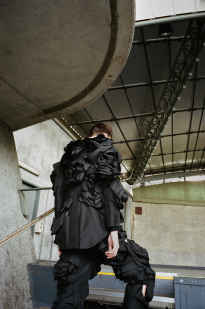 Even over a grainy Skype connection, Octavius La Rosa's outfit is arresting. "It's Comme des Garçons, from Summer 2000. Probably the most famous menswear pieces are the patchworks from that season."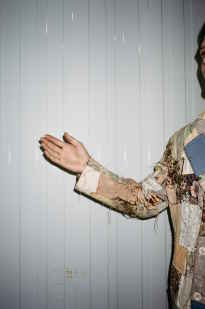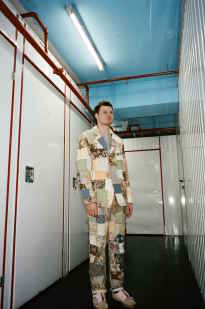 "It's tapestry fabrics from the 18th century, but done in patchwork like rags." He is wearing a coat from his extensive personal archive of avant-garde designer garments, a collection built steadily over the past decade. What began as a teenage fascination with the brash, inventive work of Walter van Beirendonck and Bernard Willhelm snowballed into passion project and, eventually, a business. The 25-year-old La Rosa operates Dot COMME, a Melbourne-based boutique and online store that deals vintage items from a small group group of Japanese and European designers, with a particular focus on Comme des Garçons. Dot COMME acts as a hub for aficionados worldwide and an important resource for the fashion community at large—La Rosa has sold pieces to museums and regularly fields borrowing requests from stylists, publications, and art galleries. In a medium fixated on constant churn, labors of love like La Rosa's function as important links to fashion's recent past.
La Rosa spoke with Adam Wray about the origins of his obsession, its transition into a business, and the importance of archiving.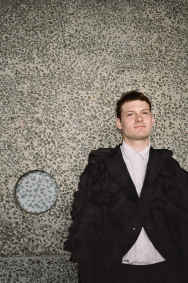 Where did your fascination with the Comme des Garçons brand family come from?
It came from a trip to Japan I took when I was 16. I was already interested in some of the Belgian designers like Walter Van Beirendonck and Bernard Willhelm, but that was the first time I saw the Japanese designers. I went with a friend who was probably not as interested as me so I did a lot of shopping on my own. I'd saved up lots of money and I kind of went crazy. And then I started doing research when I got back, looking up all the old collections.
Were there any particular resources that were especially key for you in developing this body of knowledge?
The most important thing was videos. Watching the collections over and over again. I learned them off by heart, and that really helped me, because now I can identify any piece at any time just by looking at it. The number one tool is just seeing the clothes in person. You learn so much just by touching the fabrics. You get to know what kind of fabrics they used at what times, that kind of thing. You can date them very easily, because they used certain fabrics in certain periods, and used certain buttons, certain details.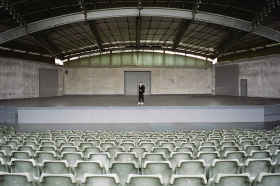 Which pieces from that first trip really struck you?
There were two that I remember really well. There was an Issey leather bomber jacket with a nylon insert that you could zip out and wear the two pieces separately. You could wear it, like, 20 different ways. I got it at Kinji in Harajuku, which is like a giant thrift store. The other one was this long, plaid trench coat from Comme. It was so good, I wore it so much. It was made out of lightweight cotton and had a colourful plaid design on the bias. That I got from this random shop in Shinjuku which had so much Comme and Yohji. I don't think it's there anymore because I've never been able to find it again.
You mentioned that before this trip you were into certain avant-garde designers already. How did you get turned onto them?
It was just from being on the internet, online shopping. I didn't know anyone else who was interested in it. Somehow I stumbled upon these guys from Belgium, and I was just mind-blown, like, another world. I had no idea clothes could be that out there and make that much of a statement. I was interested in fashion, but when I found those designers, I became obsessed. I'm a bit obsessive. Once I get ahold of something, I want to know everything about it. When I was a kid I collected money and stamps. Certain people have the collector in them. I don't know where it comes from, but I know I've got it. Meeting other collectors and talking to them, it's funny, I can sort of see myself in them. They've got the same crazy habits. It's something that you've got or not, I guess.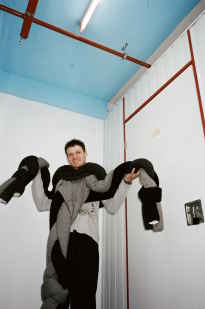 Do you think the ease of access to imagery and information that we've got today creates more collectors?
Definitely. People are seeing more of the importance of hanging onto the old pieces and looking back at the old collections. They want to go back. Stylists and design houses are building their own archives, to look back. It's important to understand the history.
At what point in your collecting did you realize that you had a full-on obsession?
Probably when I'd accumulated about 150 pieces. It was really starting to add up. I moved it into a spare room, and then I started selling it on eBay, just to make some extra cash, and it really took off from there, because at the time there was no one selling much Comme on eBay. Now, there's a ton of it, but it went really well back then. That's what helped me grow the business. I started three years ago. After about a year and half, I launched the online store, and then I opened the brick-and-mortar shop. It's fantastic to see all the pieces hanging, and getting to meet the people who appreciate them so much. I really enjoy that. At the same time, it's hard to see some pieces go, and also, here in Melbourne, the more out there pieces don't really sell, both because of the price point, and, well, because they're really out there. I keep them in storage. The store is more everyday stuff. Unfortunately there are some fabrics which just don't keep very well, especially the 90s techno fabrics like plastics and vinyls. Not much you can do with those as they will just disintegrate over time.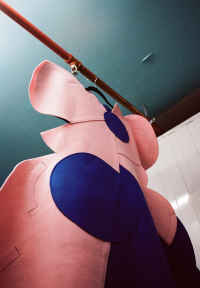 Did your approach to collecting change once you began running the business?
It definitely changed. A lot of the pieces I was buying for myself were not really what other people were interested in. I learned that pretty fast. I continued to collect those pieces for myself and started buying more easy-to-wear pieces that would appeal to a broader audience. Now I sell the more collectable pieces online and have a more wearable selection in the brick-and-mortar store where the turnover is much higher.
Melbourne is obviously quite far removed from the traditional fashion capitals. Is that isolation actually kind of important?
I think I could've done it overseas, as well, but I like being here in Melbourne. It's nice adding something to the community here. It feels good. People in Melbourne really appreciate this.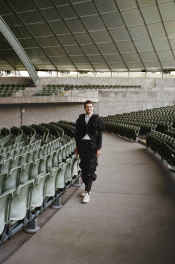 You did a pop-up in Paris recently.
It was through a customer. His good friend runs a space in Paris, and we went from there. It went fantastically. I wasn't expecting anything, really. I was like, "Whatever, it's just a good experience." But it was fashion week, word spread around, and so many people came by. The space was so cool. It was in an underground carpark next to the Place de Vendôme. You'd press a buzzer and the doors would open up and you'd walk down into the space and get lost in there.
What is it about Comme des Garçons that attracts you to the work?
A certain sense of freedom. When I wear the clothes, I feel good about myself, like I'm ready to tackle the day. I don't know why I'm so attracted to them.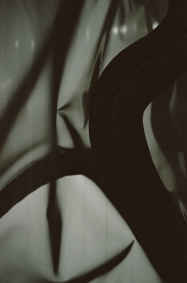 You must be able to tell every time someone is referencing Comme, which happens all the time.
When you pick out a Comme reference from a newer collection from another designer, how do you feel? Is it, like, "ah-ha!", someone communicating to you in a secret language?
As long as it's not too obvious a reference. If it's really obvious, it's, like, "Come on." But that's just the natural progression of things—you take something from somewhere else and give it a fresh spin.
Are there any new, up-and-coming designers that you particularly like?
I like Craig Green. I think he's my favourite of the young designers. His work has an ease to it. I love that he has a very unique aesthetic that he sticks to. They are clean, bold, effortless clothes that just make you want to wear them.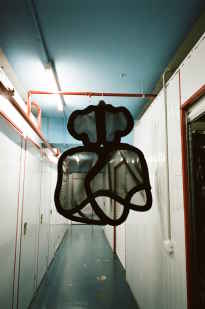 Is there a common thread that unites the designers you collect?
They all do totally their own thing and they're not at all influenced by what anyone else is doing or by trends.
Are there any particular pieces or collections from the designers you collect that you feel are really under-appreciated or under-collected?
Comme's collections are always well-received, so it's hard to pick one that wasn't. Walter totally went off the radar after doing his W< brand. He was hardly making any money, he went bankrupt. His early collections after that are some of my favorites. Spring/Summer 2001 was all dissected clothes. They were, like, 10, 15 layers, and had cutouts all over them and you could see all the different fabrics underneath. Oh my God, they were some of my favourite pieces ever from anyone, but I don't think anything was made from that collection. I think it was just his personal art project. He hand-painted some of them, as well. Walter is left-of-field. A lot of people really respect him as a designer, but they're not necessarily going to wear one of his crazy jackets. Walter's not interested in changing to become more commercial. He's been doing it for so many years now. I'm sure he understands very well that to make a lot of money he needs to water down his stuff, but he still continues to make crazy stuff.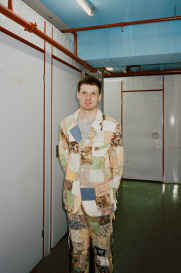 Have you gotten any feedback from any of these designers on your work?
Walter is the only one I'm really in contact with and he's very supportive and has been from the start. He recommended us to Opening Ceremony as the store to get his archive stuff from. He's been a great support.
What are your ultimate aspirations for your private collection?
Just keep building it. I can't see an end point. I want it to be of museum quality. That's the goal. Just keep improving it.
Do you see this collection as more of a personal project, or have you at any point stepped back and started to look at it as a service you're providing?
It's definitely a personal thing. If I wasn't interested anymore I'd stop doing it, but it's my life. I want to keep finding stuff, and learn more, learn everything. I'm driven. It's not even so much about the business side of things—that's just what I have to do to continue collecting.
Interview:

Adam Wray

Photography:

Victoria Rebelo