Eytys Reveals the Anatomy of a Classic
Text:

Gary Warnett

Photography:

Haw-lin Services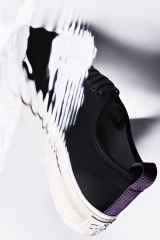 New Icons celebrates the stories behind particularly notable pieces from this season.
Behind the most efficient exercises in simplicity, there's an elusive process that's complex. Anyone can throw details, patterns, and reference points at a shoe, but forging an identity with an uncomplicated silhouette is a tougher affair. Apparent ease betrays the ingenuity of a product's genesis. Stockholm's Eytys, launched by Max Schiller and Jonathan Hirschfeld in 2013, made its mark with the Mother shoe. It is appropriately maternal in its name, birthing other carefully conceived models, all of which are immediately recognizable from a distance. But where do you start when it comes to creating your own iconic staple? For high-end brands, merely aping an old favorite in premium materials seems to be enough. In a more affordable and covetable indie sector of the market, however, applying your own aesthetic is essential.
The Mother's curious 50:50 split between upper and sole is hard to miss. It's not a seemingly ominous creeper-sneaker hybrid, rather a faintly amplified throwback to the days of abundant vulcanised rubber on heavy basics—a time when rubber companies launched their in-house footwear companies. Schiller and Hirschfeld's creation owes a little to the circular Oxford design that any American sneaker brand of the 50s and 60s kept in their range. The Mother's parents, both children of the 80s, have made no secret of their admiration for that era of weighty, wearable US-made deadstock. A small strap at the heel highlights the shape, bringing some 90s tech cues to the Eytys vision. Hidden from view inside the shoe is a cork insole that evokes German orthopaedic classics. It's only clear that you're wearing a greatest hits of connoisseur footwear when they're on the foot—it isn't just another tribute act.
Looking at Eytys' website or Instagram feed reveals an insatiable appetite for cultural references: raw and militant sculpture by Dennis Oppenheim; black and white girls of grime; a glossy Britney Spears portrait; Run-D.M.C's 'Back From Hell' neon shell-suit phase. At its most iconic, the footwear that defined those worlds complemented the looks rather than competed to match their excess. Neither ostentatious nor anonymous is something of a tightrope routine for a designer. In a world where iconic status seems to be fast-tracked by online hyperbole, it's too early to afford classic status to the Mother. That said, versatility and uniformity create an infinite canvas—simple shoes from busy minds will always win.
Text:

Gary Warnett

Photography:

Haw-lin Services