A Studio Visit with Denim Painter Korakrit Arunanondchai in New York
文:

Thom Bettridge

写真:

Korakrit Arunanondchai

"Now everyone is connected," artist Korakrit Arunanondchai says, sitting at his desk on Manhattan's Lower East Side. The exclamation points to a landscape where abstract painting, smartphone screens, and faded denim have become the surface of a new global language. After doing his first museum show at New York's PS1 at the age of 27, the Thai-born Arunanondchai has become notorious for his must-see performances, which often feature him shirtless and covered in paint, rapping in front of an all-denim-clad posse he calls the "Bangkok Boys."
His body paintings are a two-fold reference to 1960s action painting and an act from Thailand's Got Talent. He appears in his own video epics sometimes as a pensive wanderer, sometimes as a Top 40 hip hop star. Awash in this complex lexicon, Arunanondchai describes himself as a "denim painter." The dark blue cloth can be found bleached and burned in Arunanondchai's paintings, in the pillows and walls in his sculptural environments, and in the costumes in his performances and videos. It is the fabric of a global uniform, as well as the productive base of the artist's work.
Thom Bettridge spoke with Korakrit Arunanondchai in New York City about Thai weddings, denim, and his most recent film Painting with History in a Room Filled with People with Funny Names 3.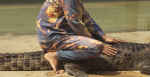 Thom Bettridge
Korakrit Arunanondchai
I went to see The Revenant yesterday. The new Leo movie.
I feel like they really want him to win the Oscar.
They're setting him up for it.
The movie is really punishing. It punishes Leo as it punishes you. It's made to feel really long, you know? The camera moves are so insane. They were in the forest shooting for a month, waiting for the perfect light. But it's more about the picture than the movie.
You've been making films for the past couple of years. But you began as a painter, no?
When I was younger, in Thailand, I drew manga. But I feel like when you're young and you're in Asia, everyone draws manga. And then blah, blah, blah, I did some "AP Art" type thing and I went to RISD, where I did a t-shirt class when I was a freshman. I was really good at it. At the time, graphic tees were a thing. In Providence back then there was this new psychedelic movement—like the artist Jim Drain, and this kind of Deitch Projects circa 2005 underground comic vibe. I feel like that was the spirit of RISD, to the point where even a certain part of Ryan Trecartin comes from that. But then it transitioned onto the Internet. The bubble wasn't a bubble anymore.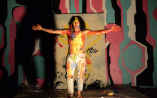 And people started going to New York. RISD was a weird moment of utopia. Coming from Thailand, I wasn't super happy. I felt like everything was really strict and limited. I didn't ever think that I could be an artist there.
You're going to Thailand this week.
For my brother's wedding reception. I'm at that age now where all my friends in Thailand are getting married. I feel like social media has really pushed marriage to an extreme. In America, it seems more chill. Maybe you have a video of your cousin singing or whatever. For a lot of my friends getting married in Thailand, it's such a production.
When my brother proposed it was like this sped-up reality TV show. And the crazy thing is that this isn't rare! There's a song that my brother used to propose to his wife, that's like this Bruno Mars "Will you marry me?" type song.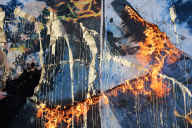 With my brother, we were in this restaurant. I was there filming. And there are like nine GoPros hidden around the restaurant. He rented out the whole restaurant and he had this flash mob. And the whole time there were two cameramen, and she was the only one who didn't see all these cameras. So it's like this weird reality TV show. And then everyone in the restaurant just started dancing.
And that's when he proposed.
My brother asked me to make nine paintings for his wedding. And now they're used as kind of like the theme to the wedding. Little elements, like denim.
You describe yourself as a "denim painter," and almost all of your paintings and videos feature jeans in some capacity. Why has denim become such a fixation?
It's almost like normcore, where I wanted to find something that existed everywhere.
In the world of Levi's commercials, denim is the fabric of freedom and youth.
I got pulled into denim on a more superficial level. I was working with this idea of general abstraction. Like, let's say you look at bleached denim and you're like, "This is the sky!" And you think about how you look at clouds and you see this or that. Or it also happens with fire, or other cheesy things like that. They're abstractions, but they reflect on you more than what they are.
Like seeing Jesus in a piece of toast.
Yeah. And I was looking into Photoshop, looking at how when you lay inverted images onto each other, they disappear. I was trying to map these things onto the physical world. Bleached denim and fire had these qualities. But also the right color. Fire in a photo is black and red, and bleached denim is white and blue. They're exactly inverted from each other. So if you put them over each other in Photoshop, it just turns into something transparent. It turns into nothing. And then in real life the fire burns the denim.
So together they become something truly abstract. Something immaterial.
This was in 2011. And it felt like denim was really coming back. I liked this idea of connecting to the mass. Then I went back to Thailand and everyone is wearing denim, all class types: my friends who were rich, my friends who weren't rich, the motorbike taxi driver, the lady at the supermarket.

Do you think denim is post-class, or post-nation?
In a superficial way, denim being everywhere is a sign of globalization. It's an interesting fabric for me, because it can trace many movements. Like my dad's parents migrated from China, and he worked in Chinatown in Thailand, and he couldn't afford denim until the British started to build factories in Hong Kong. In my dad's generation, if you had Levi's you were the shit. It was really expensive.
The denim you use in your videos is often second-hand. Worn jeans have this strange aura, like they've absorbed someone's life.
It's a physical bond. Denim is a recording of your physical movements, like a photograph with dye. It records a personal history. I picked denim because it was a productive ground for me to work on. If you think about the ground of a painting, it's canvas. The history of painting builds on canvas, and now this Western thing of Painting with a capital "P" is everywhere, specifically abstract painting. But it has its traits, its root in the West. I liked the idea of being different.
So painting on a different type of cloth was your way of starting a new ground.
Yeah, I thought of denim as this parallel thing to canvas.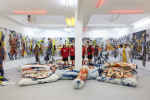 In your most recent film—Painting with History in a Room Filled with People with Funny Names 3—you appear as the star in your own rap video.
I like rapping because it's a place to put energy into as a performance. I don't have special performing skills, so when I perform I'm either imitating someone, or it's something I've done before like playing soccer or rapping. I wanted to somehow make this song about the city I'm from, and this kind of dates back to when I was going to all-boys school in Bangkok. The top four Christian all-boys schools had this soccer competition together, and it was this insane thing. You would go and do this group cheer in the stadium. I feel like that's this nice activity. Singing together. And there's something about this "for my city" rap song. It's kind of like a utopic moment of being together. I wanted to make a music video of this song, but I also wanted to make the shoot itself a kind of sculpture of a music video shoot. So the drone that was made for documenting the shoot becomes its own character in the film.
In the film, your monologue addresses this character named Chantri. Who is he, or she?
It could be a boy, or a girl. But it's this pining. Like, I'm away and I'm addressing this person maybe back in Thailand. Chantri is like a filter in the video for the audience. It creates this kind of closeness.

It's a conduit for your words.
It's like people who need Instagram to be real. Like, "I didn't know you were funny until you had Instagram."
Sometimes sharing something makes it real.
Yeah. I mean, like the drone in the movie is a kind of spirit. Now we have these powerful "pro-sumer" drones, like "consumer" and "producer" at the same time. So now everyone can afford to have the eye in the sky. Now everyone is connected.
It's like everyone is this demi-god.
And this eye in the sky is bringing us closer to this weird web of connection. It also brings us closer to the traumas that come with all that power.
文:

Thom Bettridge

写真:

Korakrit Arunanondchai