Wiz Khalifa Still Takes Himself Very Seriously
The Rapper, Dad, and Lovable Stoner is Practicing Muay Thai and Dropping a New Album
Text:

Judnick Mayard

Photography:

Emman Montalvan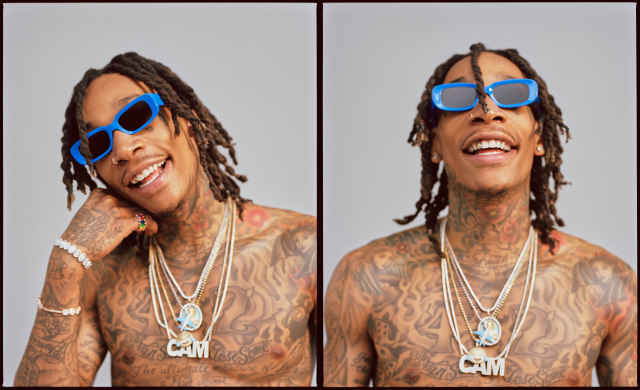 Wiz Khalifa is getting his locs twisted, a process that involves little more than sitting up straight in a chair for an hour or so while being tended to by two skilled Black hair stylists. A few years ago, his hair was blonde dipped and brightly colored—on trend with 60% of the young rap game—but today it's natural brown. The choice may be unconscious but one could say the look has followed the lifestyle. Last September, the towering rapper turned 30. I ask him what it feels like and he approaches it with the same casualness he approaches everything. "For me, it's like a smooth transitional period. I just wish I could erase everything [before]. It's like a new life type thing. I feel fresh.
This July, Khalifa is slated to release a new album, Rolling Papers 2. It will be his sixth LP and his first since 2014. It also marks twelve years that Wiz has been recognized as a noted rapper—he's had his dream job for almost half his life. The Cameron Thomaz that left Pittsburgh for fame in the early 2000s was a skinny stoner who rapped and laughed his way to stardom. But the Wiz that sits before me is not just physically heavier—"I was tired of being small," he says of his recent Muay Thai training weight gain. He's also divorced and co-parenting his son, Sebastian, with ex-wife Amber Rose.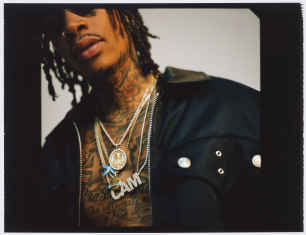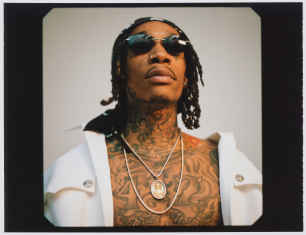 So, what has actually changed about his inner life? "I think I'm becoming more structured [and] civilized. I say civilized because when you're rapping and on tour, you don't live a normal life and it's hard for people who do what I do to like turn that off. I never had a normal childhood where I was playing with my friends. I was always working and grinding, tryna establish this shit. Now I have more of a normal routine." This lifestyle also happens to be more conducive to his family life: "My son, he's five now, so spending time with him is much more hands-on. It's forced a balance between beast mode and a civilized version of myself."
His release date arrived by Instagram post, a video of him bowling with the caption, "I'm good at everything!! My album comes out July 13." In person, this same confidence is part of Wiz's charm. He describes the album as "legendary but everything I do is legendary." His sense of self seems infallible but he presents no air of arrogance; nothing about him comes off as fake or performative. For him, the new full length matches his current mindset: affirmed, assured, and still eager for new things. The few tracks I hear are compact and filled with the swagger of his style but with a voice so distorted at times you forget it's him. His lead single "Real Rich" with Gucci Mane is just over 2 minutes and Wiz sings at a pace that isn't the now-overworked "Migos" triplet time. It's free flowing. More focused on narrative and melodic texture. He claims it is a return to form. "At first when I started I wanted it to be something that's really current [sonically]. I really wanted to establish who I am right now in the game."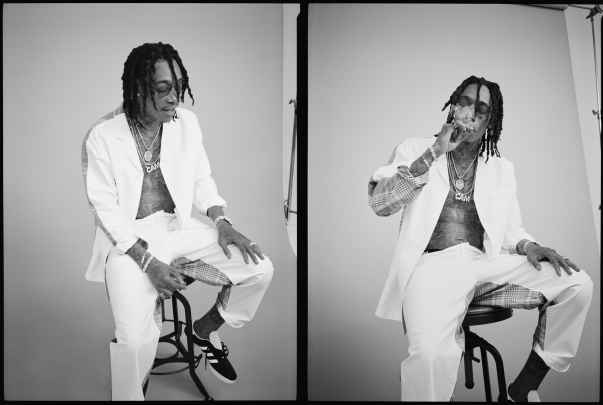 The mistakes and obstacles of your twenties serve as a GPS for the rest of adulting, not just by plotting out the landmines, but reminding you that you've survived them and will again. Wiz's twenties were an entire rockstar career: two record deals, five albums, a three year marriage, 10 Grammy noms, even a Golden Globe nod for one of the most recognizable singles in music history. (Look up any performance of "See You Again"—the best selling song of 2015—in any country and you'll see what I mean.)
In recent years, critics have accused Khalifa of phoning it in but Wiz's fans remain TaylorGangOrDie. How does he maintain such a solid grip on his base? "I know that people are attracted to my music and that they love my music but they just love my personality as well. And that's where I'm really consistent. You can always catch me being me [and] I'm really fortunate that's what people look forward to, as opposed to a car or a chain. As long as I'm still bringing that message across and bettering myself, they want me to continue to do that."
Still, more and more rappers are distancing themselves from the title of "just artist". Everyone wants to be an "&" or at the very least, dismiss that they just make rap. Wiz has forayed into acting and even holds court in fashion, but has never changed his job title. He chuckles when I ask him why. "[Because] I really love rap music, like, I'm a rap fan. These kids, they're not rap fans. They don't know the greats, they don't know the legends 'cause that shit takes over you. That shit took over my whole life and that's why I could never turn my back on [it]. My persona might be widespread; I might have a rockstar aura and my attitude might be that I don't give a fuck but lyricism, production, beats, fuckin' artwork like everything that goes into making real rap music: that's what we do."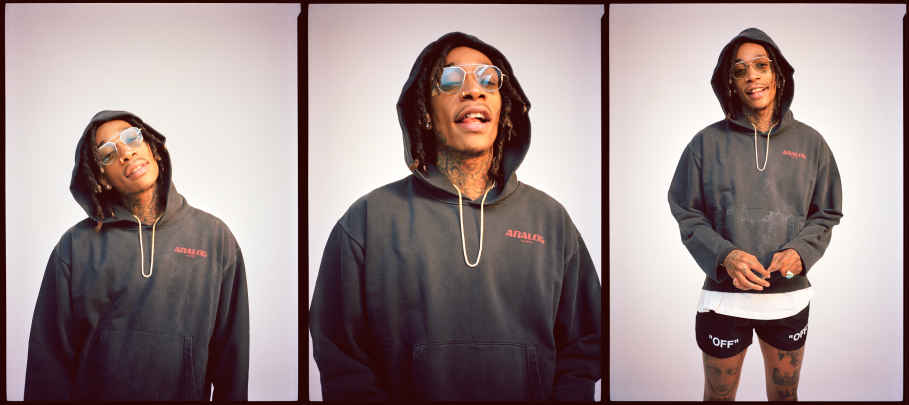 His new grounded lifestyle has rededicated Wiz to his art. He keeps a notebook with him at all times. "I wake up out of my sleep and write raps," he says, noting that smoking weed inhibits him from remembering his dreams specifically. He says he feels rejuvenated and refocused, writing songs that he really loves. "I'm really inspired because everything goes into the music and I don't wanna miss anything. Just being able to sit there, soak it up, listen to beats and say alright what's the concept instead of just saying 'oh alright this is a hard ass beat I'm just gon go over it'." He watches documentaries and old interviews of his favorite artists, from Wu-tang and Three 6 to Pink Floyd and James Brown. It's not new to him, but a continuation of all that inspired him in the first place.
Wiz Khalifa is the industry's lovable stoner, I ask him if the role has grown tiresome. "It's 50/50. Part of it is really getting to know me as a person and knowing the different dimensions of who I am and what I do. The tons of weed that I smoke is really interesting to people but when you break the layers down, listen to my music and [hear] what I'm saying, when you see how I interact with my family and see I'm with the same dudes since the beginning, you get to really be involved with more than just the weed." He's rolling a joint and sounding like a dad.
Wiz has been a long-time supporter of both legalization and decriminalization— "recreationalization," as he calls it. "It's good for me because I've been able to show people the upsides of it; taking it from the hippie thing to be more of a business and widely accepted thing. Because when you see me you know that I smoke weed but I can articulate myself really well and that automatically breaks down all the barriers like, 'OHH this mafucka can talk.'" The marijuana boom can be a bit unsettling especially for those who have been unfairly punished for similar practices but Wiz points out that the sharing of knowledge can only lead to the greater good. "When I pick up my kid from school they're like 'you know I don't wanna drink wine anymore. I just wanna smoke a little joint before I go to sleep. How can I [get some?]' I be like 'don't worry baby I gotchu.'" It's like some shit you see on TV: the mom, the straight-laced lady who bumps into the tatted-up rapper cuz she wants to smoke some weed, but that shit's really goin' on in real life and it's acceptable. More and more of 'em are not running away from it—they're running towards it." He's open about his smoking with his own son, "I just tell him, 'look, Daddy has to go smoke a joint.'"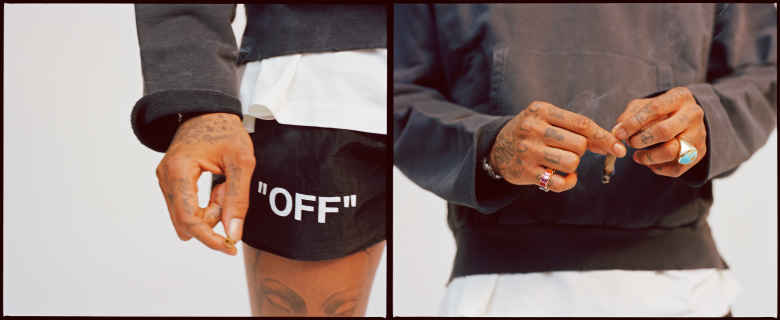 As for his appearance, the lanky rapper was well-known for his Saint Laurent white super skinny jeans and gaunt silhouette—who could forget his O.N.I.F.C. album cover in slim rock star pants and a fur. However, he recently bulked up. "It just felt like time," he says. Wiz was 140 lbs, gained thirty more fast, and began fighting Muay Thai. He loves his new body. "It's different because I'm curvier now and I think about that when I'm putting clothes on. Pants can't be too baggy around my thighs; I want to show my legs. [I] went up from like a 29 to a 34 and I'm able to have more options now."
"It's different because I'm curvier now and I think about that when I'm putting clothes on."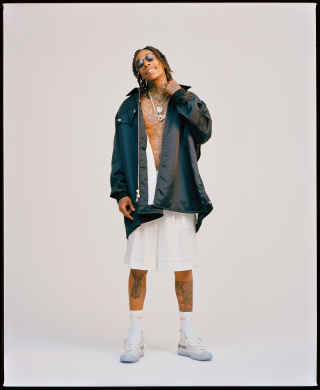 A few years ago, I met Wiz while working on a short tour he was co-headlining. Our first meeting was completely unexpected; he knew my name though we had not been introduced. But it was genuine and warm—there was a hug, I recall. A few shows later I met the women of his family, a gaggle of aunties as tall and as funny as he was. I realized then that Wiz's sense of self comes from never leaving his tribe. He may have left his bubble but he brought his people (and his standards) with him. Wiz speaks of himself as part of that community, and now, extends that consideration to his industry. He speaks with an intent to continue that line of thinking, as seriously as he did when he was still striving for it all, but with the calm of having already enjoyed all the highs.
Judnick Mayard is a screenwriter and producer living in Los Angeles.
Text:

Judnick Mayard

Photography:

Emman Montalvan

Producer:

Rebecca Hearn

Styling:

Lauren Matos

Video:

Lidia Nikinova

Grooming:

Tracy Love