No One Sees NYC Quite Like Jamel Shabazz
Reexamining the Latest Book From One of New York's Most Important Visual Chroniclers
Text:

Max Lakin

Photography:

Jamel Shabazz // Damiani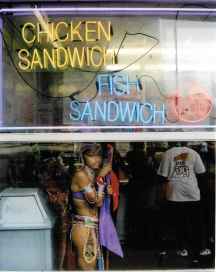 In Jamel Shabazz's 1992 photo "ManChild in a Promised Land," a boy stands alone on a mottled Red Hook sidewalk. He faces away, looking out over the Red Hook Houses, the Gowanus Expressway in the distance and the Manhattan skyline beyond it. Made in black and white, the image is quietly potent. Nothing feels incidental. An American flag and a Pan-African flag are bifurcated by the No Standing Any Time sign to which the boy clings, making it clear that part of the promise we're talking about is discord—the inheritance of a fragmented society. The picture isn't a self-portrait, but Shabazz, who was born in Brooklyn and lived for a time in the low rises, told me he thinks of it as one.
Since 1980, when Shabazz began photographing in New York, his practice has returned to a simple question: how do communities of color survive in a city that largely neglects them? A large part of Shabazz's work is located in a particular moment in the city's history, between the supernova of hip-hop and the crest of the crack epidemic. Shabazz approached photography as outreach, an attempt to tether those left behind to the weft of the civic fabric, eventually forming an ebullient tapestry of the city's social structures. His work was indispensable in capturing the look and feel of the city in the early days of hip-hop.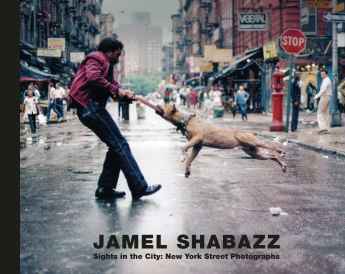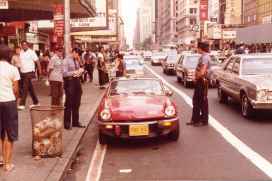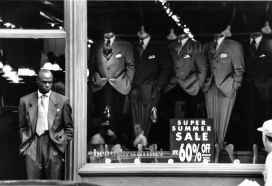 His most recent book, Sights in the City: New York Street Photographs, includes images from Shabazz's seminal Back in the Days and its follow-up, A Time Before Crack, now-classic collections of portraits of black and Latino youth assembled into stately and often elaborate tableaux, but moves beyond that period. It expands on a suite of previously unpublished and unposed pictures from 1980 to 2016, images which edge into the social realist strain of street photography set out by Robert Frank and Gordon Parks. Sights came out last year but didn't receive nearly enough attention, perhaps because its subject matter is far heavier than that for which Shabazz first gained recognition.
The book takes its title from a Guru (of Gang Starr) song of the same name, a fizzy cut buoyed by a jazz sax riff that belies its bleak subject matter: pimps, incarceration, gun violence, diminished prospects. Carleen Anderson croons the hook: "Sights in the city got people cryin'." Shabazz told me that he never met Guru, but it was always his interest to connect with him: "There was killing going on, there was a lot of despair, and pain, and I was seeing that. So when I hear the song, it reminds me of my journey, traveling throughout the city. The hope wasn't really there, just a lot of anguish."
In Sights, Shabazz offers something of a State of the City address for the last 40 years—a nuanced recognition of street life that matches the tone of Guru's song. Scenes from Dave Chappelle's 2004 Bed-Stuy block party fold into Veterans' Day parades. The spectres of racism and disenfranchisement frequently intervene. "Invisible Men," a 1997 picture of men in Fort Greene, invokes Ellison; taken from behind, their faces remain obscured. Images of police, which figure often here, resonate 30 years after they were made. "Black and Blue," taken in Times Square in 1981, finds three black NYPD officers commiserating on the sidewalk, their relaxed composure finding tension with another image, taken a year earlier, of two white officers holding a black man's head against the hood of his car, or another still, "Driving While Black" (Times Square, 1982), of two white officers pulling over a black driver in a sporty red convertible.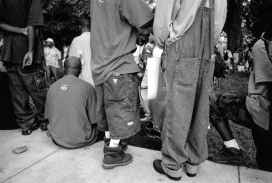 The twinned elements of social commentary and advocacy that center a Shabazz picture can be subtler, too. Two photographs taken in 1998 depict black men in impeccable tailoring against shop window backdrops. They recall the poised Harlem Renaissance subjects of James Van Der Zee, or those midcentury ones of Roy DeCarava, images of black well-being meant as a corrective to cynical stereotypes. Shabazz worked as a correctional officer at Rikers Island in the 1980s and 90s, and the function of his pictures can be viewed likewise: a deliberate, exalting counterweight to the dehumanizing and anonymizing effect incarceration takes not just on those who are locked up, but on the communities from which they're made absent.
"I've always been drawn to the storefront window," Shabazz says. "It became a part of the narrative: stigmatization of dress, the other side of black men who dress well, a sense of honor and dignity." A picture made 18 years later, of a window case in Downtown Brooklyn displaying a kaleidoscopic prism of hijabs, confronts another stigmatized garment.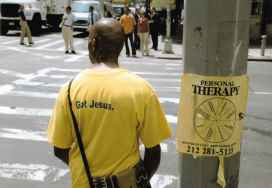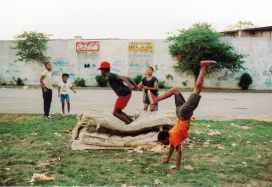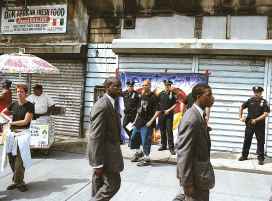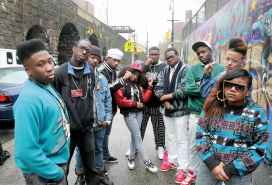 By 2010, the hip-hop culture Shabazz had photographed in its infancy had permeated deep enough to support a revivalist strain, which Shabazz captured, too. A picture taken that year, "The Original Retro Kids at 106 and Park Avenue," shows a throng of teens decked in Cazal frames, door knocker earrings, and hi-top fades. One wears a cassette tape as a necklace. It's a knowing wink at the kind of imagery Shabazz is most immediately associated with, and often pigeonholed for. In 2016, he shot a Puma campaign featuring Kylie Jenner and Rae Sremmurd that lifted some of the same signifiers and poses—oversize frames, Kangol hats, a low crouch with a hand resting at the temple—but which made use of a fabricated subway car set and facsimile graffiti tags.
These aesthetic cues are largely absent in Sights in the City, but the active humanism that propels Shabazz's images of street life remains, orienting them along a through-line from Flatbush in 1982 to Jamaica, Queens in 1998, to SoHo in 2006. In this way, even the most famous of Shabazz's pictures are seen with fresh eyes. A particular treat is the inclusion of previously unseen frames taken alongside "Flying High," an artful 1982 image of kids using a heap of discarded mattresses in Brownsville as a makeshift playground. "Determination" and "Preparation" extend the original scene (recently on view in the Whitney's permanent collection showcase "Human Interest: Portraits From the Whitney's Collection") and recast it as a triptych, a meditation on the city's socioeconomic tenor in the grip of Reaganomics.
Shabazz was the subject of a 2013 documentary by Charlie Ahearn, who made the foundational hip-hop document Wild Style. In it, Ahearn trails Shabazz as he bounds excitedly through parades for Veterans Day, Hispanic Heritage Day, and West Indian Day, feeding off the energies of the crowds and channeling it back into his subjects. The fruits of Shabazz's exercise, seen in a sequence of images in Sights in the City, corroborate his enthusiasm. Shabazz shoots his subjects—military personnel, Panamanian drumlines, St. Lucian girls—sometimes stoically, in sober black and white, other times effusively and in florid color. In all of these, there is a graceful recognition of complexity. Guru's track may have been meant as an analog for Shabazz's photos, but it's also their Polaris: a lucid vision freighted by morality but not crushed by it.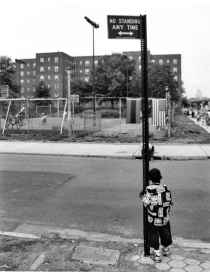 Max Lakin is a journalist in New York City. His writing has also appeared in T: The New York Times Style Magazine, GARAGE, The New Yorker, and more.
Text:

Max Lakin

Photography:

Jamel Shabazz // Damiani