The L.A. R&B Singer Is on the Edge of Superstardom
Text:

Rebecca Haithcoat

Photography:

Andrew Arthur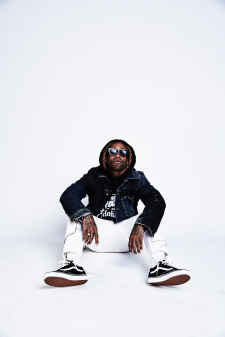 Smartfood popcorn, cheddar flavor (1 bag)
Lay's Kettle Cooked potato chips, jalapeno flavor (1 bag)
Stacey's pita chips, flavor undetermined (1 bag)
Hummus, hummus flavor (1 container)
Doritos, doritos flavor (1 bag)
An assortment of Clif bars that no one is eating (someone took home a stash)
A selection of fruit like cantaloupe, honeydew, pineapple (two containers)
A selection of veggies like carrots, celery, grape tomatoes (one container, plus a ramekin of ranch dressing, because how else could anyone eat celery?)
Oreo chocolate sandwich cookies, Double Stuf (1 rapidly disappearing tray)
Bottles of water
Take-out chicken wings
Even by pre-teen sleepover standards, Ty Dolla $ign's tour rider is modest. No rock-star-ridiculous requests like flower-scented fabric, specific varietals of oysters, or seven dressing rooms. It's Friday afternoon in downtown Los Angeles' industrial warehouse district, and the 32-year-old singer, producer, and multi-instrumentalist is dressed down in his standard white t-shirt, cropped chinos, and Vans. He's slipped away from his hair braider momentarily, who's been twisting some tendrils of his mid-chest-length hair together and cooking other foil-covered strands in bleach, in order to grab a few of the wings that have just been delivered.
The most decadent item on his rider is an uncorked, limited edition bottle of Don Julio Anejo Tequila 1942. He's also asked for a package of Cottonelle wet wipes, which he claims is his "most bougie" request. "In case I have to take a shit," he explains.
He pauses, contemplating the amber nip of fancy tequila that's just been handed to him.
"Toilet paper. Shit. I think it is time for me to get a little bougier with this shit. Lil Wayne's rider says you have to build him a skate park," Ty says after a sip. A glint materializes in the icy green pools of his eyes. "I'd probably order studio equipment, full set up. Speakers, keyboards, guitars, the full shit. I want the most expensive mics. Three of them just to choose from."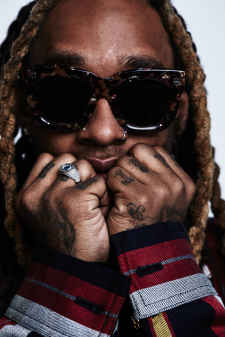 Ty has certainly earned some more ostentatious rider requests. Since the mid-aughts, the Los Angeles native born Tyrone William Griffin, Jr. has been pivotal in shaping the sound of modern pop music. As half of the duo Ty & Kory, he ushered in a new era of R&B with the release of 2008's Raw & Bangin, an apt term for today's unholy matrimony of rap and R&B. The same year, he met a young, local rapper named YG, and the two, along with producer DJ Mustard, were soon heralded as the architects of the new wave of "ratchet" music, a raunchy export from Baton Rouge's strip clubs whose bass-heavy bounce syncs perfectly with booty-popping. Led by the wavy "My Cabana," sung in his morning-after rasp, the 2012 mixtape Beach House introduced Ty to the rest of the country, and a torrent of giddy hits glorifying bacchanals capped with no-strings-attached sex followed. Features and co-writes on songs like Chris Brown's "Loyal" and Omarion's "Post To Be" and a critically-praised 2015 major label debut, Free TC, solidified Ty's reputation as the best and most consistent hook writer of the decade. His signature clipped, springy chorus helped make Fifth Harmony's "Work From Home" one of the biggest singles of 2016. Even Kanye West flew him out for sessions, landing him assists on The Life of Pablo.
Soon, Ty plans to drop a slew of new music, including Beach House 3, his second full-length. The record features a bunch of big names, including Skrillex—who just popped by the studio a few minutes ago to say hello—and John Mayer, who Ty describes as "a fucking monster." Accompanying the album is a short film inspired by Prince's Purple Rain that Ty says allows him to speak directly to his fans. During the making of Free TC, his label balked at his request to hire an orchestra, so Ty put up $60,000 of his own money. This time around, they gave him "a big-ass budget" just for the film.
It's nice and all, but Ty still hasn't attained his personal marker of success. He didn't name his upcoming album Beach House 3 because he ran out of ideas for titles. No, his private goal has always been to actually buy a beach house.
"Beach House really is a metaphor for success. When I was little, my mom would take me and my brother and my sister to this one little beach area and we always planned to build a house and get our own property. I was like, 'My room is going to be here, and the pool is going to be here…' Then my parents broke up. But I never forgot that. I always kept that dream."
He's closer to it now than ever before. "Beach House 2 had samples of Skrillex, and now I've got the real Skrillex on Beach House 3. All that hard work started falling into place and I started rolling with it," Ty says.
But until he's got the keys in hand, that's all it is: a dream.
"You're kind of in control, but you're never in control. Life is reckless, don't ever fucking forget that. Anybody can come up. Anybody can fall."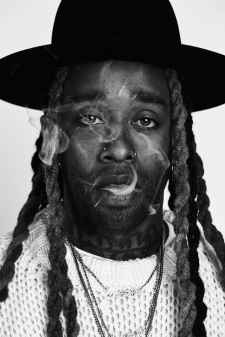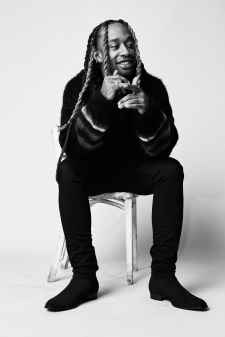 Tyrone Griffin, Sr. realized his son was gifted when he was a toddler. A session musician and touring member of funk band Lakeside, Tyrone Sr. was working on a song for Jermaine Jackson when he stepped away to go to the bathroom. He returned to find four-year-old Ty at the keyboard plucking out the part.
"I always played by ear. I realized what a C-sharp is. I could see this shit in my brain before I ever touched a guitar or piano," he says.
Growing up in Los Angeles, Ty was surrounded by music. His father owned a music store and knew plenty of artists, and Ty used that access to learn and play everything in his path. One thing would lead to another. An older friend taught him how to make beats, and his dad gave him an MPC and an Ensoniq TS 10 keyboard. While learning to sequence, he discovered the synthesized guitar sound didn't really sound like a guitar, so he picked up a real one. He tried to play Mista Grimm's "Indo Smoke" on the keys, knew it wasn't supposed to sound like that, and decided to learn bass in order to get it right.
Rap and R&B records, particularly those from Death Row, Mos Def, J Dilla, Lauryn Hill, D'Angelo, and The-Dream, were influential. Yet punk pricked his ears, too, and bands like Bad Brains had the added benefit of pissing off his pop a little.
"I never did what everybody else wanted me to do. Sorry. Always had a different type chick than everybody else. Listened to punk rock. Played guitar. Skateboarded. All the rest of the homies wasn't doing that, but I'm just myself. And I'm happy in my own skin," he says. "But I also could go turn up on a nigga."
Doing so probably contributed to his mom kicking him out of the house when he was 17. He managed to rent an apartment by the time he was 18, but the next few years were lean. Still, he was building a solid foundation, working on his own projects while also collaborating with other artists like Sa-Ra Creative Partners, a Los Angeles collective whose core group of Om'Mas Keith, Taz Arnold, and Shafiq Husayn influenced Kanye and were signed to his GOOD Music label.
"Toot It & Boot It," 2009's sleazy, bubblegum-sticky ode to hooking up that is now in the annals of ratchet classics, was originally Ty's song. When he met YG in the mid-aughts, however, the song was a natural fit for the city's favorite street rapper. The song started gaining traction, and it seemed like Ty's career was finally taking off.
Then a close producer friend of his was shot and killed.
"That fucked me up to the point where I just completely backed off," he says. DJ Mustard tried to pull Ty back in, but he didn't have the heart. "During that time we were still doing shows with YG. He would give me and Mustard $400 dollars to DJ and he would walk out with hundreds. Then 'Toot It and Boot It' came out and it said YG. Nothing to do with Ty Dolla $ign."
Dusting himself off, Ty made his first mixtape, Hou$e on the Hill, released in 2011, and was picked up by Atlantic Records as a writer. His luck hit again when Trey Songz found out Ty wrote "Fumble," from Trey's 2012 full-length Chapter V. Soon, Ty had a recording contract with Atlantic. Dropping Beach House in 2012 produced a domino effect. A year later, he signed a deal with Wiz Khalifa's Taylor Gang Records and released "Paranoid." Mustard's dummy production and Ty's talent for earworm hooks sent the song into overdrive. Radio stations nationwide spun it nonstop, and Ty was ready when they asked for more.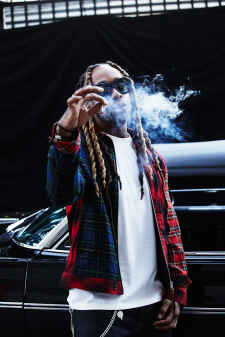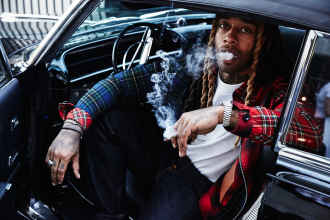 For the shoot tonight, Ty's stylist has pulled high-end designers and editorial pieces, but day-to-day, Ty prefers his "regular L.A. shit"—white tees, Vans, and khakis. He's so confident in his uniform that he buys his favorites in bulk so he never runs out before laundry day. It's savvy dressing, street-smart but sensible, and perfect when you're both an in-demand artist and dad to a 12-year-old daughter. Yet most impressive is while the key factor in Ty's clothing choices is comfort, he still influenced a trend.
"The reason all these kids are wearing these shits? Doing the cutoff bottom of their pants, high socks with Vans, wallet chain? Let these niggas know where it's coming from," he says.
Scroll through the past decade or so, and you'll notice how often Ty nudged music or pop culture in this or that direction. He didn't invent ratchet music, but he was instrumental in re-introducing it. Nate Dogg sang nasty lyrics in a sugar-sweet croon, too, but Ty expanded and branded it. When Ty was writing with Sa-Ra, they worked on Erykah Badu's 2008 album New Amerykah Part One (4th World War), which included the song "Master Teacher (I Stay Woke)"—2017's favorite catchphrase.
"I've never been trendy. I've never been one to fuck with what everybody else is doing. I felt like you just do your own shit, and there's no telling where you might go with that," he says.
Yet there are drawbacks to being the author of a sound or movement—call it the curse of being first. The creatives who craft a vibe often aren't the creatives who get credit for doing so. For the most part, Ty just laughs it off.
"I feel like there's a lot of people trying to do our old sound, but if you're trying to take somebody else's shit, then what are you going to bring to the table?", he says, draining his tequila. "I just stay original and always kill it. Do yourself. Be the best version of yourself you possibly can."
It's good advice. It might just buy him a beach house.
Rebecca Haithcoat is the former assistant music editor of LA Weekly. Her writing has appeared in The New York Times, GQ, The Guardian, Playboy, Billboard, SPIN and Pitchfork, among others.
Text:

Rebecca Haithcoat

Photography:

Andrew Arthur

Styling:

Mike Comrie

Video:

Gabe Shaddow

Production:

Rebecca Hearn

Production Assistant:

Dante Darko

Grooming:

JC Hammons