Onyx Collective's Guide to Downtown New York
A Day In The Life of the Experimental New York Jazz Band
Text:

Romany Williams

Photography:

Eric Chakeen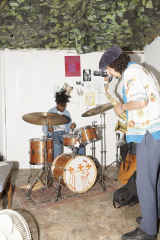 We step outside of Onyx Collective's Chinatown studio in New York on an unseasonably warm Tuesday in mid-September and the first person we see is Peter Sutherland. He's shooting visuals for the newest Supreme sneaker drop. A couple blocks away we run into Grace Ahlbom taking pictures of her friend skateboarding. I don't mention these details to name drop, it's just like this for Isaiah Barr and Austin Williamson—the saxophonist and drummer respectively—of the 10-plus member experimental band Onyx Collective. New York City is their hometown, and to them, community is everything. "It's kind of a blessing to be on some old New York shit," says Isaiah. "Just running into people on the street saying what's up, just going with the flow."
Since starting out on KNOW-WAVE radio three years ago, they've risen to the forefront of New York's experimental jazz renaissance. All talented young musicians, the collective have released work with KNOW-WAVE and Supreme, and they just dropped their second full-length Lower East Suite Part One. We caught up with Isaiah and Austin on the cusp of its release and they showed us around their favorite neighborhood spots in Manhattan's East Village and Lower East Side.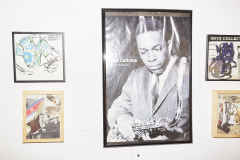 Onyx Studio – ?? Chinatown
This spot is sacred. It's been passed down from homie to homie. The entry point is easy to miss, hidden under scaffolding in a small recessed plaza in Chinatown. A couple flights of stairs up, you pass through an apartment and out onto a massive back patio covered in graffiti. This space has been host to Ratking shows and summer BBQs, and it's the best spot to chill when you're stuck in the thick of it. They record a lot of their music here on a tape recorder in their tiny DIY studio. It sits right underneath the train tracks, and even though they soundproofed it, the noise of the trains still makes it onto their songs. They say it adds extra flavor.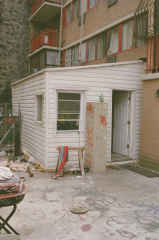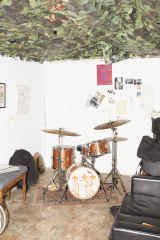 Hawa Juice Bar - 181A East Broadway
Come here for the ginger and wheatgrass shots. If you're hungry and you want something healthy, the acai bowl with almond butter is highly recommended. They put mango, strawberry, blueberries, and banana on it. It's one of the few non-trendy, non-curated juice bars left in the neighborhood.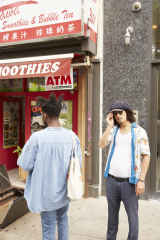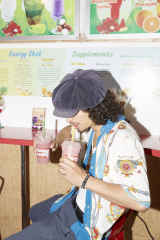 Classic Coffee Shop – 56 Hester Street
"Serving real lower east siders since 1976: No soy, no foam, no pretense," is the slogan for this spot, a tiny coffee pocket tucked into Hester Street between Orchard and Ludlow. It's no frills. They only serve plain Lay's potato chips and are experts in the "Egg Cream," an LES original drink containing neither eggs nor cream. Here, jazz and blues classics like Louis Jordan's "Is You Is or Is You Ain't My Baby" are the soundtrack to your drip coffee.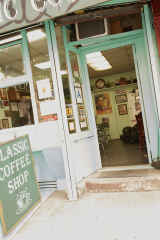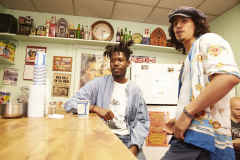 The Good Company – 97 Allen Street
Good Co. is the clubhouse. It's where Onyx started selling their first merch and where they played four shows this summer. "It's kind of a place where they let us come in and do what we want. The crowd is all friends, it's a great place to workshop," says Isaiah. Come here for a solid selection of clothes and zines.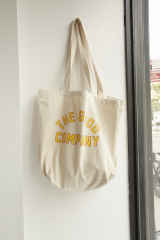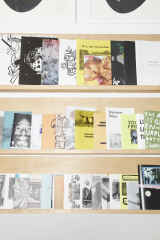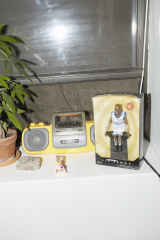 Commend – 172 Forsythe Street
172 Forsythe is sentimental to many because it was the first KNOW-WAVE location. It's a special space. There used to be newspapers and flyers covering all the walls and windows. Onyx recorded much of their first album here. It's now been about four years since KNOW-WAVE left and Commend has settled in. They've got a strong selection of rare books, vinyl, and tapes, and they host community workshops and gatherings.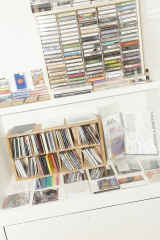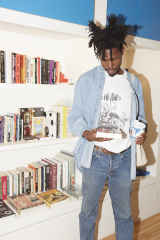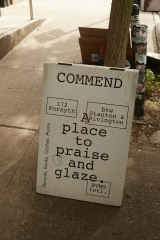 Good Records – 218 E 5th Street
Another genuinely 'good' spot, Good Records has been open for 10 years. They have a reputation for the best selection of jazz, soul, R&B, and hip-hop. Sometimes they inherit the vinyl collections of local jazz legends. This is a great place to dig on a day when you have nowhere to be.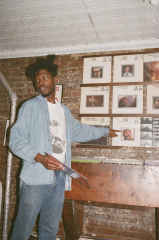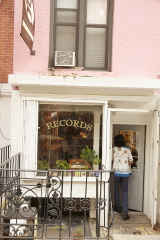 Tompkins Square Park – East Village
The birthplace of Hare Krishna, Tompkins Square park crams a wild amount of personality into its 10.5 acres. Its East Village location is gentrifying quickly—the brand new licensed Starbucks Café across the street a blatant reminder of this. The park remains one of the last uncorrupted spaces. If meditating is your thing, the grassy oval is a good place settle in. Other popular activities include spotting the Red-tailed Hawks, playing basketball, or watching the dogs. Just pick a bench and chill out.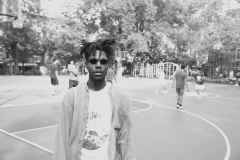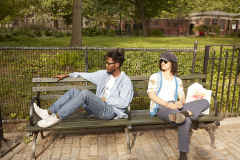 Café Mogador – 101 Saint Marks Place
After the park, it's a good idea to treat yourself at Café Mogador, an East Village institution. Open since 1983, the Moroccan restaurant is still owned and operated by its founding family. Order a Tagine and a sweet Moroccan iced tea, then grab a seat on the patio for some people watching.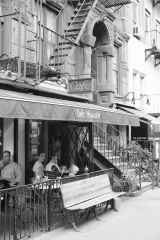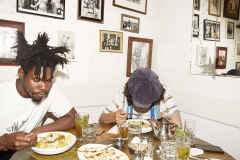 Text:

Romany Williams

Photography:

Eric Chakeen