There's No Place Like HAIM
Playing House with the Sister Trio Before They Go on Tour
Text:

Erika Houle

Photography:

Sarah Bahbah
"Suuuper Boogie Nights," the Haim sisters say all at once, as if they've rehearsed their arrival at a backyard pool in Encino, California. The reference is spot-on, considering the group has worked closely with filmmaker Paul Thomas Anderson for awhile now themselves. As they enter the rustic, mid-century home, they remain perfectly synchronized, greeting everyone with hugs and mellow vibes.
"This is my dream house," says Este as she makes her way inside. Nestled in the quiet, tree-lined suburbs of the San Fernando Valley—where she and her siblings-turned-bandmates of cross-genre trio HAIM grew up—the territory is very familiar. Her sisters follow shortly behind, both equally in their element. "I swear I've been here for a party in high school," Alana says, before Danielle confirms nodding her head, "Quintessential Valley house."
The place is brimming with warm-toned sofas and miscellaneous knick-knacks. Its vintage charm mirrors the group's nostalgic dynamics, establishing the day's ambiance. "This is, like, where we grew up. This is all I knew," says Alana. "I love it so much because when you find someone that also grew up here, you have this instant 'let's be friends' feeling. And wherever you go in the world, you find someone from the Valley." As she and her sisters made evident when they turned Ventura Boulevard into their private dance floor for the set of their hit "Want You Back" video—spontaneously bursting into air drums and sashaying down the street—being raised in a closely-knit community is an essential part of the band's core. "It's like, were you more of a Twain's girl or a Du-par's girl?," Este asks, before clarifying, "Which diner did you go to after parties?"
They pass around their phones as they settle into hair and makeup, sharing throwback photos of Brooke Shields and Cindy Crawford. "Big 90s hair" is today's choice glam, according to Danielle—or "Yelly," as her sisters more often call her—who Alana and Este joke is their creative director. Beyond beauty inspiration, it's clear many of the group's musical influences are a product of growing up in the 90s. They were moved by the hit after hit, iconic music videos of rising female artists amid MTV's TRL era like Destiny's Child and Britney Spears. Twenty years later, their obsessions haven't changed. "Every time I put on Britney, it bangs," says Danielle. "It holds up so hard," Alana agrees, reminiscing about attending one of her shows in Vegas. "Este always says when she saw Prince, she left the show floating. When I saw Britney, I understood that feeling."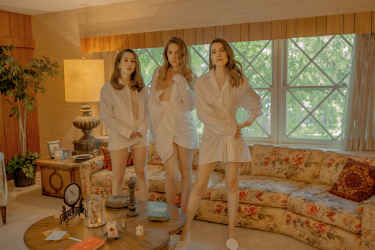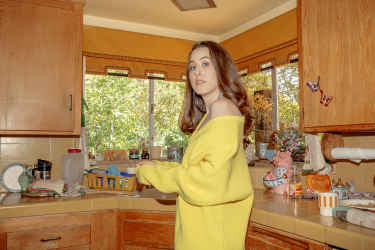 Este seems to be floating today, too. Having celebrated her 32nd birthday the previous day, she's gushing about her favorite gift: a planter, from her boyfriend. Sparing no details, she's giddy, but she pouts. "He's so cute it makes me sad!" When it comes to romance, the sisters consider themselves far less experienced (and inevitably less inclined) than they are musically. "I'll never forget this one party in the seventh grade," Alana rehashes. "I was in the basement at my friend's house and everyone coupled off. The last dude who was there never gave me the time of day. He was the hottest guy in school and he was just like, 'I have a girlfriend.' I sat in silence for like four hours while everyone made out around me. It was great. You just kind of accept it, and then you carry on." Looking back on their teenage years—wearing braces, being "buzzkills," and undergoing the painfully awkward and embarrassing phase that seems to escape Gen Z today—Danielle describes herself and her sisters as "late bloomers." But they've found humor in the comfort of navigating that together. "I think I'm still figuring it out," Este says, before Alana jokes, "I literally went to a bar last night and I was like, 'I want to try this thing called making out and no one fucking wants to make out with me!'"
It's the same familial bond that shines through the group's sound. Since they were kids, they've shared the pivotal moments behind each of their inspirations—from growing up listening to their mom's heart-wrenching Joni Mitchell records to sneaking into as many shows as they could. "Este would take us to Echo to see bands like Rilo Kiley. She would give us pep talks before and distract the bouncers," Alana says. "It was so clutch to have an older sister that wanted us around."
Today, Este continues to rely on the support of her "built-in friends" through the group's creative process. "I was always really into emo music," she says. "Now my lyrics get really emo and Danielle and Alana have to rein it in." The siblings rely on each other's unfiltered guidance, striking a balance between mastering their craft and not taking themselves too seriously. "We trust each other. I know my sisters aren't saying 'no' because they're trying to hurt my feelings," Este says. "We're trying to write the best songs we can." As they prepare for their appropriately titled Sister, Sister, Sister Tour—selling out absurdly fast with opening act rapper Lizzo—it's clear the group has transcended their aspirations. But between designing their own tour merch and conceiving their stage sets, they're still (quite particularly) dreaming.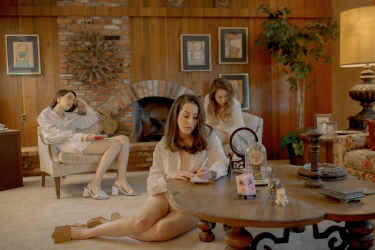 "I literally went to a bar last night and I was like, 'I want to try this thing called making out and no one fucking wants to make out with me!'"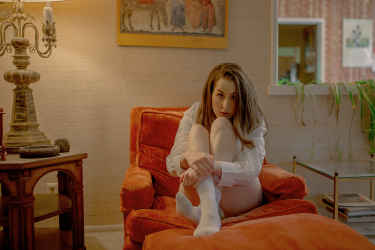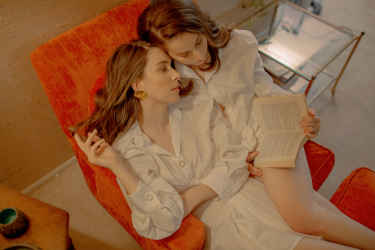 Este's Dream Rider
• Lotto tickets
• Lotto scratchers
• Four English bulldog puppies
• King-size bag of Doritos Cool Ranch
• Krispy Kreme Doughnuts
• Dippin' Dots machine
Danielle's Dream Rider
• '52 Blackguard Tele
• 1982 LinnDrum LM-2
• Socks
• 735 Silverface Princeton Reverb
• In-N-Out burgers
Alana's Dream Rider
• Rescue puppy party
• One huge bag of swedish fish
• Room filled with lasers and disco balls for dancing in
• Endless amounts of different kinds of beer
• 100 pairs of socks
Reflecting on the decade-plus of the band's existence—the years spanning the sisters' adolescence—they never once deterred from their own vision. Navigating an industry that prescribes boxed-in genres and "schoolgirl" popstar stereotypes, the trio recognized their collective advantage. "It was easier for us because we're three, but I hope we can make other girls feel comfortable in knowing that they don't need to listen to anyone else," Danielle says. "You don't have to go into a studio or rely on an engineer you don't know. You can make something you want." In the face of fame and rockstar fantasies, it's the kind of advice that seems obvious until put into practice. And it's sticking to it that's launched the group from the Valley to the world. "It took us time to figure out who were were," says Alana. "We're a fortress."
Erika Houle is an editor at SSENSE in Montreal.
Text:

Erika Houle

Photography:

Sarah Bahbah

Styling:

Rebecca Grice

Styling Assistant:

Kat Garner

Hair:

Candice Birns

Makeup:

Miriam Nichterlein

Producer:

Emily Hillgren

Production Assistant:

Tyler Cunningham