Simon Miller's All American Vision
The Los Angeles-Based Brand's Creative Directors on Longevity, Working with Themes, and Burning the Bottoms of Poppies

Interview:

Erika Houle

Photography:

Sam Muller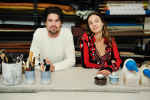 Simon Miller's creative directors, Chelsea Hansford and Daniel Corrigan, met eight years ago at a Lil Wayne concert. Both navigating careers in the denim industry, they attended the same tradeshow in Vegas and the rest was history. "Someone had a limo, and somehow we picked up Daniel," Hansford says. "We kept in touch, and years later started working together."
At the time, Simon Miller was running a small men's collection. Corrigan was adamant about bringing Hansford on board to build the brand through launching women's, and finally she agreed. But it was her husband, Greg—a leather artisan from France who'd been working for brands like Marc Jacobs, Louis Vuitton, and Goyard—who spearheaded the label's accessories. Designing a perfectly-constructed (and difficult to replicate) bucket bag, the Southern California brand gained an unexpected and all-consuming cult following.
Last November, Hansford and Corrigan scaled up, closing their long-distance working gap between New York and L.A. "Our loft in SoHo was a fun concept, but Daniel had this hub out here that was producing most of the ready to wear," Hansford says. "We felt that we needed to all be together. Greg and myself moved from New York, and we brought our commercial director with us. It's all family." The close-knit team seems more than well-adjusted to the laid-back L.A. lifestyle—especially Hansford's bulldog, Marcel, who reserves the couch in their downtown studio filled with plants and scraps of leather pinned to moodboards.
Earlier this spring, SSENSE stopped by the space to catch up with Corrigan and Hansford as they set the vibe for their next season.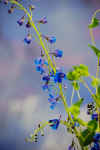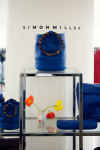 Erika Houle
Chelsea Hansford and Daniel Corrigan
I was reading an old article in T Magazine that debuted your Bonsai bag. You said you hoped it would become an "It" bag.
D: [Laughs] What year was that?
E: Totally, what's it been like having that become a reality?
D: We launched it on our website at the end of that year. We were in the office when it went online and we sold 15 or 20 in a day. We were just like, "What?" It wasn't something we were prepared for and it only increased over time. Greg designed it. We're so fortunate to have him, he knows everything about this world. Otherwise it would have came and gone very quickly.
C: It's a lot of pressure to do the 'next.' A lot of big houses will develop 300 bags and sell four. That's not our concept. We develop one, and we sell it. It has to be an "It" bag. You don't really have time in this world to stop and enjoy success because everyone just wants what's next. Especially dealing with buyers. It's kind of exhausting, but it's amusing to be in this position. You just gotta stay creative.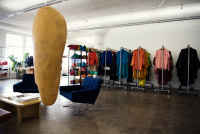 E: You've undergone a lot of major shifts since starting solely with men's denim. How do you define Simon Miller today?
C: It's a modern American brand. We're from here, we're based here, and we take pride in that. There's a great era of style that comes from the U.S.
D: Denim is such an important part of our collection. I don't think we're a vintage or heritage brand by any means, but there's a component of denim that really resonates with that kind of western U.S. landscape we draw from.
C: We also say it's a lifestyle brand because we explore so much more than just product. Like our interiors. We partner with an artist, Leonard Urso, who does our visuals. He has this amazing archive of large scale modern sculptures in our colour palettes, and he does our jewelry as well. That's been a huge part of our shift. We do different collaborations with furniture, and we're starting to explore more with ceramics. There's so much product on the market today, you've got to get inspired by the full lifestyle. That's our mission.
E: What does that consist of?
C: We have playlists that we create for our showroom each season, and a chef. For Spring/Summer 2018 it was this Congolese rainforest. We had an amazing 70s reggae playlist with music videos and our chef was making coconut french toast and lobster rolls. This season it was a 60s and 70s French playlist and he was making king crab legs and steak au poivre. It was a good vibe.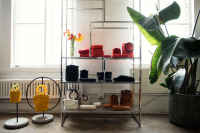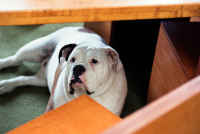 E: And what about floral arrangements?
C: Massive obsession! Sophia Moreno-Bunge of Isa Isa flowers did our event for Fall/Winter 2018, and she taught me how to look at the flowers you're buying with a minimalist aesthetic. That's the key. I don't really like big bouquets.
D: You mean a big bouquet of roses isn't your thing?
C: [Laughs] I can't even look at roses.
E: Did she give you any other tips?
C: When you cut a poppy, they poison themselves in the water. But if you burn the bottom, they last for a week. That changed my life.
E: What drew you to the 60s French-pop era in your latest collection?
C: Personally, I grew up with a mom that's obsessed with themes. Mine was stars, and she stamped all the walls. It would swap and then next it was leopard and I had animal print everything. Then I had cork floors installed, my sister had seashells! So I'm not like, 'How does 60s pop relate to the next season?' I'm like, 'Where are our links and consistencies?'
D: We're always developing new shapes, but it's still within the world of Simon Miller.
E: Do you design with certain personas in mind, or is it more for the people you're surrounded by?
D: Our guy probably isn't as experimental as our woman is, but we want to have stuff for them that's a bit more exciting than jeans and t-shirts. Basic fabrics, but in non-conventional silhouettes.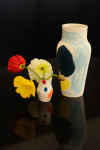 "I can't even look at roses!"

E: Where do you source your fabrics?
D: A little bit in Italy, but Japan for the most part. We also work with a lot of U.S. cottons, directly with the mills developing our own fabrics.
C: All of our leather is from France. We produce all of our bags there too, because our leather artisan is French. [Laughs] You can't pull a French man out of France, you just can't!
E: Do you think you'll continue to keep your men's and women's lines separate?
C: They're going to stay separate in regards to the silhouettes, but we're merging them drastically. We'll only be showing them together in New York and Paris, and that's a big change for us. They're transitional.
D: I think it's cool that a lot of brands are doing the more unisex thing, but that's not for us at all. That's not our guy, and it's not our girl. I think the collections living together is a great space.
E: You recently redid this studio. What were you hoping would translate in the space?
D: Openness. We want everyone communicating. It's the experience of walking into a space and understanding.
C: Everything represents us. Our homes, the furniture, the flowers, the food that we cook. It's not just designing garments. It's having a vision of what you want to see evolve.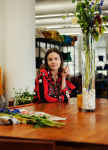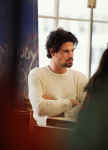 Erika Houle is an editor at SSENSE in Montreal.
Interview:

Erika Houle

Photography:

Sam Muller