Rich Brian Is Trying To Be Famous-Famous
The 18-Year-Old May Have Grown Up on the Internet, But His Ambitions Are Bigger Than Going Viral
Photography:

Hannah Sider

Interview:

Thom Bettridge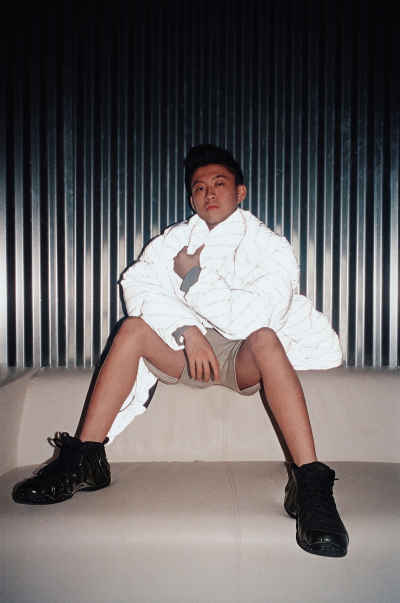 In a post-Drake world, rap stardom has become open-sourced. Its vernacular and aesthetics long since mainstreamed and globalized, today's teenagers, no matter where in the world they are, have never known a world in which it wasn't a dominant pop cultural force. The result is the rise of artists like Brian Immanuel.
Immanuel—aka Rich Brian, fka Rich Chigga—is a bona fide citizen of the internet. Growing up in Indonesia, he learned English partly by studying Macklemore and Drake videos on YouTube. YouTube was also where he learned the special effects techniques he used in the high-gloss-yet-DIY video for his out-of-nowhere breakout hit "Dat $tick," which watches like a masterclass on how to go viral. Slow-motion flossing? Check. Cronies with fake guns? Check. Teen drinking Hennessy in a dad outfit? Triple check. Talking with Immanuel about the making of that video, I mention to him that YouTube is kind of like the program in The Matrix that Keanu Reeves uses to learn kung fu in under a minute of screen time. Immanuel agrees, though he's never seen the film—it was, after all, released before the 18-year-old was even born.
Two years, one Billboard charting album, and one name-change since "Dat $tick," Immanuel is working on transitioning into the type of fame that is often unattainable for even the most viral stars. He has been Airbnb-hopping in Los Angeles, plotting an acting career and laying down Red Bull-fuelled bars in preparation for the upcoming Head in the Clouds tour with his fellow 88Rising label mates. Speaking with Immanuel in a cloud of JUUL vapor, 10 stories above the LA's notorious bootleg t-shirt district Santee Alley, it immediately becomes clear that his ambitions are limitless and unironic.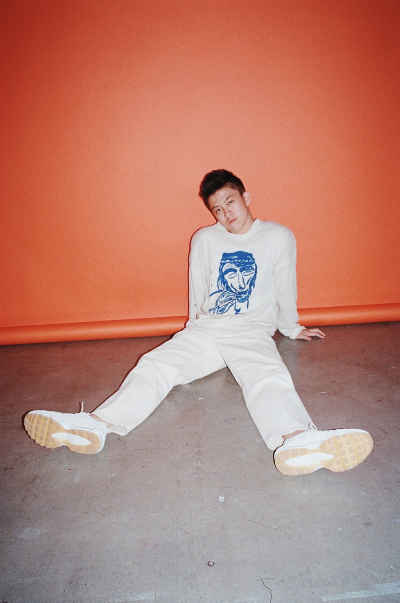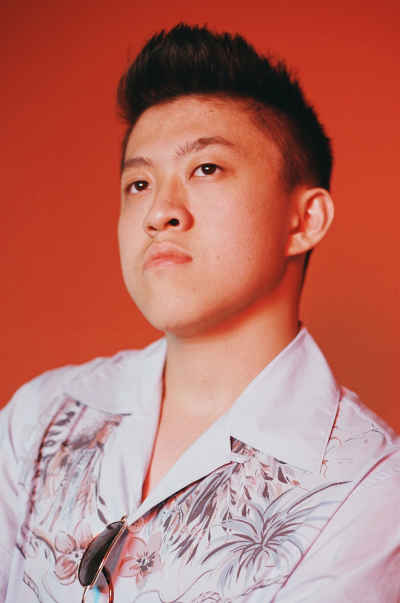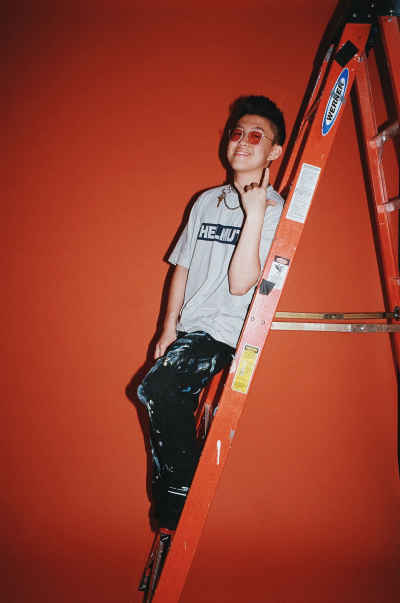 You're kind of on this funny cusp right now being internet-famous and famous-famous.
Which one do you like better?
Well, my goal is to go mainstream—partially because I really want to pave the way for Asian kids to be themselves and be like "Yo, this is possible." We don't really have someone famous to look up to in the industry right now. I remember when I was a kid, there was this actor from Indonesia who had a part in Fast and Furious, and when I saw that it made me super motivated, and super jealous, and super ambitious. I want to be the person who gives other people that feeling.
Tell me about why you changed your name from Rich Chigga. Was that about broadening your appeal?
I had been thinking about that for a long time. Even right after I put out "Dat $tick," I was like, "I don't know about this name…" Because when I came up with that name, I didn't know what I was doing. It was just me and my friends, and I didn't think it was gonna be big at all. And when I put it out…
You didn't realize a ton of people would find it offensive.
Right. And I don't want to put myself in a box where people see me as a joke.
However, I get the feeling you like trolling people.
Because you mentioned you religiously read your mentions. Because of the humor in your videos. You're not fazed by people hating on you.
I wouldn't say I enjoy trolling in the sense of pissing people off, but I do have a pretty good sense of humor and I like to laugh at things. Especially when I'm going through shit in my life, I like to laugh and stay positive. But some people out there get so angry with you at times.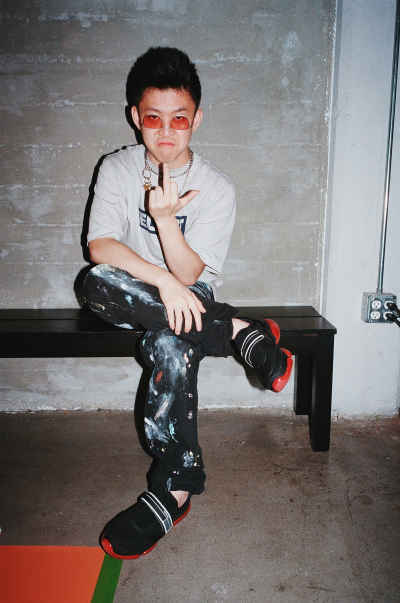 Just about my music. There was somebody who was like, "I hope your music doesn't sell anymore and I hope you stop making music." That's so mean!
Did it make you feel bad?
I'm definitely not going to say that I'm not phased by bad comments.
How do you purge that toxicity from your mind?
I've been on the internet since I was nine, so I've had a lot of time to get used to it.
In a way, you're a citizen of the internet. You learned to speak English watching rap videos on YouTube. You blew up on YouTube. What appealed to you about rap music?
I remember at the time I was friends with an American kid on Twitter, and he was talking about this video for "Thrift Shop" by Macklemore. I saw it and was like, "Okay, what's so cool about it?" But then everybody was talking about it and I got really into it. I wanted to be a part of what everybody was talking about. I started watching other stuff like 2 Chainz and Drake. "Started from the Bottom." At that time everyone was hating on Drake because he was soft or whatever.
What was the language barrier like for you? A lot of Americans don't understand the lyrics in rap songs.
It was a long process, but I enjoyed it. I was passionate about the language and then I became passionate about the culture of hip-hop.
And what did you think of as someone in another country about the violent aspect of rap? The video you self-directed for "Dat $tick" was all about guns.
I was intrigued by how rap music had the word "dirty" or "explicit" on it. I felt like I was the only kid in Indonesia listening to rap music at the time and I was like, "Yo, this is fucking cool." It feels like when you listen to screamo for the first time and it feels so rebellious. I haven't had guns in my videos since that first one that came out. In my mind that was about fucking with people's heads. A lot of people saw the pink collar shirt I was wearing and didn't think I would have that voice, so it was really about fucking with people's heads and not a gangster thing.
"There was somebody who was like, "I hope your music doesn't sell anymore and I hope you stop making music." That's so mean!"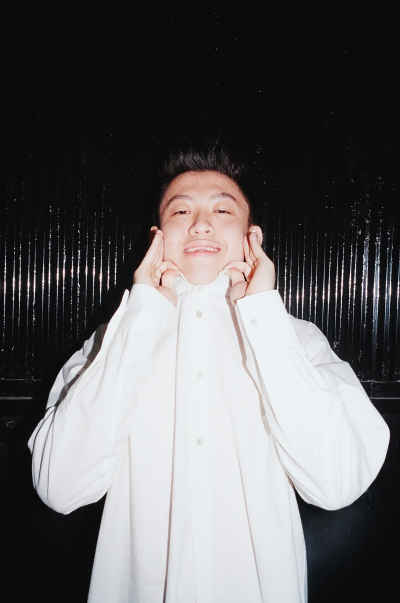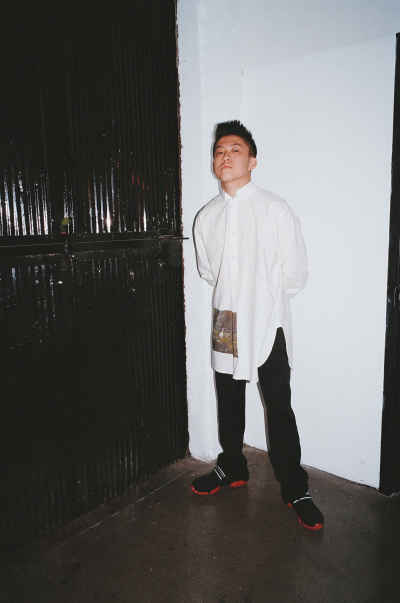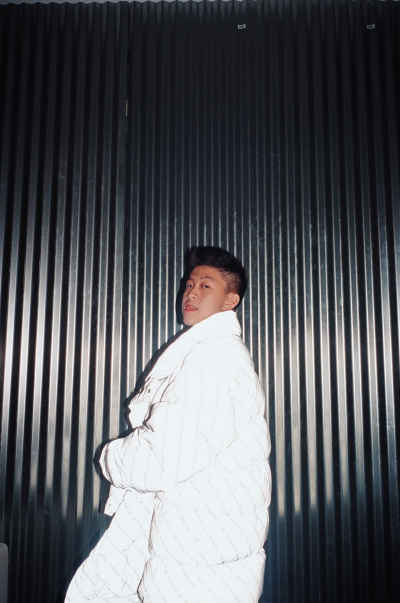 How did your whole dad look in that video come together? Because now that look is a thing.
It was just me and my sister. She's a fashion blogger and an actor in Indonesia. I was with my dad and her, and I was like, "Should I actually I go for this cool designer look?" I was thinking really hard about this, and I just thought about how much more scary it would be if someone who was wearing a pink collar shirt and a fanny pack were surrounded by people holding guns.
And you knew the internet would love this.
Tell me about your routine on the internet. What do you look at on a daily basis?
I like to watch music videos a lot—just looking for new artists. I also like watching videos of people reviewing Airsoft guns. Stupid shit like that. I like to watch interviews a lot.
Are you into sneakers? You're wearing a pair of army green Foams right now.
Honestly, I don't really know that much about fashion brands. I fuck with looking good and wearing things that look good.
What in your mind would be the worst outfit you could ever wear? I'll tell you mine to help you think of it: mine would be head to toe Supreme shit, but all one size too small.
Head-to-toe Supreme shit just in general. I understand it's cool to be a part of something, but so many people are doing that.
Have you ever been star struck?
The song never came out, but my first ever studio session was with Pharrell. I got there at eight in the morning, and he was already there making beats. I'd never worked with anyone in the studio before and I was on so many Red Bulls. He was working on this beat, and I was next to him working on this melody, and as soon as I heard the tempo I started writing. I'm not a fast writer usually, but he gave me this feeling like, "If I don't do this right now, I'm going to die."
You caught a contact high from his talent.
What's missing that you want? What's the next milestone?
My next milestone is to be in a movie. I think I'm gonna take acting classes soon. I just love to be in front of the camera, to be really honest. Especially acting is something where you can be a totally different person in front of the camera and you get to see yourself become that other person.
I saved the most important question for last: What flavor is in your JUUL?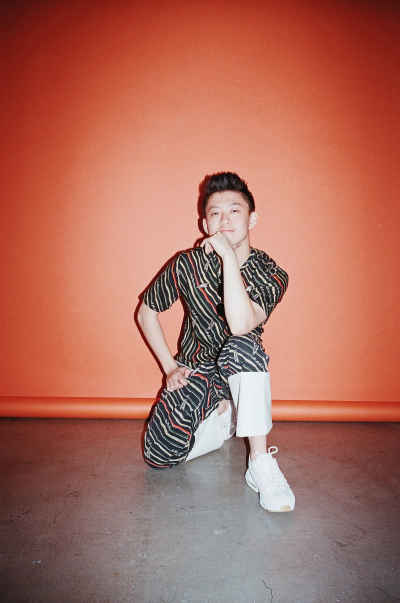 Thom Bettridge is a writer and editor from New York City.
Photography:

Hannah Sider

Interview:

Thom Bettridge

Styling:

Kendal Steensen

Grooming:

James Gilbert

Production:

HS Studios Inc