User Experience: The Rose Bowl Flea Market
Lurking Through the 50-Year-Old Social Playground of Vintage Bargains and L.A. Misfits
Text:

Erika Houle

Photography:

Erika Houle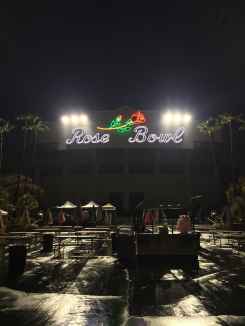 It's Sunday, 3AM. Mid-March in Los Angeles. My phone's alarm is kicking off the extreme shopping excursion I've been waiting for—the monthly-occurring, celebrity-attended, 90,000-seat stadium-spanning Rose Bowl Flea Market. Preparing to master its maze of merchandise with everything from mid-century coffee tables to 90s trading cards and Himalayan salt lamps, my adrenaline is rushing. As someone who identifies with the tendencies of mallrats and considers Boxing Day a sport, hitting up the "world's most unusual flea market" and "shopping place of the stars," so says the event's website, is a challenge I've been training for my entire life.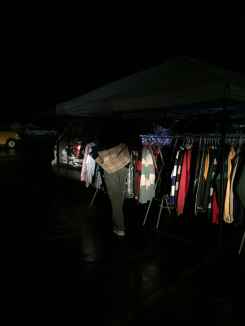 With less than two hours until the gates open, to over 20,000 visitors—and with the purchase of a $20 VIP early admission ticket—the only thing I'm concerned about is the outcome this outing will have on my bank account. My fanny pack is organized, I've packed a banana to-go, and my energy levels are popping off. I order a Lyft and head out on my way, towards this vortex of abundance.
When I make it to the box office, it's just after 5AM. The sky is still black as night and the stadium lights are dull, giving off an eerie glare on the wet parking lot pavement. The admissions line is empty. I overhear one of the employees mention that she hasn't seen many regulars today and wonder if I've missed some sort of mass memo. Still, I buy my ticket and pick up a pile of pamphlets with a color-coded map outlining each distinctive territory. First stop? The food court, for a $4 drip coffee, and then straight to the "White Area"—an abyss of vintage denim, workwear, and army surplus clothing. Most of the vendors are still setting up shop, emptying their truckloads of garments onto rows of metal racks under weatherproof tarps. It smells like a mix of mothballs and marijuana, and through the haze, I spot my first mistake: headlamps—everyone who seems to be anyone here is sporting one. When it comes to shopping in less than ideal circumstances, these people are skilled veterans. I feel like a total rookie fumbling through Harley Davidson gear with my phone's janky flashlight as they seamlessly sift at three times my pace, filling their carts with cargo trousers and Metallica and Slayer tees. This certainly ain't their first ro—Rose Bowl.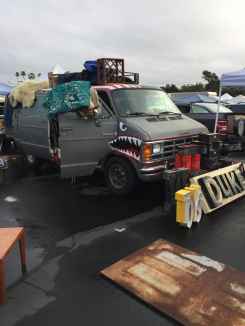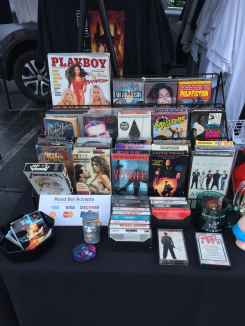 The sun begins to rise and the headlamps—along with their wearers—gradually disappear. The stadium lights turn off and with the day's light, the venue becomes completely unrecognizable. Any sense of direction I thought I had established has vanished. In the sea of over 2,500 sellers, somehow I end up back at the same tent where I started. Only, the massive rack of Champion hoodies that was literally just here has been cleared and replenished with a fresh supply of fleece vests and polos. I wonder how long it will be until these turnover, too, picking up on the particular uniform of buyers in this section—think tearaways, bucket hats, Supreme backpacks and nose rings. And with that, I realize my original purpose here has shifted: my interest in actually shopping has been sabotaged and replaced instead by an obsession with observing everybody around me. Walking just a few steps ahead of me, it turns out, is perhaps the most stylish living person, FKA Twigs, with an equally fitted crew whom I presume are all models or DJs. My theory is confirmed.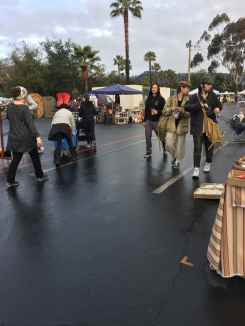 My social network in this city is not extensive, so when I bump into Jazmin Valdez, one of my friends-via-internet, it's a welcome surprise. She's here running her longstanding curated vintage shop @hotcocoavintage, and meeting her irl is the first time I've felt fully present today—like this isn't just some alternate universe revolving around vintage Playboy magazines and overpriced tacos. There's something magical about making a genuine human connection in a place like this. We chat for a while and I make my first purchase: a denim granddad-collar shirt with marble buttons. It's slightly frayed, broken-in and soft to the touch—the kind of basic piece that doesn't seem mundane. It's the same quality I've admired in Jazmin's collections since I first stumbled upon them online a few years ago. While paying, I'm distracted by another compulsion to analyze the everchanging crowd. Huddled around a tent ahead of me is a group of men that somehow all resemble John Mayer circa 2002. Still on the tip of raw denim and chambray shirts paired with Red Wing boots, I assume there must be a brimmed hat stand in the vicinity, or maybe an artisanal leather belt booth. Two women to my left are complaining about their jobs, working in sales at Kristin Cavallari's brand (who knew it still existed?). Further up in the distance, I spot social media star @jayversace and United Arrow's Poggy. It's not everyday you find yourself immersed in such company. The flea market feels like more of a twisted social experiment than a center for shopping.
People-watching at the Rose Bowl is all fun and games—until you're the one being played. There are mirrors of all shapes and sizes on every corner, as though to confuse you and keep you grounded at once. Whether you're trying on a pair of rare steampunk sunglasses or aimlessly wandering around and minding your own business, you can't escape yourself in here. It's as though you've been plucked from a world you once knew and planted in a life-size diorama of another—somewhere between stacks of retro furniture and piles of grass-stained baseball jerseys, all logic goes out the window. I catch myself looking up at the hills around the stadium—it's no coincidence this place is called a bowl. Now in its 50th year, the flea market has become an all-encompassing microcosm of Los Angeles and all its culture, including its piercing class discrepancies. Perhaps it is the city's best museum—of itself.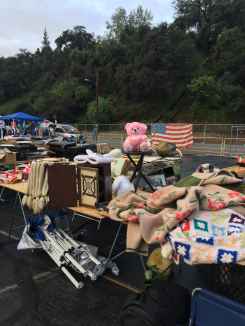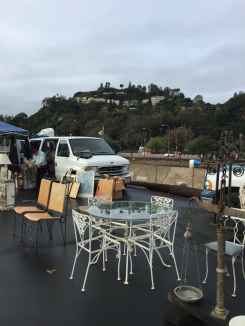 American architect Frank Lloyd Wright said, "Tip the world on its side and everything loose will land in Los Angeles." Tip Los Angeles on its side, though, and everything loose will—it's plausible—find its way for sale at the Rose Bowl Flea Market. And as I reminisce on my first time in L.A., a place where everything is the backdrop for some false reality, I realize while my shopping adventure may have been bogus, my viewpoint of the city's intricate odds and ends was as real as fantasy can be.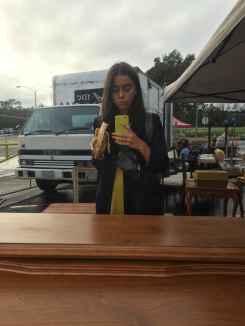 Erika Houle is an editor at SSENSE in Montreal.
Text:

Erika Houle

Photography:

Erika Houle