Real Life Shit with West Coast Rapper, Singer Buddy
Following the Release of His Debut Album, the Artist is Baking Pies and Getting Grown Up
Photography:

Emman Montalvan

Interview:

Stephanie Smith-Strickland

It's around noon on Monday when Buddy arrives at the Los Angeles studio space where are are scheduled to meet. He makes his way past the rolls of backdrops and boxes of camera equipment to take a cursory glance into the fridge—stocked with juices and a shelf full of FIJI. "Buddy's Water," reads a Post It. Moments later, the 25-year-old rapper disappears to change into his first look of the day, which includes a pair of white roller skates with flashy light-up wheels. Somehow, the sight of the perennially affable Compton native rocking 2018's answer to LA Gear makes perfect sense. Buddy is currently in the midst of promoting his debut studio album Harlan & Alondra, named after the cross streets of his childhood home. "People like to box Compton rappers into a certain type of sound," he says as he wrestles with a piece of Fronto to roll a joint. "They think it looks like red or blue bandanas, tattoos and talking about bitches and hoes. You know, killing and robbing houses and a bunch of other shit I'm not actually doing so I don't talk about. It was important for me to shine a light on the diversity of the city."
Though the album's genesis is in Compton, its ability to sonically explore the many disparate tableaus of Los Angeles echo Buddy's previous two EPs, Ocean & Montana (2017)—on which he collaborated with Canadian dynamo Kaytranada—and Magnolia (2017). Similar to his debut album, the projects were named after streets Buddy frequents, anchoring the narrative with a physical moment and place. It's a technique that works to cast Buddy as a lovable tour guide. His allegiance to his hometown has even found its way onto television—the single "Trouble on Central" appears in season three of HBO's Insecure (which has also been lauded for its true-to-life portrayal of L.A.'s less tourist-facing landmarks). "A lot of shit on the album is unexpected," says Buddy.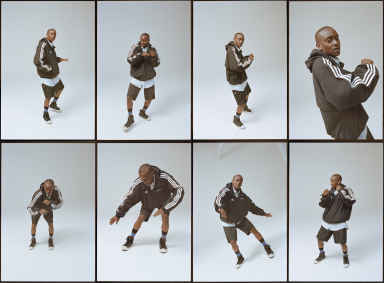 More than a love letter to a mercurial city, Buddy's music presents an uninhibited portrait of his evolution into adulthood. From charting the ebbs and flows of romantic relationships to reflecting on shifts in family dynamics and personal growth, he crafts a tentative blueprint of the highs and pitfalls of navigating one's early 20s. "When I was making Ocean & Montana I had just moved to Santa Monica so I was living by the beach hanging out in Venice, riding my bike and skateboarding. I started baking things, cooking and going to dinner parties and stuff," Buddy explains. Relocating to Santa Monica was also the symbolic end of Buddy's childhood; his first foray into living outside of his parent's house. "I kept running out of fucking toilet paper," he confesses. In a deadpan tone worthy of a Dave Chappelle special, he goes on, "I lost a couple of shirts." The upside, however, is that he has become a pie aficionado in the process—cherry is his speciality.

Buddy's abbreviated five-track offering does embody a certain ethereal quality, one that parallels the relaxed lifestyle associated with seaside locales. "I definitely don't ever want to make it seem like I'm this perfect person who is telling people what to do and how they should live their lives. I'm always trying to tell people my experiences and give them a sense of who I am as a person to show them a different side of how they can look at life. Everybody goes through the same things most of the time," he explains. Perhaps it is through the honest testament of his own struggles and insecurities that Buddy attracted the attention of Pharrell Williams, who signed the young performer to i am OTHER when he was just 15. His 2014 mixtape Idle Time, though, didn't immediately launch Buddy to the level of superstardom one might expect. And with that realization came an important lesson: "Releasing Idle Time by myself with no rollout and then having the opportunity to do it again with my debut album and the RCA platform, I definitely have a better understanding about how to make the most out of the budget and studio time," says Buddy, reflecting on his attempts to navigate independent artistry. "I had the opportunity to sit with BJ the Chicago Kid while he made his album and Nipsey Hussle and I just saw that everyone has a different process. By the time I started working with Mike and Keys on Magnolia I was just always at the studio, whether I was making music or not. There would be days where we'd just talk or watch movies, but to be there helped keep my work ethic up. You try stuff that works, stuff that doesn't, but what's important is the process and staying in the studio."


With Harlan & Alondra, Buddy's persistence is paying off. From the glossy family portrait that comprises the album's cover to the lyrics that paint the image of an artist amid the strides of growth, it indicates that only great things can come from Buddy holding true to his values. "I'm super proud of where I come from and who I am. I'm not pressed to hold back and I don't feel like anybody else should either. At the end of the day, I'm always trying to express that." Growing up as the son of a minister, Buddy's music is a time capsule of his experiences in the church. More than an institution of faith and physical space for communion, black churches have acted as a training ground for aspiring entertainers to hone their skill and imbue their sound with that indefinable quality called soul. Buddy is no exception. He has perfected a blend of confessional-based stylings of ministry with something more intangible and visceral. And with every song, hidden somewhere in a clever turn of phrase or a quixotic melody, he inserts a message to be decoded like scripture.
Production:

Becky Bunz

Production Assistant:

Jessica Druey

Photography:

Emman Montalvan

Photography Assistant:

Patrick Molina, Fred Mitchel

Video:

Eddie Orbrand

Styling:

Rita Zebdi

Styling Assistant:

Mackenzie Grandquist

Interview:

Stephanie Smith-Strickland