The Bad Boy Embroidery Fixating Japan's Rural Youth
Text:

Kanako Noda

Photography:

Cailin Hill Araki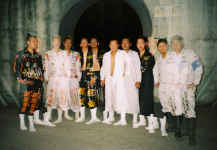 Shinnosuke wants to present as a bad boy—all bleach-blond hair and flashy earrings—but he can't quite pull it off. For one thing, I can see that it's his grandmother dropping him off. He's a ninth grader, and he looks it.
At least until he changes into his sotsu-ran: the fiery red, intricately embroidered uniform he's had custom-made for his Middle School graduation next year. In an instant, his entire demeanor is transformed—you see the man he's straining to become. His suit glows over the rice fields like a ripe tomato glowing on the vine.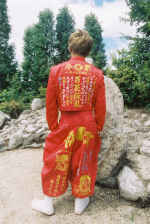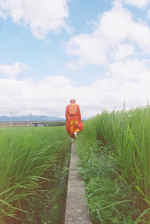 Sotsu-ran is what happens when a deeply stigmatized rural subculture re-imagines the gaku-ran—the classic, square, all-black, five-button boys' suit with a stand-up collar (tsume-eri). The gaku-ran is Japan's historic middle school uniform, making sotsu-ran almost like a hallucinogenic homage—rebel fashion from the boondocks. Sotsu-ran is the unofficial graduation uniform of the Yankī, Japan's original small-town trouble-makers. The Yankī underworld was born in tough, working class areas of Tokyo in the 1970s, but soon migrated to the countryside, where it experienced a boom in the 1980s. Today, it's obsolete in the mainstream, but pockets hang on in the rural backwaters.
By that standard, Shinnosuke's a deviant—his bright red sotsu-ran is a middle finger flipped directly at the commodified minimalist aesthetics of the mainstream.
In the West, there'd be nothing remarkable about a middle schooler trying to draw attention to himself through clothing. In conservative, bucolic Japan, the culture of conformism is pervasive—stifling, even. From the earliest age, kids face enormous pressure to look exactly like everyone else. Most spend their middle school years wearing Uniqlo or maybe MUJI, clothing that is carefully calibrated to avoid differentiating them from one another. By that standard, Shinnosuke's a deviant—his bright red sotsu-ran is a middle finger flipped directly at the commodified minimalist aesthetics of the mainstream.
I've come all the way from Montreal, back to Shiga, where I grew up, to meet Nakagawachi-san, a.k.a., Sisyuy@—an embroidery master who has devoted 18 years to manufacturing sotsu-ran and the original tokkōfuku suits they derive from. Kids save for years to afford one of his creations. The embroidery itself costs roughly $680USD. Throw in some custom colors and you're looking at $900USD.
Each sotsu-ran is custom-made and fussed over down to the last detail. Each is a one-of-a-kind jewel, the bookend to someone's youth. The embroidery for sotsu-ran is all about text. Friends' names, school names, personal slogans, and a heavy dose of "Yankī verse"—mawkish poems full of over-the-top declarations of loyalty to friends, all following a tightly defined code, designed to fit on the suits. Kids arrange and create their own poems, adapting verses found elsewhere.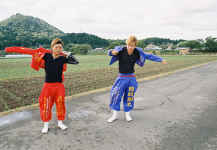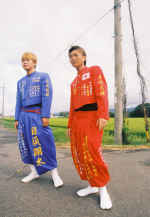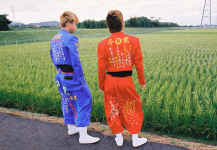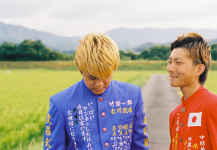 Looking nervous in front of the camera, Shinnosuke, the 14-year-old whom Nakagawachi has decked out, brightens when I ask about his verses. "Some I made and some I took from the internet," he tells me. He worked pencil-on-paper for two weeks to make the arrangement. His favorite part is the Wind God and Thunder God motifs, adapted from a 16th century masterpiece by Tawaraya Sōtatsu. It's the first thing he decided on, which set the stage for the rest of his designs. More is always more with this outfit.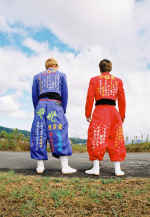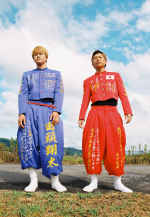 After our meeting with Shinnosuke, we drive to meet Jin and Shota at the only convenience store for miles. They're both 17 now. They graduated two years ago, and look decidedly uncomfortable in their sotsu-ran. They tell me they feel too old to be seen in them. They seem embarrassed. I offer to drive them a short distance off the main road, to a more secluded spot in which to take the photos.
"I used to be a bad seed," Jin says, "like fighting all the time, fist-fighting, you know, but when my graduation came, I wanted to express my gratitude to my parents and my friends." Jin's sotsu-ran, for instance, sounds classic themes of regret and coming of age:
I used to be such an ungrateful son,
but you, my parents, teacher and friends never abandoned me and always helped me
I couldn't say these word until today, but now I can, "Thank you very much"
I betrayed my parents, I made them cry, I caused so much trouble,
But I'm through making trouble. Tonight I show you. From now on I take my responsibility.
Shota explains his choice of fluorescent green for the characters on his sotsu-ran. "It's our school color," he tells me. The school name is emblazoned across the ass of his pants. Further up, he'd had his younger school friends' names embroidered, a sartorial tattoo. He's adamant that he'd never lend his sotsu-ran to anyone.
Nakagawachi tells me that sometimes kids pay him in stacks of small denomination bills. He doesn't ask questions. For many of his clients, their sotsu-ran is the most expensive item they have ever bought. Which means it's important he meets their parents, too. Building a relationship based on trust with his clients, this craftsman has been working exclusively on this kind of embroidery for two decades. "I always tell my clients, especially middle school ones, not to put their current girlfriend's name on the sotsu-ran. If you make it something general, not too personal, you can wear it for cosplay or for Halloween in the future. But they never listen to me, and if they get a girlfriend's name they almost always break up after the embroidery is done. I think it's a jinx."
"Teen love is usually fleeting, and the relationship ends when they start a new life after school. But for most of the kids, those school days seem so special, so eternal to them. Then they rush to me asking for last-minutes change of the embroidery, frantic requests to get rid of a girl's name."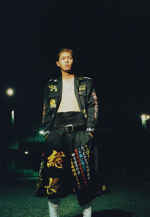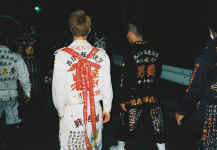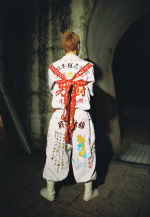 As we drive to our final shoot, the master tells me about his second line of business: tokkōfuku—the richly decorated uniforms developed for bōsōzoku: a Yankī youth biker subculture revolving around riding elaborately customized motorbikes. In reality, the tokkōfuku are the original: the sotsu-ran graduation suit merely repurposes it for graduating school boys. At its root, it's an assault suit for bikers, a kind of gang uniform. There's a underworld-y vibe to bōsōzoku, and a vague whiff of criminality attaches inexorably to the tokkōfuku suit. These days, tokkōfuku are rarely worn out in the open: new laws give police powers to arrest whole crews in one go.
Baron, the crew we meet to photograph are only too aware of this. They don't turn up on motorbikes, that would be looking for trouble. Instead they come in a huge, jet black car arriving in their street clothes. At first they look like normal young guys, out in branded tees, short chinos and adidas or Nike slides.
Nakagawachi tells me he loved working on Baron's tokkōfuku. Night after night, the crew would crowd into his workshop and work out the designs for each of their suits. "Actually the best part of tokkōfuku is when you're discussing every detail. It's always better to work closely together with the client to be sure they'll be satisfied." When so many elements have to share the space—text, icons, flags—layout is crucial. Once the clients agree on the elements, he carefully arranges them to ensure balance.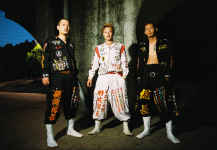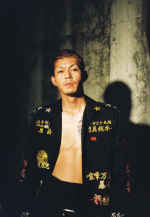 Soon, the crew leader is barking orders, and his guys follow them without hesitation. When they put on their tokkōfuku, the atmosphere changes. Looking for better light for the photoshoot, I invite them to come out of the parking lot and into the park behind it. Balking, they try to reason with me, saying, "You know, that's not a good idea, there are still normal people around." Nakagawachi's already warned me that whenever more than a few of his customers get together in full gear, the chances of cops harassing them are high. As we shoot, an old security guard walks by slowly. He doesn't say a word, but he also doesn't take his eyes off of us.
As the sun sets and other people clear out of the park, everyone seems more relaxed. One of them shows me some shots of his coming-of-age ceremony—a ritual everyone in Japan goes through when we turn 20. In the picture he's with his friend, both in white kimonos. His focus, though, is on the huge flag they're carrying, with their names finely embroidered. "You know, they also sell printed ones, but they're flimsy, cheap looking," he says. "We went for the proper embroidery. It was expensive, but just look how beautiful it is."
It really is stunning. The embroidered thread gives texture and girth to the flag, building its presence. They might inhabit an ambiguous space on the outer fringes of legality, but these guys are aesthetes. To them, details matter.
Kanako Noda is an editorial translator at SSENSE and a visual artist based in Montreal.
Text:

Kanako Noda

Photography:

Cailin Hill Araki

Styling:

Kazuhiro Nakagawachi

Models:

Shinnosuke, Jin, Shota, Baron

Production:

Kanako Noda