Getting A Tattoo with Kari Faux
The Fearless and Free L.A.-Based Musician is Here for the Long Haul, Literally
Text:

Erika Houle

Photography:

Kanya Iwana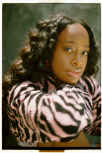 Kari Faux is riding high, having just fulfilled a life-long fantasy. It's nearing after-hours at Alchemy Tattoo in East Hollywood, and Faux has permanently given MTV's Butt-Head a home: smack dab on her left butt cheek, his gnarly 90s grin framed by a heart-shaped doily.
I'm sporting fresh ink, too. The 28-year-old rapper, singer-songwriter, and producer picked mine off of a flash sheet. A bloodshot eyeball blooming inside a flower now sits on my bicep above a pre-existing string of barbed wire. The experience is an exercise in fast-earned trust—we've only known each other for eight hours. Born Kari Rose Johnson, Faux chose my piece as a nod to her middle name, but more importantly to emphasize the feature she believes reveals everything about anything—alas, real eyes realize real lies.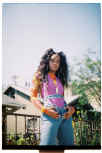 It was Faux's hit "Lie 2 My Face," among many, that first launched her into the spotlight, landing on the soundtrack of Issa Rae's popular TV series Insecure. That was two years after she caught the attention of Donald Glover—resulting in a collaborative remix of her classic trap bop, "No Small Talk." Faux's sound set the tone for a music movement that would soon enter the mainstream in a big way. As many of today's artists seek to ride the wave of her idiosyncratic style, Faux is up to something new. "People compare me to other artists, women, pretty often," she says, "but it doesn't really bother me cause I know what makes me, me. I think this shit is wide fucking open and we can all coexist." Her latest EP, CRY 4 HELP, layers jazzy synths and classic R&B riffs with intimate, conversational-style rap, showcasing Faux's ability to merge and experiment with genres beyond what's expected. Touching on topics like seclusion, miscarriage, and the frustrations of time wasted on failed romances and bad friends, her boundless introspection leads her listeners to do the same.
Growing up in Little Rock, Arkansas, Faux speaks with a subtle Southern accent and doesn't seem jaded by her small-town experiences. Reflecting on her roots and how they've shaped her as a person, she says, "I think it made me pretty humble. Also, I'm hospitable. I love making people feel comfortable." This warmth becomes obvious quickly as she exchanges laughs and stories with her glam team, who are also friends from high school. Packs of Grandma's cookies and tins of Pringles are passed around the set trailer as makeup tips and product preferences are shared (of which the general consensus is, of course, Fenty Beauty everything). Faux's manager swings by with a bottle of tequila—her drink of choice for getting "in the zone"—and she takes to the glow of golden hour like a certified professional: shut-eyed, head tilted back, embracing the stress of being photographed while keeping completely chill.

As sarcastic and unbothered as she presents through her music, in person Faux is goofy and undoubtedly decisive. When somebody suggests playing her music to set the day's vibe, Faux glares. Confident and self-aware, she's not an artist who gets off on her own work. Amy Winehouse is one of her all-time favorites, so she instead requests 2003's Frank, from the top, all the way through. "Is this on shuffle?" she asks as the songs flow at random, "cause this is not the order of the album." Faux's an expert on her industry's greatest artists—when her hair blows into her face with the wind, she declares she "did not ask for the Beyoncé effect." To that, her team reminds her, "it chooses you."
"In my opinion, I'm not really a 'fashion girl'," Faux says. Her approach to clothing—typically combining tomboy styles with ultra-femme aestheics— certainly suggests otherwise. In fact, Faux was tapped by Kerby Jean-Raymond of Pyer Moss to walk the runway of the New York-based label's FW18 show with Reebok. "I don't actively keep up with new season collections or even know how to pronounce a lot of brands," she says. "I'm more about personal style. To me, it doesn't matter how much something costs, it matters if you know how to freak the fit." While dancing candidly and admiring her reflection in a glass storage case—looking like an IRL fancy Barbie doll—she tells the stylist that she's most excited about wearing the Air Force 1s he's lined up. But it's a Gucci fake fur coat paired with bright pink Off-White lingerie that sparks an inner fire—the mix is a sign of her willingness to take risks without an ounce of hesitation.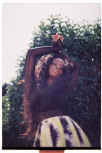 "I think Kari opened the door for a lot of black girls to emote and be weird, and then to feel understood," says one of Faux's closest friends, photographer Quil Lemons. The two are regularly posting their support for each other online with comments like "Sis you SNAPPEDT. This shit SLAPS!" and "I LOVE U 2 DEATH EVEN THO U USE MY THINGS AND DON'T PUT THEM BACK." "She's not a pushover, and I love that about her," Lemons says. "For her to even put that album cover out,"—shot by Lemons himself (which features Faux, ass-exposed in red fishnet stockings flipping up the middle finger)—"which invites so much attention… she has bigger balls than me." Faux's stage presence confirms Lemons' theory. From her tour set design and costuming (including comfy socks and t-shirts), to her rider (consisting of Welch's fruit gummies, the blue kind only, and cheddar cheese Goldfish crackers), Faux at once radiates nonchalance and self-certainty.
Drawn to astrology apps like Co-Star and The Pattern, Faux loves the word "aligned"—not in corporate jargon talk, but in terms of auras. She tells a story about a dream in which her ex's new girlfriend tells her not to be placed in boxes. Though seemingly unfazed, Faux is thoughtful about the deeper meaning of things, always seeking truth. She has a particular belief about eyes—the psychological theory that people look upwards and to the left when they are lying as it's the side of the brain associated with creativity. As I'm being tattooed with the eyeball she hand-picked, I ask her what she gathers from my own eyes, to which she responds, straight-faced, "I fuck with you." Faux lets out a laugh and continues, "You're going to remember me for a long ass time." She's right.

Erika Houle is an editor at SSENSE in Montreal.
Text:

Erika Houle

Photography:

Kanya Iwana

Styling:

Jake Sammis

Hair:

Ashuna Starks

Makeup:

Anthony Walker

Photography Assistant:

Shaina Santos

Artwork:

Bruno Leguiza