Hard Purse Or Punch Line?
Haley Mlotek Traces Our Love for Lucite Bags from Polly Pocket to Y/Project
I want a purse. My hands can make the shape this purse should be, but I am unsure of the right words to use. Small; compact; dense; hard; bright. The purse I'm looking for is a word I never use: zany.
I think I'm wanting a hard shell purse, which is, as I attempt to turn my thoughts into search terms, getting closer. In my mind I'm picturing myself resting this imaginary purse on the palm of my hand and carrying it like a platter. I'm picturing myself swinging it by my legs while I walk down a wide avenue. I'm resting it on my lap while I cross my legs at my ankles.
All of this is hard for me to admit, because I find wanting very embarrassing. Waiting in line for an ice cream cone gives me the kind of shame normally required for sins against a god; being the kind of woman who needs a curling iron seems, in the same way, like an indictment of my weak character. But because the purse I want is so reliably silly, I feel a little safer. The superfluousness obscures any scrutiny. There's something otherworldly in this surreality—not magic, but close enough. In my logic of illusory make-believe, it's easier to find depth in smallness than shrink something big down to size.
The word "shell" is used interchangeably to describe both the shape and structure of such purses, as well as referring to a tortoiseshell color—in opening various tabs to find a visual, I see that it often but not always intersects in the purse itself. The more I think about it the more I realize that what I'm looking for is a toy: I am a grown woman in search of a Polly Pocket.
"The more I think about it the more I realize that what I'm looking for is a toy"
What's it called when a purse is more like a Polly Pocket than a purse at all? There is no Google search result for this answer. Instead I allow myself to be carried towards Polly Pockets on Etsy. I learn that they were invented by a man trying to entertain his daughter; he made a dollhouse out of a powder compact. What's it called when something is resourceful and impractical? That's the purse I'm looking for.
The Polly Pockets seem both littler and larger than I remember. In one, she's an ice skater, and there's a rink that really rotates to give the illusion of gliding over ice. In the other, she's exercising, and there are tiny tennis rackets to suggest a tiny workout. I envy Polly. In my memory, Polly Pockets represented being grown-up in miniature—an elegant existence displayed in a dysmorphic setting. I tried to put other things in it and make it into a purse but everything I owned was too big, another confusing contradiction about being a kid.

There was a time when women didn't carry anything at all. Everything was kept in their pockets. This was not a feat of self-discipline; you see, their skirts were so big. Anything could be hidden under those folds. Certain women had chatelaines, which were keychains that unlocked more than doors. They dangled from belts and were looped around fingers, showing which ladies of the house had access to which rooms. When high-waisted, slender gowns came into fashion in the late 18th century, the pockets disappeared. Early purses were called the reticule, a term that unfolded itself again and again: also known as a ridicule or an indispensable, it came from the French word réticule, from the Latin reticulum, meaning "net"—a catch-all for necessities, made of netting. Later they became velvet, silk, or satin, sometimes embroidered or beaded, often handmade but also made by pros for purchase. "Pocket-lines were the panty-lines of the 1790s and no fashion-forward woman would be caught sporting them," I read on a website detailing the history of the handbag. I find myself repeating this line to myself as though it will gain rather than lose meaning in repetition.
Caroline Cox, the author of Bags: An Illustrated History, wrote that there was an element of sin in the first reticules. They suggested that what was once hidden should be shown, calling them "one of the first examples of underwear as outerwear—and thus for many a rather absurd affectation. The idea of a woman parading her personal belongings in a visible pocket was akin to lifting up her skirts and publicly revealing her underwear." Pocket-lines were the panty-lines of the 1790s, I mutter to myself later that day as I look for a way to leave the house without carrying anything, my debit card loose next to my sunglasses in the deep pockets of an otherwise impractical coat.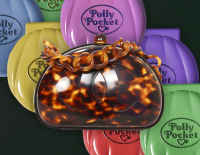 Plastics, the great hope of the 1950s and the great blight on Benjamin Braddock's small talk, changed purses. Lucite and PVC purses were made in factories to give the illusion of coming in from space. Janice Berkson is considered one of the leading experts on the history of Lucite handbags, the author of a book called Carry Me! 1950's Lucite Handbags: An American Fashion. Much of her inventory came from Will Hardy, the founder of Wilardy handbags, who had made his Lucite purses out of salvaged nose cones from airplanes discarded after World War II. Meanwhile, Charles S. Kahn and Myles Originals were making their brightly colored purses in Florida, where the use of cellulose nitrate was not recommended but not illegal (In New York City, the material was banned for being highly flammable and better known as a propellent low-order explosive; around this time, another Miami factory using it would catch fire and burn to the ground). In a 2011 interview with Collectors Weekly, Berkson reveals that clear Lucite bags were only as revealing as the wearer wanted them to be. "Women would put a scarf inside their clear bags, and then put their stuff inside the scarf," she explained. Genius, I mutter to myself, and open a new tab to search for vintage clear purses.
In my transparent obsession for Rihanna outfit photos, I can conjure her in 2014, carrying a Lucite purse shaped like a Chanel No. 5 perfume bottle. The Y/Project Transparent Crystal Chain Clutch or the Martine Ali Silver Next Chapter Bag appear like challenges: just try to hide what's inside. Natasha Lyonne, at the Met Gala red carpet, wore a similar style, pill-shaped and see-through. It appeared she was only carrying the essentials: loose cigarettes, a lighter, and what could be either a lipstick or a vape. No scarf; no shame.
Before the Lucite handbags of the 1950s there was the minaudières of the 1930s—small, handheld cases with engravings or decorations on their slick exteriors, they clicked shut on compartments demarcating between lipstick, opera glasses, keys to the house. Van Cleef & Arpels, the jewelry designer, took credit for the concept; at least, they took credit on behalf of the woman who inspired Charles Arpel to patent the name and manufacture the product. Her name was Florence Gould. She was the third wife of Frank Jay Gould, a wealthy man who made his money in hotels and casinos on the French Riveria. Florence used to toss what she considered necessary for a night out into a small tin Lucky Strike cigarettes case, that's where Arpels got the idea. Florence, before moving to the United States, was also a Nazi collaborator. I discovered this within a minute of beginning research for this story. I swear I do not go looking for fascists when I write about fashion. It's just that there are so many of them! Anyway, the name minaudières was supposedly a "humorous homage" to Estelle Arpels, Charles' wife, who had what the company describes [https://vimeo.com/8884398] as a "tendency to simper", or in French, "minauder." No matter how hard I look I cannot find any research telling me how Estelle felt about that.
"I swear I do not go looking for fascists when I write about fashion. It's just that there are so many of them!"
The modern day minaudière is the Judith Leiber crystallized clutch. Leiber collected references and covered them in rhinestones. Once a friend of hers traveled to Antarctica and returned with stories about the penguins she had seen, and so Leiber made a penguin purse. Harold Koda, the former head curator of the Costume Institute at the Metropolitan Museum of Art, acquired eighty of her purses for the permanent collection, telling the New York Times he considered them groundbreaking. "She gave bags and purses a narrative. This conceptual focus makes them playful or surreal, sometimes both. She makes me think of Salvador Dalí and his telephone-dial compacts." I remember that in middle school I bought a knockoff Judith Leiber watermelon from a kiosk at the mall, though I didn't know that's what it was at the time; I just knew a more popular girl had the strawberry. That same year I watched the Sex and the City episode I taped on my parent's VCR, in which Mr. Big gives Carrie a Judith Leiber swan and she says "I love you."
In an interview with Rachel Tashjian at Garage, Marine Serre described her process of designing as being a collection of desideratum: desires that become demands. When she's thinking about the construction of pockets, she says, she's thinking: "Okay. I'm a woman. I don't want to go out and take every little bag. I want to have fun. I want to be like a man, but I don't want to look like a bag, you know?...I just thought, "Okay. What do I need? What do we need today?'" When she does make bags, they are reminiscent of reticules and chatelaines both: they dangle like set of keys, swing like a pop-out pocket. They manage to look like a custom that could be from another era or another planet. The title of Serre's SS19 collection, Hardcore Couture, is emblazoned like the neon lights of a mall store my younger self would have been too scared to enter alone, appropriate because The Marine Serre Purple Dream Bag comes closest to my Polly Pocket fantasy, glittery and tough, with a loop around the wrist that promises a pretty weapon.
Perhaps, though, what I want is the Lemaire Black Cartridge Bag, because it has the slick, solid appearance of a hard drive. A-Cold-Wall* does the obvious with the Grey Hardware Utility Briefcase: all form, all function. But if it's for summer then maybe I want a purse for a picnic, like the Prada Beige & Black Raffia Garden Tote. The Mark Cross White Rattan Harley Bag is for a Hitchcock heroine allowed into the sunshine for once. I pause to look at photos of Grace Kelly. The original Mark Cross bag commissioned by Hitchcock for Rear Window sold at a 2002 Christie's auction for just over $5000 USD; a steal, if you consider that the Kelly Hermès bags made in her honor currently retails for about the same.
Handbags got bigger and bigger as the centuries numbered higher. Decades kept passing, accumulating meaning. In between the time of my Polly Pockets and the time of now there was a moment of very big bags: absurdly large, all the more so when seen on the shoulders of the tiny women that were my favorite Google Image searches. Women needed large bags that were essentially baby suitcases. Luggage that could hold laptops, lunches, workout clothes, hairbrushes. "There has to someone out there who has called baby bags 'not feminist,'" wrote Doreen St. Felix when she carried the Jacquemus Le Sac Minho for a period of time, the tiniest of the tiny bags that "retains the crowded architecture of a duffel, which highlights its sense of comedy." Knowing the bag is a joke doesn't make it seem any less serious. There is a challenge given in a bag this small, as compelling as any want: a burden of lightness. "It forces you to answer a question your vile, enabling tote lets you keep avoiding: what are the only objects in life you need?"
Once a friend and I were having a conversation not about purses but about feelings. We have so many, I said, and yet we are so small. She laughed really hard at that and later included it in an essay of her own. I was relieved she thought it was funny. I thought it was true, but lots of stupid things I say are true. Now I wonder if it is the quantity of feelings that are mismatched, or if it is the way feelings can take up as much shape as available. No matter the size we give them those wants and needs stay the same. You open yourself up and find an entire ice-skating rink of desire inside. I wonder all the time: who is this woman who can spend a day with the bag I want, who can make all their needs fit? She is my enemy, and I love her.
Haley Mlotek's writing has appeared in The New York Times Magazine, ELLE, The Globe and Mail, and Hazlitt, among others. She is currently working on a book about romance and divorce.