The Internet's Alluringly Mellow Front-woman on Fashion, Architecture, Grief and Creation
Interview:

Khalila Douze

Photography:

Stefan Kohli
Hidden near the top of the Hollywood hills overlooking the picturesque landscape of Los Angeles is a large, A-frame cabin with a rich cultural history. Owned by music-loving computer animation pioneers, the rustic home was once the property of 60s sunshine pop band The Association and is the closest house in the city to the neighborhood's renowned sign. Inside, a drum set and a 100-year-old grand piano sit together in the living room, rock 'n' roll iconography adorns the walls, and the Michael Jackson HIStory statue—created by one of the current homeowners—stands as an ornament in an office. Despite its illustrious history and pricey rental rate, the house is unassuming and down-to-earth—the type of place you'd expect to find in a quiet forest or near a lake.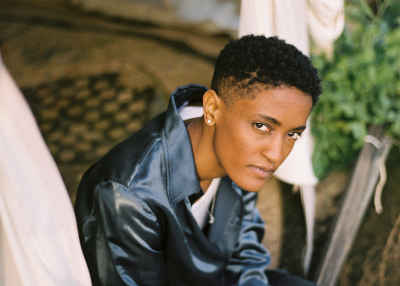 The time capsule beneath the Hollywood sign is where Sydney Loren Bennett, the 26-year-old singer-songwriter better known as Syd, is scheduled for a sunset photoshoot on a late afternoon in January. Beyond its musical significance, the setting is apt for an interview with Syd, who's the lead vocalist of neo-soul band The Internet, and also happens to love interior design and architecture (with hopes to start flipping homes someday soon). When she arrives on set, Syd is dressed in comfy clothes and Old Skool Vans. From the careful pauses in her speech, to her walk—a near-glide—as she moves around the house, she radiates calmness and zen. When somebody suggests that the owners' photogenic husky, Jack, take part in the shoot with her, she warmly agrees despite being allergic to dogs.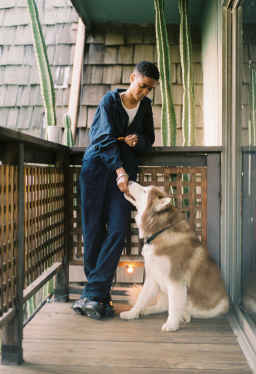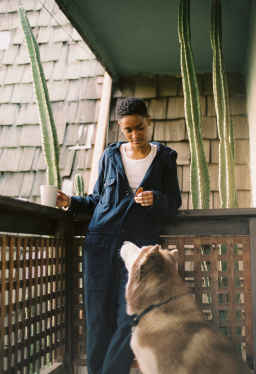 Syd's coolheadedness manifests not as a sign of apathy or ambivalence, but as one of intent. One of the few queer black women with her level of notoriety in music, she occupies a powerful space. In the past she's avoided commenting on her sexuality, but says she's more deliberate about speaking up now, in order to empower others. When we discuss her recent appearances in fashion campaigns and at designer presentations, she admits to not agreeing with most of the trends; but she's unfazed: "It's okay because it's all artistic expression." Syd is discerning about what's worthy of criticism, and whether or not she's meant to engage with something.It's this unflappable vibe that oozes from her sultry, honeyed vocals on The Internet's fourth album Hive Mind—the 2018 follow-up to their Grammy-nominated album Ego Death—and her 2017 debut solo effort Fin. The band's cozy, lo-fi lullabies and sensual confessions are carried by Syd's smooth lyrics. It's no secret that what makes The Internet work is a delicate balance of collaboration and independence—roles that Syd and producer Matt Martians are accustomed to as former members of the Odd Future collective. Right now, Syd seems to be focusing on the latter. After touring with the band last fall, ringing in the new year with a relaxing vacation in Bali, and signing a new publishing deal, she's back in her hometown of Los Angeles to chill out and embrace her free time—for now.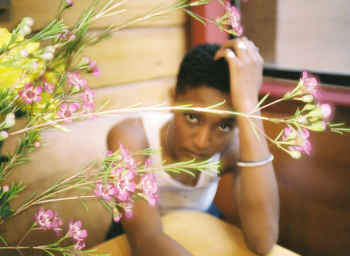 You've been cast to model in Virgil Abloh's Louis Vuitton campaigns, and this year you were named in Forbes' Under 30 series. What has it been like to be recognized and involved with audiences outside of the music world?
I haven't felt it in real life. The only major difference is I do photoshoots and I get cooler clothes to wear. Not even necessarily cooler clothes, just more expensive clothes. Other than that, I think having built most of my following from music, that's all they really care about. Those are the people I see and listen to. For instance, I posted the Louis campaign and nobody really cared. It's great because it's part of the resume—my little Instagram resume, but, honestly, nobody cared and I thought that was awesome. Don't get me wrong, I was honored to be a part of that campaign and I thought it was really cool, but it's cool that they [were just like], but, the music though.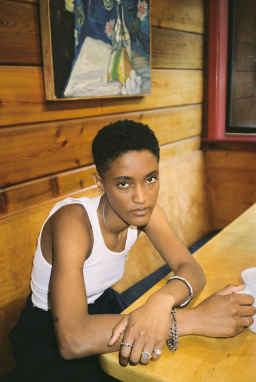 Have you always been interested in clothes?
I've always been interested in clothes, I've just always battled myself on it to an extent. I don't understand "fashion." I know what I like to wear, and I know what I like on other people. I've had to come to terms with the fact that I just don't fit into a lot of the trends these days, and that's okay. There was a time where I felt like, Damn, am I just not fashionable? Am I lame because I don't like what all these people over here are wearing? Is it me? And then I realized, yeah it's me. I'm an individual.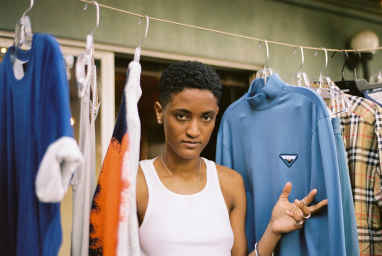 How do you spend your spare time when you're not making music? I heard that you're into investing in real estate.
I'm very vulnerable to the spaces around me, whether it's rooms in my house that I'm constantly trying to improve upon, or my studio I'm building right now. I do one day want to flip some houses for fun. Yesterday, for instance, me, my girlfriend, and Matt spent three hours watching this show called The World's Most Extraordinary Homes. We rented an Airbnb in Brentwood for a couple nights just to get out of my parents' house. We woke up in the morning, got some breakfast, and Uber'd to Manhattan Beach and walked around the beach talking about the different styles of houses. When we got back, we watched a few hours of that show. Then, we took a walk around Brentwood and started looking at those houses. I've never flipped a house before, I've only done renovations in my own house. So, I know it would have been a lot to take on. I've been that person before—that impulsive investor—and I've learned a couple lessons.
What kinds of businesses have you invested in?
I've really only committed and invested in one business, it was my business. I [had a] partner, and built a recording studio before we made Ego Death. I was an engineer first, so I was looking for a place where I could build a studio outside of my house. I opened a studio in Hollywood with a friend of mine, her mother was Teena Marie. She had all her mom's equipment and she was trying to get more into music herself. But, we didn't make any money. We lost money. Ultimately it was great because we made a lot of Ego Death in there.
Are you trying to make your studio now a more public place?
No. Once we started working on Ego Death and things started to look like they might become more lucrative in that part of my career, I decided I don't want to engineer for people anymore. I am building a studio, though.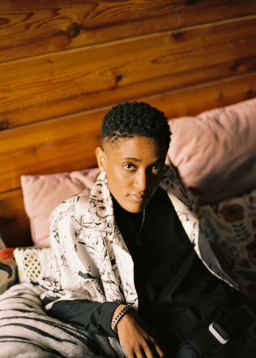 You're not promoting new music right now, and you've finished touring, so I am curious: Where is your head at these days?
I'm a very proactive person even though I don't really leave the house too often, so you wouldn't know. I realized last year that one thing I love to do is complain about not having free time, and then get free time, and then give myself something to do like start a new album or something. Since we've been off tour, I've really been trying to not work. I've still been working a little bit on other ideas that aren't musical, which is nice. In my personal life, I have a lot of things to write about now. Before and during the tour, I was really anxious to get home and start my next album. Steve is finishing an album and so is Matt, and so with them being so into their projects and me seeing how they're right back to work, I don't want to do that. I'm doing it sparingly and at my own pace. I am grateful to be in a position where I can float financially and I don't need to face the next job, the next check, you know? My year has started off pretty great, financially, because I just signed a new publishing deal. And my next album, once I decide to start that, I'll have some more money in, and I can just kind of relax. There's not too much that I want to buy. I live with my parents, I help out with the bills, I take trips and I get Airbnbs sometimes. I rent a car every so often. It's cool.
What kinds of things outside of music are you interested in right now?
Storytelling. Right now, I'm in the process of trying to help create a movie. Well, a film, better yet, because I don't know what it'll be yet. But, I'm in the process of helping to create a film and also a cartoon. It's just new developments. It could change. It could turn into something else. But, for now it's pretty cool. It's another form of writing and another form of creation and it's very exciting.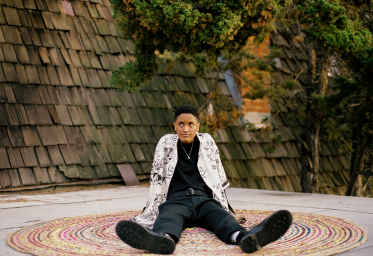 Last year, you lost a good friend—Mac Miller. How are you dealing with the loss?
You know, it sucks. I haven't really been listening to his music. But, I've been hanging out with his mom a lot. That makes me feel good, 'cause she needs it. Thankfully, she's got her other son, Miller, and he's been, from what she's told me, really strong for her. I know her husband's been pretty strong for her as well. Mac's dad is an architect. He actually offered to help me build my studio. I had dinner with them last week. But, something I learned earlier on was that I think the best way for me to deal with it is just to take what I learned from him and utilize it the best I can. Things that I admired about him I'm trying to put in myself. I like that he collaborated with so many people, you know? He had a lot of love to give. I knew how much love he gave me, but I didn't realize how much he had in him until everybody sent their condolences. I was like, wow, I thought I was special and he made everybody feel that way. That was really cool. So, I'm trying to just be a better person by being more like him.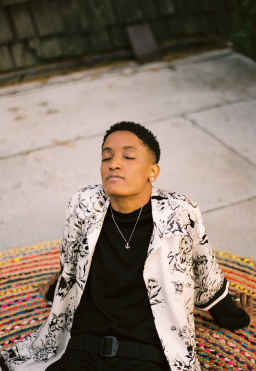 Khalila Douze is a freelance writer and tarot enthusiast based in Los Angeles. Her work has appeared in The FADER, Pitchfork, The Outline, and more.
Interview:

Khalila Douze

Photography:

Stefan Kohli

Styling:

Brittny Moore

Makeup:

Taylour Chanel

Hair:

Ronnie McCoy III

Production:

Emily Hillgren