Behind the Scenes with Vans, Nike, Reebok, Miyazaki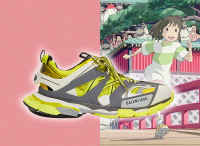 For the fourth instalment of Cinephiles, we unlace the mythology surrounding some of our favorite comfortable kicks in cinema.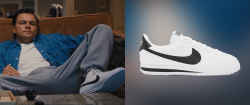 Wolf of Wall Street - Nike Cortez
What do you wear on your feet when you take expired Quaaludes while also navigating a sticky situation with the FBI? According to Jordan Belfort, played by Leonardo DiCaprio in Wolf of Wall Street, the Nike Cortez fits the bill. And Leo might say the same—apparently summoning the energy to act fucked up (slither across the floor of a country club and down the stairs to his car) sent the actor straight to the chiropractor. Given the notorious comfort of the Cortez, he probably didn't have to change his shoes.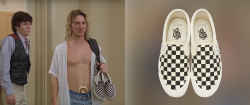 Fast Times At Ridgemont High - Checkered Vans Slip-ons
When you think of Vans, you probably think of skateboarding before you think of Sean Penn, but we have the latter to thank for the brand's hyper-osmosis into the mainstream. On the set of Fast Times at Ridgemont High Penn walked on set in a pair of checkered Vans slip-ons, sealing their fate as the go-to slacker footwear for decades to come. Popularized by Spicoli, and perpetuated by surfers, skateboarders, and Mac DeMarco. "Why do you shamelessly waste my time like this?" a hater might ask—if you're wearing Vans, you can definitely get away with saying "I don't know."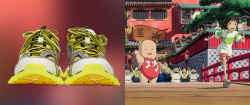 Spirited Away - Balenciaga Track Runners
Oscar-winning Spirited Away is the highest grossing film in Japanese history, and regarded as one of the best animated films ever made. Inspired by the 10-year-old daughter of Miyazaki's associate, the film follows Chihiro, whose family has become trapped in a spirit world—Kami—of Japanese Shinto-Buddhist folklore. There, she's given the name Sen, the guise under which she must navigate the spirit world as a human. What better shoes for navigating dualities than the Balenciaga Track Runner? Tangled and interwoven layers synthesize the perfect pair of sneakers for riding the bus with No Face.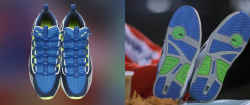 Wayne's World - Reebok DMX Run 10 Sneakers
Product placement is practically synonymous with the the classic Wayne's World scene, in which Garth and Wayne blatantly discuss the absurdity of product placement while explicitly engaging in it. One thing we don't see nearly enough of though, are the shoes Garth is wearing to finish off his head-to-toe Reebok kit. Thankfully the brand has dreamed up an evolved version in the same colorway: The DMX Run 10 sneakers in blue and acid green.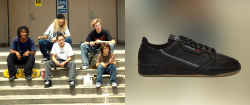 Mid90s - adidas Continental Sneakers
"This stuff is so easily fucked up in movies because skateboarding is always butchered so badly. Our marching order was to respect skateboarding." Jonah Hill told GQ about portraying skateboarding in his directorial debut, Mid90s. As far as styling goes, Emerica and Vans seem like no-brainer shoe options, but adidas, specifically the Busenitz, are favored by skateboarders for their comfort and durability. Na'kel Smith rocks superstars in Mid90s, suggesting that adidas is capable of more clout and comfort than we thought—try the Continental 80s on for size.