Dixon: Music Is an Island
The DJ/Label Manager on the Perfect Party and Dries Van Noten
Interview:

Timo Feldhaus

Photography:

Christian Werner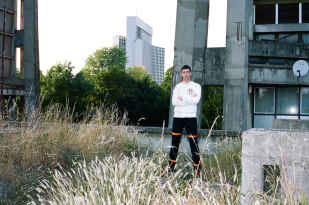 One month a year, Dixon — the electronic DJ voted "most popular" by Resident Advisor's readers four years running—goes silent. No music. No TV. No internet. He calls this his "sabbath" and travels to India to practice Panchakarma. " While Dixon doesn't specify where in India he practices, he describes the experience as a necessary reset. "Panchakarma assumes you are made up of five elements when you are born and depending on how you live, one of these elements goes into hyperdrive. With me, it's fire."
Born Steffan Berkhan, the 41-year-old Berlin native's DJ style is characterized by reviving soaring strings, grand emotion, and cinematic flourishes to a genre defined by functionality. In 2005, he co-founded Innervisions, an electronic music label whose sound connects across cultures, setting the tone for massive, outdoor festivals and endless club nights. Based out of Berlin's historically punk Kreuzberg district, their headquarters house a recording studio, a record store, a distribution facility, and as of late, a booking agency. Dixon, who cuts a striking figure behind the decks while orchestrating shimmering collateral damage on the dance floor, recently took me on a guided tour of the label's sprawling space. He only gives one interview per year. And here it is.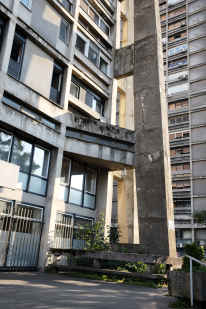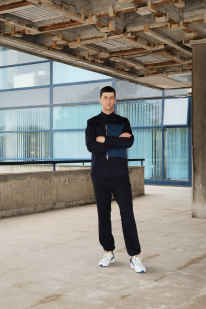 Dixon is the best DJ in the world.
You've been voted most popular DJ four years in a row at Resident Advisor, the most important platform for electronic music.
That might be because it is very hard to tell most DJs apart. Few DJs have managed to build an identity of their own.
But the fact that I am where I am also has a lot to do with timing, with catching the right moment. And it has to do with Innervisions, the label I run with Kristian Beyer and Frank Wiedemann of Âme. This special community we form together.
How did you come up with the name Innervisions?
I chose it because of Stevie Wonder's record of the same name — it's only later that we realized that it also describes our state of mind. That you feel things inside that you can't explain at first. I still don't know why I'm changing my musical direction a little, but I'll understand it in a year. We publish only six records a year; it's been two years since Âme put anything out. But when it does come, it's a milestone.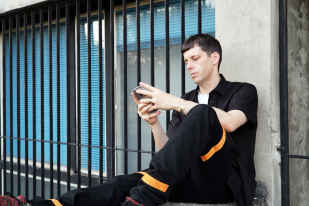 So does capitalism hold the door to fame open to anyone who wants it for a few minutes? The moment your energy clicks with other interfaces, when production falls in sync with a certain trend and the right idea. This decisive moment—what does it take?
Staying power. Resisting temptations. It is a unique art; you can't push too hard for something to happen. Having the self-assurance to let it take its course. I never asked a club to let me DJ there at the start of my career. At some point, it just happens on it's own. If you're lucky.
How long have you been a DJ?
25 years. Plenty of time to fall on my face a time or two. What's special, I think, is that it just slowly, gradually picked up. It wasn't like I was immediately doing six gigs in five different cities within a three-day period, like I might nowadays. Two years ago, I played 135 shows in a year. Now I do 10–15 fewer shows every year.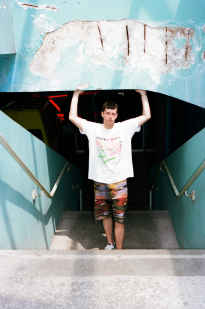 Was there ever a point where you were completely sick of it?
Sure. But basically I have a lot of fun doing what I do. I'm constantly having to re-adjust to the physical and mental drain of it, and to being away from my family. And that's what I'm doing in January and February. I take regular trips to India to do Panchakarma.
A kind of cleanse for your organs. Three-to-five weeks and all your senses are reset. I can do 10 things at once, but I have a hard time concentrating on one thing for a long time. The detox sets all your senses to zero. You don't see anything, read anything, no TV, no internet, no entertainment. I couldn't keep going if I didn't do it. I don't listen to music during that time, either. And when I start again in March, I don't play any music I played before my sabbath.
"I didn't stumble into clubs in the early 90s because I was so fascinated with techno. I was fascinated by the other people."
The status in clubs today is that every dancer is actually a prosumer, which is to say he or she also produces music or DJs on a semi-professional basis. What makes one DJ more successful, the other less so?
The art of it starts when you do more than just pick 15 tracks. When you're playing six, eight, nine hours. Knowing what it means to play a warm-up. Knowing that people have been here for six hours already, that the alcohol and drug level might have reached a certain point. Being able to read and understand all of this, but also to have learned it. Not only seeing that it's happening, but having five responses ready to go.
Isn't it about getting a perfect mix?
That's absolutely basic. The most important thing is music selection, which should be a highly subjective representation. Finding the way to make your own statements without neglecting the entertainment aspect. You can provoke people with a picture in an art gallery, but it doesn't really work in a nightclub.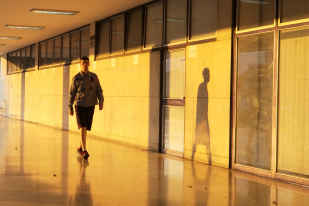 So you see yourself as a DJ, not as a musician?
I put out a lot of music, but I do not see myself as a gifted musician. I am a very good DJ. Period.
Is a DJ a service provider?
People go to a club because they want to have fun. Music is only part of that experience. It also has to do with the spatial situation, the other people. I didn't stumble into clubs in the early 90s because I was so fascinated with techno. I was fascinated by the other people.
The people, the excess, the going-out aspect?
The colors, the clothes. I saw that it was another world, and I wanted to be part of it. And at some point the music came, too. People want sex. It's part of the whole system. It's a mistake to think one person dominates everything with the music.
"It's hard to find your way back to something you've perfected in the past."
What constitutes a perfect party?
To get lost in a moment. That is why we created the "Lost in a Moment" party series over the past few years, organizing parties in castles, in museums, or on an island outside of London. What we're doing is independent of location. We can do it in the most adverse of circumstances. On Osea Island, outside of London, people had been bused in that morning and then a flood came, so there was no going back. You have to play in contexts that are good for you. The smaller the crowd, the riskier you can be. When I play at a festival and make some crazy statement, people look at the clock and say, "You know what, blah-blah is playing over there, let's check it out." If I'm playing on an island they can't get off of, artistic freedom is given.
With 25 years and club culture experiences all over the world behind you — does this space still work for you? Is it not thoroughly commercialized?
I think the last five years have shown some interesting signs of life. In our field, electronic dance music, Berlin has always been the bellwether for what will be happening everywhere later on. What we've experienced here in recent years with the EasyJet set is a widespread phenomenon now. It isn't New Yorkers I see when I go to New York, but people from Chicago, Montreal, and Stockholm. Music is part of this idea of experiencing two days of somewhere else on a relatively small budget. Actually, I just thought of something.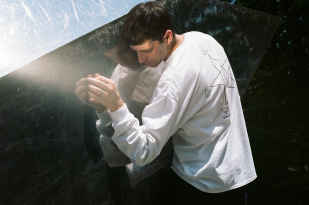 You asked me at the beginning how it all came about with the DJ career. I've always moved between stools, so to speak. I was on the Sonar Kollektiv label, but I wasn't with its key players, Jazzanova. Before that, I was regularly playing at parties that were thrown by Alec Empire from Atari Teenage Riot. I played a house set during one of those brutal industrial evenings and it was clear that I was doing it for the last time in that particular context. I didn't really fit in when I started playing in the legendary Berlin club WMF, either. It's absolutely amazing to play at Panorama Bar/Berghain nowadays, but nobody would say that I'm really part of it. I have felt like a misfit for a very long time, in a negative sense. But at a certain point I realized that it just means I have to do my own thing. And that it's probably a strength. Since then, we've tried to apply it to everything we do at Innervisions. Starting our own label, our own record store, our own booking agency. I wanted to do it like Dries Van Noten. He was the role model for it.
His autonomy. We applied it to our field.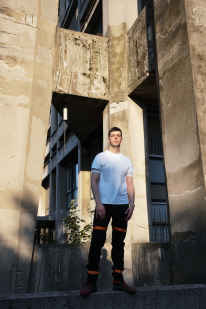 You mean the fact that he never left Antwerp? That he never runs any ads?
The fact that you can't find his entire collection online, only selected parts. That he only sells in three or four online stores. He has his own two stores. The collection you see in Belgium is different from what you get in Paris — these little differences. He's been producing with the same people for years. And he is one of the few who still owns his fashion house. This is also what gives him the strength to resist things. I started out being fascinated by his designs, but then I realized that actually we want to do the same thing. At first it was just a feeling, the certainty came after some in-depth consideration. And yes, we have never done any ads!
Do you remember when you bought your first Dries shirt?
12 or 14 years ago, in Paris.
Was there a moment when you realized what fashion is?
I started relatively early. At 16, I was well-known raver in Berlin. A guy you'd always see around somewhere. Even back then, I spent way too much money that I didn't have. I was a bird of paradise, at school anyway. There was no such thing as wearing orange and light blue striped pants back then.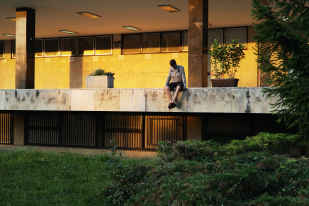 What labels do you follow besides Dries Van Noten? Who do you keep an eye on?
I'm always keeping an eye on everything. The Japanese: Comme des Garçons, Junya Watanabe, Yohji Yamamoto. I don't buy a lot from them, but I have a huge amount of respect for they do. And then there are the fresh young brands like GmbH, Andrea Crews or Heron Preston. But no other brand than Dries Van Noten has stayed with me for more than two seasons, just as it seems no head designer can hold out at a brand for more than two years these days.
Raf Simons could be followed around to his various posts.
There are a lot of Raf Simons fans in my circle, but I'm not really one of them. A lot of times it seems a bit arbitrary to me, and there's too much repetition of the same principle. For Dries to stay away from all this and only focus on his own house—that makes him special. He has a high level of continuity, but a lot of change, as well. A lot of musicians fail trying to make something new. This is very important for artists, but it's often the end as far as the work is concerned. It's hard to find your way back to something you've perfected in the past. Dries has managed it many times over. It is not about being totally successful with the new thing, but about breaking something, striking a new balance, drawing lessons from it, and then having the strength to find your way back.
Interview:

Timo Feldhaus

Photography:

Christian Werner

Styling:

Niki Pauls