Cruising Through Brooklyn with Ian Isiah
Mapping the Stomping Grounds of the Chanteuse Cum Fashion Muse
Interview:

TORSO

Photography:

TORSO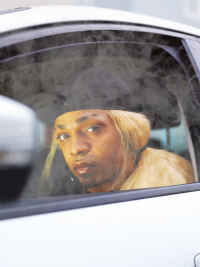 If you're not already familiar, meet Ian Isiah, aka SHUGG—a Brooklyn choirboy turned "hood-maternal" vocalist, a sensual R&B songstress with an ascending trajectory. You might recognize him by the statement disjointed eyebrows and constantly revolving hair-dos, or the uncanny ability to pull off a look. Ian is a muse and inspiration to an untold number of social media super-fans, and creative industry insiders, and all of them are holding their breath for the March launch of Shugga Sextape Volume 1—a hotly awaited EP following up the release of explicit hits "24-7," "10K," "Sweat," and his mixtape The Love Champion.
Besides his crucial role in Hood By Air as collaborator and global brand ambassador, Ian starred in this season's TELFAR Fall/Winter 2018 show, "MUSIC" along with Dev Hynes, 070 Shake, Kelela, Kelsey Lu, and more. He's also featured on the upcoming Blood Orange album due for release at the end of this month, and is the voice of a philosophical avatar on the newly launched video streaming platform dis.art.
We took a smoky driving tour through Brooklyn—Ian's Brooklyn—finding the formative childhood haunts, current obsessions, and day-to-day necessities that continue to shape his blessed life.
Ian's car (borrowed from a friend, or was it a cousin?) is our point of origin, commencing a tour of local Brooklyn spots—his spots—which will likely be of no touristic value to anybody else. In fact, all addresses will be withheld, as he'd rather other people didn't find out about them. But first and foremost, a car, for Ian, is more an apartment on wheels than a method of transportation, and the best way to understand the core of Ian Isiah:
"Ohhhhhh, I'm a Brooklyn girl. I can be dropped anywhere in Brooklyn and explain to someone where I'm at. Or I could be anywhere and run into a cousin, or a friend of somebody's mother… Actually, it's really annoying.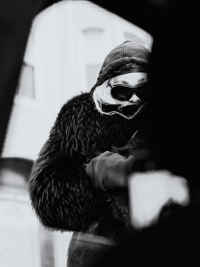 I failed my first driving test because I was wearing a heel, and my shoes were so heavy that I kept pressing on the gas too hard. The next time I took the test I wore flats.
I grew up right around here. My grandmother and Spike Lee's father were really close, lived right on the same block. I'm a Fort Greene baby. But then most of my family is from New York in general, so I'm also a Bed-Stuy baby, or a wherever-another-aunt-lives' baby."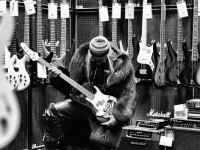 Our first stationary stop had to be Guitar Center, Ian's musical temple since childhood:
"I come to the Guitar Center once a month, play around on the keyboards and see what's new, see if I should spend everything I own to get something. I've bought two MOTIFs which are really expensive, but one of the best keyboards in the world. I bought a host of tambourines. I had a mini drum set as a kid from here.
When I was a child, a young diamond if that's what you'd call me, my grandparents made me go to this music academy in downtown Brooklyn right here to learn music theory. I was totally into it—however, they wanted me to play the flute, and I really just wasn't into it. I was bored, you know? So fuck you, Brooklyn Music Academy, for not letting me do what I wanted to do and trying to make me play the flute. But shout out to all my flutes, I love you!
All music starts at the piano. I've been playing the piano since I was four years old. When I was about seven I started to understand music theory—what it means to play and read music at the same time. And I've been playing ever since. I'm not the best at it because I really just wanted to be a singer. But in order to train your ear you have to play.
I always wanted to sing, I think because I was lazy and knew I was gifted and realized I didn't have to do anything. Like, I didn't have to grab a horn, I didn't have to grab an instrument, I was so elated by the fact that I could just sing, so I was like, 'Yes! I want to be a singer.' All I have to do is just open my mouth and sing… Until I grew up and learned that it was way more than that."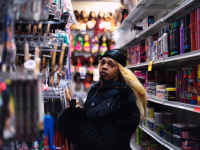 Next on the tour was the local beauty supply store, the most important store to Ian in the whole wide world:
"What Duane Reade and CVS and Walgreens is to everyone in the world is what a beauty supply store is to a black woman. Why? Because it is our bridge to the look. A beauty supply store is literally the Colette of the hood, because that's where you go to pre-tweeze your eyebrows or pre-wax your pussy or refill your weave caps or buy hair. Buying hair at the beauty supply store is kind of the last thing on the list because there's so much other beauty regimens that you do that that are really important to inner city dandy females and males who go there and depend on it.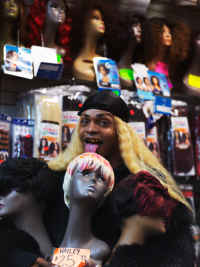 I depend on a beauty supply store for all situations. CFDA, I depended on a beauty supply store, any show with Dev I depended on a beauty supply store, any time I have to go on any trip I need to go to a beauty supply store just to stock up, rack up on life, you know?"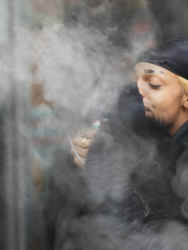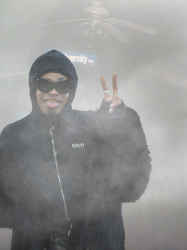 We took a lengthy relaxation break from the Brooklyn drive at his go-to trap house. It wasn't 100% clear whose house it was, or how to get inside, but once we were there we wanted to know—what are the rules of a trap house?
"There are no rules. That's the thing with the trap house. This isn't a drug in, drug out trap house. But people are always here, any time of day. There is a key, but I actually just don't know where it is. It's a hidden key. Oh my god, if it had Face Recognition—imagine the future technology of a trap house.
This is near my high school. This is Bed-Stuy, by the way, just to let you know. Jay Z's crib is down the block. Hello! That's my park over there. I played shows there when I was younger. There was this thing in the hood, in all hoods, that kind of connected all of us called All Stars, it's like a talent show. We used to step there in that stadium. Step always casts all female dancers, but then one or two males, like pre-faggots, are allowed to join their all women's dance competition group. I was always that girl. Allocated."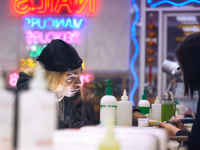 Finally, Ian braved the shame of his grown-out manicure, venturing into his favorite nail spot to finish off the day, prepping for a night of recording sessions with Dev Hynes and post-work parties:
"This is my nail spot here, they know me very well. I know in life I'm going to have a salon, the 'Shugga Shop.' I just need a venue to carry in, and I know the best place to carry would be a salon, so that's already in the books. Might as well merge the beauty supply store with a salon situation. Anything where I can carry in the most feminine way and allow females to come and carry with me, and dominated heterosexual males will be the last on the list but most welcome in my venue. Of course the flagship will be in Brooklyn.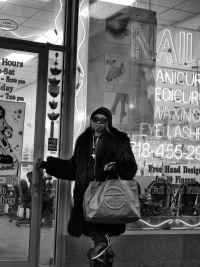 I'm also working on being a yogi, guys, look out for that in 10 years. It's going to take a while. I'm on a program. I definitely want to be celebrity about it."
TORSO provides creative solutions globally.
Interview:

TORSO

Photography:

TORSO