"Why Don't You?" Advice from It Girl Caroline Vreeland
The Singer/Actress/Model's Guide to Work, Wine, and FaceTiming with Lee Daniels
Text:

Erika Houle

Photography:

Caroline Vreeland, Rebecca Hearn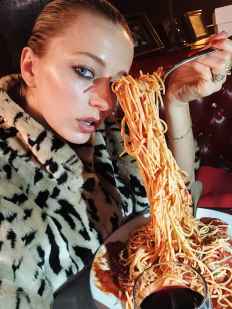 It's 10AM in L.A. and Caroline Vreeland is standing on the sidewalk in sweatpants, drinking a green juice and offering life tips over the phone. "Have a classic novel on you at all times," the 30-year-old starlet insists, before clarifying, "so you're never alone and you're able to chicly sit down anywhere and delve into another world."
Her voice is composed yet theatrical. She sounds well-rested and exceptionally pleasant, having celebrated her best friend's birthday the previous night after arriving on a late flight from Miami. She mentions she's experimenting with CBD oils—perhaps that's why she seems disarmingly cool. Or maybe it's just her innate ability to be glamourous and nonchalant at once.
Caroline is following in the footsteps of her late great grandmother, Diana Vreeland. The legendary fashion editor and consultant to the Metropolitan Museum of Art was famed for her wild imagination and obscure industry perspectives. "My favorite was a note from her desk at Vogue where she said, 'I need all the assistants to have bells around their necks like kittens so I can hear them coming down the hall'," says Caroline. "There would be a whole memo that was the most serious thing you'd ever heard, just about freckles." Caroline's mind reels with endless creativity, too. Whether she's instagramming her daily dose of wine and pasta—each with their own hashtags; #carowine and #carocarboload—sitting front row at fashion week (which she considers her playground), or singing the blues with her recurring role on Lee Daniels' hit series Star, she lives boldly by her standards. As though the poster girl for a modern-day youthquake—the term her great grandmother coined for the youth culture movement of the 60s—Caroline is embracing her influence and honing her career as an actress and musician, without sparing a single selfie along the way.
Paying tribute to Diana's iconic "Why Don't You" column for Harper's, SSENSE asked Caroline to divulge some advice of her own.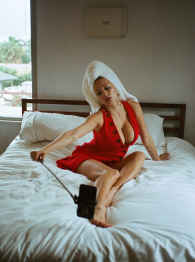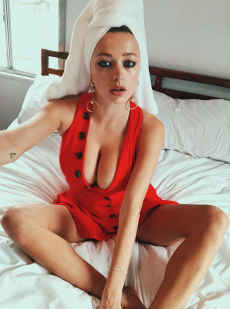 ...scratch your morning routine?
"I don't know if I'm going to be in a hotel room in Atlanta being woken up at 4AM to go on set or if I'm going to be sleeping in. I've been living in Miami because I have a Cuban papi and he's out there. That's usually my downtime away from work, so I try to sleep in as late as I can. Papi wakes up and makes me this Cuban black bean thing with wilted spinach and garlic that I love. I'm always thinking about what my breakfast is going to be. I'm a smoked salmon kind of girl. If I'm in Europe, I'll be wanting to run out and get a coffee and croissant. I'm not an active morning person. I'm not up trying to run around the block or go to a yoga class or anything like that. That's not my M.O."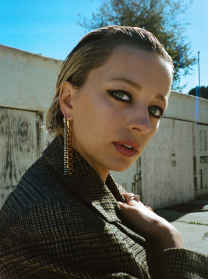 …celebrate your eating experience?
"Take away the taste and enjoyment of eating—I really like the ceremony of it. I like to go somewhere and sit down, break bread among friends, open a bottle of wine with like-minded people. All of those things that take place around a meal. Food is always on my mind."
...let your wine speak for itself?
"I was literally the girl that would sit at the bar and try every single red the bartender had and get him to try to describe the notes and the tones to me. As I've learned more about it, I've realized that it has nothing to do with that. Yes, that's all happening, but what really matters with wine is what you take from it. If it reminds you of some weird DJ that you accidentally hooked up with in Los Feliz because he gave you a lot of attention and you really didn't like him, he was creepy, and you wake up in the morning and the glass is sitting next to the bed, and you take a sip to calm your nerves. Then, that's what that wine is to you. You shouldn't have to figure out if it's an oaky barrel or whatever."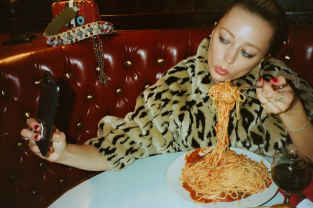 ...lean into your legacy?
"Up until I was about 25, music was the only thing on my radar. I didn't realize the power and the magnitude that is Diana Vreeland. I was really hung up on wanting to build a name for myself and not be associated with a famous relative. I wanted to have my own voice—as a bratty teen, that was of primary importance. Once I started to realize that it was such an honor, that's when my life really started. Some brands don't want to fuck with me because I'm a bit outspoken or risque or whatever, and I think back to what she would have said. She would have laughed in their face and done whatever she wanted. I always remind myself of her saying, 'There's only one very good life and that's the life you know you want and you make it yourself.' I'm making the life I want, and it's totally due to her."
...put yourself on the map?
"I was up in Idlewild which is this magical mountain outside of L.A. with my producer and his girlfriend. We were on a three-day hiatus with crazy amounts of wine working on one specific song we wanted to hammer out. I got a call from Lee Daniels and and I was like, 'Holy shit!' I'm used to thinking of auditions with me belting out an Alicia Keys song, but his boyfriend was following me and had seen a video of me singing 'Extraordinary Machine' by Fiona Apple. I was laying in my bed, I think I had a towel in my hair, and it was just this kind of talking part. Lee was like, 'We're doing a new show and we think you would be really right for this character, would you come in and audition?' I jumped at the chance. For one week, everyday for an hour, he would call me on FaceTime and go over my lines with me. I couldn't believe the hands on experience I was getting from someone who hadn't even met me. They built this role around my voice, singing the blues. I was floored by that, it made it really worthwhile."
...surround yourself with icons?
"I haven't met Naomi Campbell yet but I have a funny story about her. When we started the show, her character is an alcoholic and mine is a heroin addict. I guess when she was reading the script she called Lee and said, 'What is this I hear about this Vreeland girl getting to be another drunk on the show?' Lee had to calm her down and be like, 'Don't worry, you're drunk and she's on heroin. She's not going to take your moment.' There are not many people I would recede for, but I wouldn't dream of it."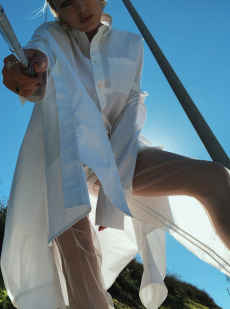 ...own your insecurities?
"Michel Comte and I are totally cool, we laugh about this now, but I was on a shoot for Italian Vogue which was the first big thing I'd ever done, and he took one look at my boobs and was like, 'You have to leave, I can't shoot you. I don't know how to do this.' When I met Carine Roitfeld she was like, 'Caroline, it's all about your boobs. That's who you are.' That's what my great grandmother would have said, too. She saw the flaws in people and made it the most exciting part of them. I've actually had bad situations with huge brands that I've worked with where it has gotten to body shaming because they don't know how to deal with it. There will be girls I work alongside as ambassadors and they'll be wearing dresses down to their belly buttons and it's considered 'chic,' but if I wear something scoop-necked and there's cleavage, I'm the slutty one. I don't see it as a deterrent. I see it as a way to pave the way for girls who have this kind of figure, letting them have a voice in this industry too."
...show the world your true colors?
"I show everything—zits, cold sores, stomach rolls after pasta. I love to show when I'm crying, when I'm fucking sick, or unflattering angles. That's been the main thing for me at the core of social media. I always want to show the true, real thing, whether that looks good or not. I think it's more interesting. Sexier."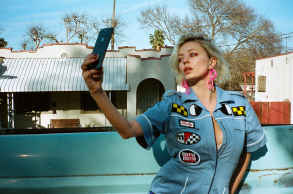 ...embrace your influence?
"Obviously part of what I do is in the public eye, but I was working on music my entire life. I've done four albums, none of which have come out. I was signed to labels and dropped, and it's been a whole struggle. When I started in fashion, that was the first time I was getting any credibility. I love that, but I feel like, 'You ain't seen nothin' yet.' That's not my main passion. I feel excited to shift from influencer into musician. I'm debuting new music at Milan fashion week this season. I finally feel like I have the confidence and the experience under my belt. I'm not a kid anymore. I definitely intend to shift the vantage point to the true me."
...allow yourself to have it all?
"Every single thing I wear, every single move I make, every single song I write, it's all with this idea of myself as a brand. It sounds so 'agh,' but I want to do it all. Even if I'm on vacation with friends, I'm thinking, 'How can I tie this into something?' I want to be a movie star. I want to tour with my new album. I'm never not thinking about how to make something the art for my life."
Text:

Erika Houle

Styling:

Caroline Vreeland, Rebecca Hearn

Production:

Rebecca Hearn

Photography:

Caroline Vreeland, Rebecca Hearn