The New Orleans Rapper and Reality TV Star on God, Drake, Bounce, and Beyoncé
Interview:

Khalila Douze

Photography:

Amanda Charchian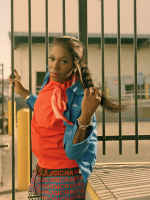 Big Freedia's favorite food is a dish steeped in tradition: smothered cabbage. "You boil the pickled meat that you put in it," she says, describing the Cajun recipe, a staple of Louisiana cuisine. "Then you pre-fry the cabbage and smother it down and add all types of seasoning. Once the meat is ready, you add the meat to the pot, [and] smother it all together."
It's lunchtime at the Los Angeles studio where Big Freedia is getting her hair and makeup done in preparation for a photoshoot, and she's been tasked with sifting through menus in a food delivery app. Smothered cabbage is out of the question, so she requests fried chicken and macaroni and cheese instead. "That's all I really want," she says, surrendering quickly to the chore of ordering.
The New Orleans artist has spent over a decade mastering her craft and putting bounce music on the map, from helping to popularize twerking, to landing vocal appearances on Beyoncé and Drake's latest hits, "Formation" and "Nice For What". Her EP Third Ward Bounce, that released in June, is Freedia's latest effort to elevate bounce music, the uptempo, bass-heavy electronic-rap hybrid that's one of New Orleans' most important cultural exports. While Big Freedia is undoubtedly bounce's poster artist, fans of the self-proclaimed "queen diva" argue she hasn't received enough credit for her undeniable contributions to popular culture, and have noted her absence from the videos for songs her voice is used in. Valid arguments aside, Freedia has written and published a book (Big Freedia: God Save The Queen Diva! came out in 2015), had her own reality show (Big Freedia Bounces Back, formerly Big Freedia: Queen of Bounce, aired on Fuse), and has been the subject of critical acclaim throughout her storied career. While it may be taking the rest of the world perhaps too long to catch up to Freedia, she's satisfied with where she's at and chooses to focus on appreciating the experiences, rather than dwelling on perceived injustices. "I'm grateful," she says. "All of those were opportunities to open doors for myself, and for the LGBTQ community," she adds. "You may not see the face, but you could always Google me." Making music and sharing New Orleans with the world are Freedia's priorities—everything else beckons the act to let go and let God.
Her schedule is busy when we talk. She's fresh off of a weekend performance at the Adult Swim festival and hours at the studio laying down new music and has already recorded a podcast before this afternoon's SSENSE itinerary. She seems right at home amidst the chaos. As Freedia gets glammed up for the shoot, we discuss the nuances of being a longtime underground artist, growing up in the church choir, losing a sibling, and the importance of counting blessings (and your coin).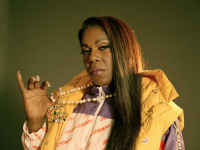 You have been a popular musician for over a decade, but only in the past couple of years have you been getting real mainstream attention. When was the moment that you knew you were an artist and would be making music forever?
I would say probably in about 2005, around Katrina time, I decided that I was going to go full force with it—no looking back. Right before Katrina hit, I had decided that, and once Katrina hit, it just put a fire under me and sparked something different. I had been doing it before that, so it was just like, "Okay, the decision is made, now to go full force with it. No looking back. Straight ahead."
You used to perform at your mother's club in New Orleans. What was it like being such a fixture in the underground? How did you persist?
I think just being humble. Being that I was doing music for so long and it was underground and then finally stepping out into the world, outside of New Orleans. It was preparing me for the present. Also, [it keeps] me grounded to not lose myself, and to stay true to myself and the culture of New Orleans and bounce music. Those beginning days were my stepping stones to prep me for where I am now in my career.
What does it feel like to be a strong voice that people recognize on top-charting songs (Drake's "Nice For What" and Beyoncé's "Formation"), but don't often see? You're part of mainstream sonic-consciousness but not necessarily its visual counterpart.
All of that is growing pains. You may know my voice [and] you may not see my face, but we're getting to the point where if the voice is you, then you'll see the face. All of those were opportunities to open doors for myself and for the LGBTQ community—to let them know that no matter where you start or where you come from, you grow and you're going to still have moments like this. I'm still grateful. I started to pick up the Beyhive fans and Drake fans and it's a great opportunity for me to cross-promote and cross-reference my music with theirs, and it keeps people talking. You may not see the face, but you could always Google me.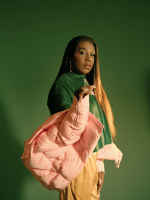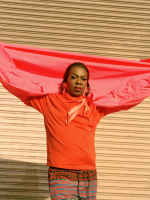 You're grateful for the opportunity and exposure.
The fans made something out of a situation that's really not stopping [me]. Shit, as long as I got paid. I got my check. I got bills to pay. I'm not worried. Sometimes, it's like you're a voice, but you're a background voice. Not all the time is the background voice heard. For example Aretha Franklin and her background singers: you wasn't talking about the background singers, you was talking about Aretha Franklin. You understand what I'm saying? People get it twisted about where it should be at in their view. But, if you [really] support the artist, and love the artist, whatever they choose to do, you'll roll with them.
Now that there's this major pop culture awareness of you, what do you want to do most with your new platform?
My main thing is spreading love, great energy, and positive vibes. Just letting people know my backstory, where I come from and where I'm at now in my life, [and that] anything is possible. I come from growing up seeing poverty in my neighborhood, racism, drugs, gangbanging, murders, I've seen it all. To be able to make it through all of that in itself is a blessing.
Do you feel like you've been pressured to gender yourself?
Yeah, definitely. But they can't put me in a box, child. I don't let 'em. I get this question every interview: "What is your preferred pronoun?" and all of that. I'm me. That's my preferred pronoun. I tell people all the time, it don't matter if you call me "he," "she," "it," whatever. I know who I am and that's all that matters.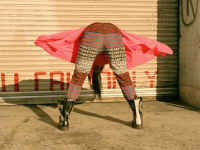 "You'll get all wrapped up if you don't get validation from a certain person or a certain group of people, and it will have you fucked up."
What are some of the biggest challenges you've experienced this year?
The biggest challenge I experienced this year is losing my brother to murder. It was life-changing, again. Growing up with my sibling and losing my only brother was really rough. It was around my birthday time, so yeah that was probably the roughest thing I went through this year. God does everything for a reason and we can't question what he does, so I just take it one day at a time. I keep praying for strength and to make it through.
You're the poster artist for bounce music. Do you ever feel pigeonholed or wish you were recognized for more?
Sometimes I have that thought. You know, just like, "Why this person didn't recognize me?" Then I be like, "Fuck that. I don't need validation from nobody." I am who I am and I'm doing what I do and I don't need nobody to validate it. When God allows things to be seen or heard or wanted in the light, he'll put it there. That's just the way I look at it now. You'll get all wrapped up if you don't get validation from a certain person or a certain group of people, and it will have you fucked up.
You've mentioned God a couple times now. Is religion where your strength comes from?
Yes, definitely. Ever since home, my background is church. I was a choir director for many years. I directed many a choir, sung in many choirs. I was the director at my high school. It's always been a part of me, and that's my backstory. My strength comes from it. When you're having a bad day, I promise you, gospel brings me to where I need to be at in my life.
What is your personal life like? Who are Freedia's closest friends, intimate relationships, pets?
[I have] five dogs: Rita, Sensation, Royal, Yoncé, and King. Four girls and one boy. They're pretty amazing. It's like five different children and it's a job. I have two poodles (a small one and a giant one), a Miniature Schnauzer, a Pitbull, and a Bulldog. I've had them all since they were small, so they all get along. So, I have five dogs, three best friends, quite a few associates, and I also have a lover. I've been with him for a while now—going on 13 years.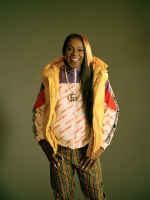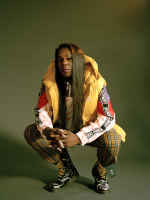 Bounce music is a party, and twerking is the life of the party. It's amazing how twerking, a dance rooted in New Orleans culture, became the definitive party dance of a generation. Why do you think that is?
It's a showstopper, period. When you see somebody twerkin' they ass, it gets your attention more than any other dancing they could be doing. They could be doing the milly rock, they could be doing whatever the shit they doing. But when you see somebody bending over and shaking they ass, baby it's a showstopper. Everybody wanna do it now.
What do you want to do right now? Is there anything you've been thinking about?
Right now in my life, just looking at my experiences, I'm learning to love me more, and learning to love me first. Everything else falls in place after that. It's important for people to love [themselves] first before they can love somebody else. That's where I'm at in my life. It's a learning process. The same energy you give me is the same energy I'ma give you back.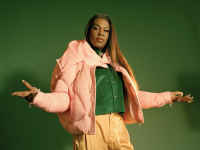 Khalila Douze is a freelance writer and tarot enthusiast based in Los Angeles. Her work has appeared in The FADER, Pitchfork, Dazed, i-D and more.
Interview:

Khalila Douze

Photography:

Amanda Charchian

Styling:

Mar Peidro

Photography Assistant:

Cara Friedman, Dylan Max

Styling Assistant:

Liberty Padre

Hair:

Luke Chamberlin

Makeup:

Jessica DeBen Polish

Production:

Rebecca Hearn

Production Assistant:

Jess Druey