The 360° Creative Vision of Kwaidan Editions
The Luxury House Takes Us on a Dark Foray into the Art World
Text:

Suleman Anaya

Video:

Dominique Gonzalez-Foerster

Photography:

Camille Vivier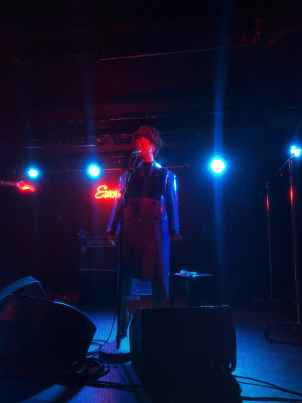 On a recent, sunny afternoon in Paris, deep below ground in the gloomy entrails of nightclub Silencio—famously designed by David Lynch—the French artist Dominique Gonzalez-Foerster stood on stage wearing a blue-tinted PVC coat.

As she cooed a set of songs in French and German, her bandmate, Julien Perez, played multiple instruments by her side.
For their latest collection, and as a collaborative performance with the artist, London-based Kwaidan Editions' atmospheric Spring/Summer 2019 presentation took the form of a retro-futuristic concert. At the brand's helm are Léa Dickely and Hung La—the immersive display provided an ideal sensory context for their latest edit of super-focused womenswear.
At a time when others make up for a deficit on substance with empty noise and media stunts, Kwaidan's earnestly subversive proposition is a hopeful glimmer on the fashion horizon. I had a chance to explore the 360°creative vision informing the subdued label's intriguing universe—and how their long-time hero effectively infiltrated it.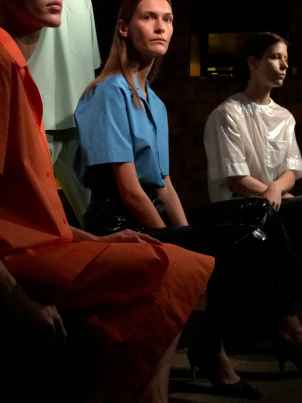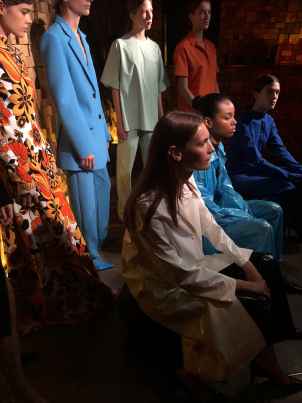 The Silencio performance falls into Gonzalez-Foerster's ongoing Apparition series. Beginning in 2013, she has embodied the ghosts of iconic characters from history and fiction, from Monroe and Callas to Allen Poe and ill-fated Bavarian prince, Ludwig II. On the occasion of the recent Silencio concert, the artist served as a medium for a Replicant character from Blade Runner.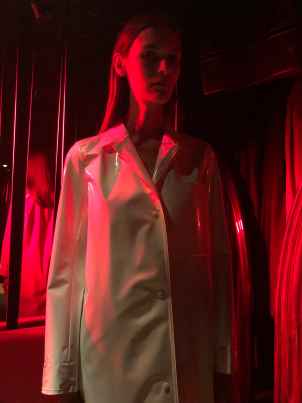 Gonzalez-Foerster later tells me that "the transparent Kwaidan coat both shielded and revealed what's beneath. It's a beautiful paradox, a protective architecture that contains and frames, exposes and covers." As the coat reflected the glare of a large neon sign spelling "Exotourisme" behind her, it produced the uncanny impression that the artist was being swallowed by light. That was the effect intended by Léa Dickely and Hung La, founders of the London-based label for whom the concert served as a carefully composed, sense-enveloping scenario in which to present their latest collection.

The custom look they created for Gonzalez-Foerster synthesized the primary themes running through Kwaidan Editions Spring/Summer 19, among them sterile neon-lit environments, factory workers, coated surfaces and especially Rainer Fassbinder's indelible 1973 science fiction thriller World on a Wire. Made for German television when the director was only 27, the virtual paranoia classic explores age-old human anxieties through a plot about a computer-generated alternate universe, all set amid a spectacular production in which high European design collides with garish 70s patterns. While none of these references appears verbatim, their potent ethos can clearly be traced—albeit masterfully transmuted into something current, coherent and relatable—to specific hues, shapes and prints occurring across the collection, and to its overall mood-state.
According to La, who met Dickely in 2004 (they are partners in life, too), Kwaidan is "a new language based on 14 years of shared influences and opposing ways of seeing. My role is to bring Léa's vision to life. She forms a mental image and somehow has to express it to me. So it's essentially about communication."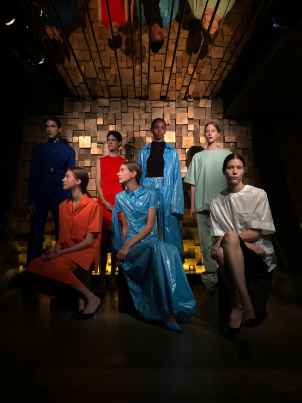 "We are always talking about sets and physical spaces where the collections can exist. That is our fundamental framework. Every look and garment needs to fit into that world," he says. That translates into a concise edit of pieces—coats, skirts, trousers—that stand out through cut, touch and tonality. "We tell a story through color, and we like things that are substantial and have a strong hand." Contrasting fabrics, not necessarily intended to be used for making clothes, are also a Kwaidan hallmark. Mixed with clarity and conviction, these simple ingredients have garnered the young brand a steady, devoted following in under two years.
Ironically for a label that produces straightforward clothing, it's impossible to talk about Kwaidan simply in terms of garments—so much surrounding the clothing is crucial to understanding the brand's essence. It's not that the collection can't stand on its own—it very much does—but it gains its relevance as a direct extension of its creators' Weltanschauung—a mental landscape that pre-dates and overrides any sartorial concerns. Many brands produce elaborate notes explaining supposed inspirations and rarified points of gestation. In the case of Kwaidan, the emotional ideology is the real offering. Superb womenswear emerges from it almost incidentally.
For a luxury womenswear label that has insisted on doing things their way, it seems natural to eschew a conventional fashion show for something decidedly cinematic in nature—at once more involved and genuine. More than just another fabled but ultimately forgettable fashion week happening, Kwaidan's presentation resonates because it culminates a fantasy over 15 years in the making. The initial coup de foudre happened when Dickely was an art student in Reims in the early 2000s and was asked to write an essay on Gonzalez-Foerster.
"My mind just blew up. I had finally found an artist I shared something with. Her sensibility, the way she mentally constructs images, almost creating a movie in her head. But then she shared it with people and invited them into the spaces she had conceived to complete the narrative. These rooms suggested something very specific, but the viewer could add something. I remember thinking, 'That's it! What she is doing is exactly how I feel and what I believe in.'"

This is not Gonzalez-Foerster's first fashion collaboration—she's worked with Balenciaga, designing displays for theirs boutiques, and also has a history of using garments and textiles in her own practice. In 2014, for a show in Manhattan, she exhibited pieces of clothing she has owned since adolescence as autobiographical markers, mirroring her plural identities and fragmented trajectory. "Clothes are a language and means of expression that go much further than the idea of fashion, they include all sorts of narratives and have the capacity to carry and confer transformative emotional significance," she tells me. The concert was similarly fortuitous.
The complex live score by Julien Perez, with whom Gonzalez-Foerster formed Exotourisme in 2017, included previously released melancholy 80s-tinged pop tracks, as well as original pieces created especially for Kwaidan and premiered at Silencio. "The new songs explore the territory between noisy industrial music influenced by the likes of Einstürzende Neubauten and atmospheric jazz that may sound a bit Lynchian," said Perez. Somewhere around the sixth song, models began to appear out of nowhere, in little pockets amid the audience, "contaminating" the room in perfectly tailored hospital green, bleach white, and plastic blue shirt-dresses and frocks.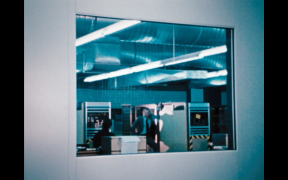 Following the Kwaidan performance, it was impossible to leave Silencio unaffected. In her own riddle-like way, by alluding to disturbance and dislocation—not to mention impending man-made catastrophe (just a week before the United Nations released its grim climate report)—Gonzalez-Foerster touched on the nerve that Kwaidan seems to provoke almost in spite of itself. Dickely and La are not dark people—it takes deep optimism to embark on the path they have chosen. They are an urgently needed addition in a world and industry that are transforming at an alarming rate. Kwaidan Editions creates the essentials for these dark times.
Based between Brooklyn, Paris and Mexico City, Suleman Anaya's work has appeared in T, 032c, PIN-UP and BoF. He has been a regular collaborator for LOEWE and M/M (Paris) since 2014.
Text:

Suleman Anaya

Video:

Dominique Gonzalez-Foerster

Photography:

Camille Vivier

Images/Photos Courtesy Of:

SSENSE Social Media Team