We Visit the DJ's New Los Angeles Headquarters to Discuss the Ethics of Reinvention
Text:

Reva Ochuba

Photography:

Hannah Sider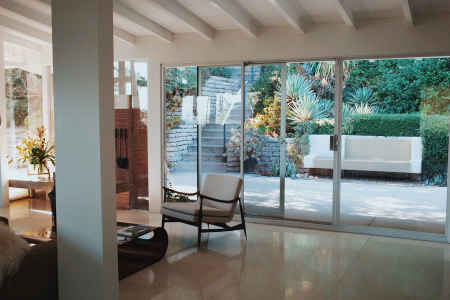 Why is it that being asked to DJ feels like you are on the verge of being kicked off the island we call Existence? This is a common sentiment amongst music mortals, but fortunately, Alain Macklovitch does not share that same anxiety. Walking into his home is like walking into the best playlist imaginable. Music is practically bouncing off the walls—the speaker was literally impossible to locate. Seamless shifts from track to track filled the space—each setting the mood more distinctly than the last. Kid you not, it is a divine selection of bops even God would want to Shazam.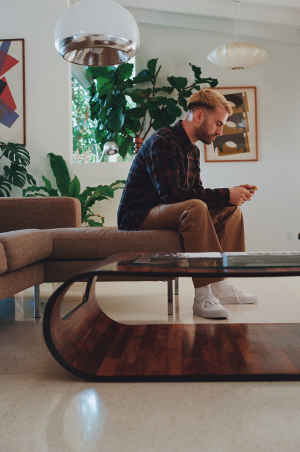 In 1997 at age 15, Alain—better known as A-Trak—became the youngest person ever to win the DMC World DJ Championship. Now 35, he has fully transitioned from budding Montreal scratch artist to renowned music mogul. Alain's malleability toward the demands of a new technology, sound, or scene is where he attributes a good deal of his success. He views each change as an opportunity; a chance to discover an unknown talent or learn a new software. But do not take his adaptability as a kind of identity dysmorphia. Behind this versatile figure is a man who carries with him a deep resolve to hold fast to a sense of self.
Alain's home is an honest demonstration of this allegiance. His mid-century modern residence is of studied specification, yet open to interpretation. Nestled beautifully in the Hollywood Hills, the property is hidden from plain view—a distraction provided by luscious, overbearing flora and greenery. The living space is minimal, touched only by Brazilian and Danish furnishings from the mid-century modern era. Alain's brother, Dave Macklovitch, half of electro-duo Chromeo is the master curator of these pieces. Apparently he's really into credenzas. The rest of the pad is splashed with Bauhaus-centric paintings, with a surplus of acreage lingering above the guarded dwelling.
On his front patio at dusk, chilling near the outdoor fireplace after a long day, A-Trak sat with Reva Ochuba to discuss the importance of the pivot and the ethics of reinvention.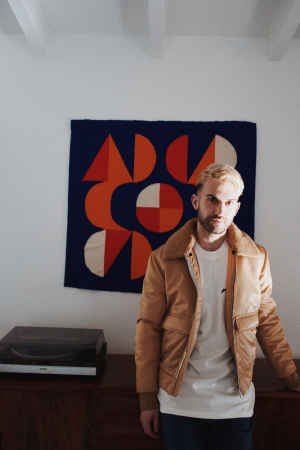 What are your next 72 hours looking like?
Tomorrow I'm in L.A. It's one of my 'catch up with everything' kind of days. A mix of trying to be a normal person, but also working on 18 things at once [Laughs]. Friday, 7AM flight to San Francisco to do some radio interviews to promote my new single "Believe" with Quavo and Lil Yachty, then DJing that evening with my brother. We do a handful of shows per year under the name Brothers Macklovitch. Saturday I'm going to Western Canada to perform at Shambhala Festival, which is in the mountains kind of far from everything.
Where do you find the time to chill?
Multitasking is kind of all I know. I started DJing while I was in high school, so I was at school during the day, practicing DJing at night, and squeezing in gigs on the weekends. From that type of interdisciplinary thinking, I've been able to become a producer/remixer/record label owner/blogger who, through Fool's Gold, also moonlights as a cultural curator. Putting on Fool's Gold's Day Off and events like that have become a big part of my role, too. Somehow, my personal life has to fit into that list of bullet points, but I do flirt with crossing the line of driving myself crazy at times.
Do you ever go to festivals just to be an attendee?

The only festival I go to where I don't perform is Coachella. I go every year and if I can. Governor's Ball in New York, too. But usually if I'm at a festival I'm there to perform. It's very rare that I go somewhere not to DJ. If anything, I build my life around show commitments.
You've been A-Trak for about 20 years. There aren't many musicians who can match your longevity. How have you been around this long?

It's definitely important to figure out an organic, natural way to participate in the way music changes without it coming across as too much of a shift. I never want any of the progressions and moves that happen over the years to feel like a sharp turn. It has to feel natural and keep certain signifiers from the original identity, but there are definitely points in time where I take on new things or get excited about a new version of a sound or a scene. When trap music had one foot in hip hop and one foot in electronic, as a hip hop kid, I saw that as a natural progression for me. But when electronic music went from being indie to becoming a massive EDM commercial movement, finding my lane in that while keeping it natural was the most challenging.
Keeping it fresh is a virtue.
Even in terms of selection, I remember a point in the early 2000s when DJing was still done with crates of vinyl and I usually had two crates for gigs. Some of the selection stayed the same year after year; creating a classic set and updating maybe half of it over time. But then, I realized it was 2003 or 2004 and I was still playing a lot of 94-97 hip hop. It got me thinking like, "Wow, I'm playing records from 10 years ago... I can't be doing that anymore." At that point, music was really exciting. The Neptunes, Timbaland, and others were not only reinventing hip hop, but pop as well. I had to have an objective criticism of my own selection as a DJ. Shake off certain habits and challenge me to be more on the cusp. When you make that mistake once, you remember it your whole life and you never want to make it again.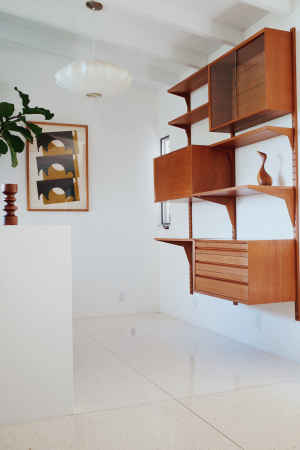 In 2003 you were still carrying boxes of records to your gigs?
Yeah, but there have been seismic, tectonic changes over the years. By taking on a digital music library, I was able to go to England and France and trade flash drives with new producers and suddenly fill certain voids in my collection. The more my music library grew, the more I could play more interesting sets that included other genres I didn't have access to before. Technology facilitated a lot of that.
Beginning with Napster and continuing to mega-streaming services like iTunes and Spotify, what do you think is the next step for music access?
A lot was said when Kanye released The Life of Pablo and continued to replace the versions of his songs for, like, two weeks after the release. The fact that he was still fine tuning the mixes post-release made his art a living thing. It was updated in real time for everyone around the world and I think that's going to continue to be a possibility for artists.
Legal streaming—like Spotify, Apple Music, Tidal—has really established itself. Spotify is the new radio. Radio stations look at what charts on Spotify to know what to play on the air. I think legal streaming will stay for a long time. The record industry is showing a profit for the first time in 15 years largely because of the popularity of legal streaming. It's changed the way people listen to music for the better.
All this change must have been directly influential to your growth as a musician.
Just a few months ago I put out a new issue called In The Loop that's a decade of my remixes. Looking back at those was interesting for me because I remembered, specifically, a studio technique or trick that I had to teach myself for each track. You're already given a little bit of DNA that's proven to work because it's already in a song that existed. Then you take those pieces and build the architecture around it. It wasn't until I started mixing in different genres and making mashups that I became really interested in producing music. One of my favorite things about the digital revolution is how it has inadvertently democratized access to means of production. I remember my brother and I took a trip to New York to buy a sampler that we knew that our idol beat makers used. Dave bought that machine in New York, brought it back to Canada, and started to produce beats with it. That's a schlepp, right? For the last 10 plus years, bedroom recording, producing, mixing and engineering have become a viable norm. Anyone with an idea can create. It all boils down to making good music, marketing yourself, and creating your own audience.
You place a lot of importance in identity.
You've got to know what your identity is. With so many artists and musicians out there, you need to give a clear message as to what you are, even if it's a complex one. You need to give people a reason to choose you over thousands of other artists. Longevity and reinvention are only possible if there's a sense of identity permeating throughout.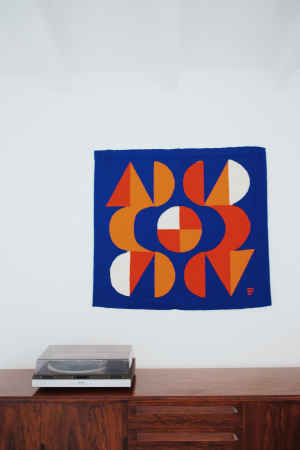 And what of your own personal style? How has it evolved in correlation to the music?
Similar to music, style is almost always referential to a moment from the past. When I started entering DJ battles in the 90s, I wore a lot of technical outerwear, baggy clothes, and caps. As the mid-2000s came around my sets became more eclectic and my style kind of followed suit. Hoodies, varsity jackets, and baseball caps with Bo Jackson Nikes, Nike dunks, or Jordan 3s, 4s, or 5s. Millennial streetwear was really colorful, but in some ways, the first truly A-Trak look came out of that. Throughout the years, I became more interested in developing a palette and standing for something creatively. The more you have a clear stance of who you are and what you stand for, the more you are able to play with that. Part of being an artist is having the ability to have fun with who you are. But first you have to know who that is.
Text:

Reva Ochuba

Photography:

Hannah Sider

Styling:

David Macklovitch and Rebecca Hearn

Production:

Zach Macklovitch