Nike × Off-White: Fresh "Air"
Four Days in London with Nike and Virgil Abloh
Text:

Adam Wray

Photography:

Angelo Dominic Sesto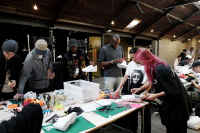 It's day three of Nike and Virgil Abloh's Off Campus summit in London, and I'm chatting with graphic designer Neville Brody following a workshop he directed on DIY zine-making. "Okay, this is a stepping stone for kids to get their shoes," Brody says. "But how much more is it?" I had travelled to London to answer this exact question. Is streetwear-as-scholarship just the newest mutation of experiential branding? And, even if it is, does that prevent it from providing legitimately meaningful experiences for its participants?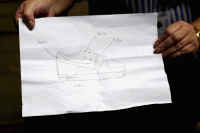 The Off Campus events were multi-day, interactive symposia celebrating the release of The "Ten" collaboration—10 ultra-limited Nike sneakers ranging from foundational totems like the Jordan 1 to future classics like the Vapormax, all reworked by Abloh. Held in New York City and London, Off Campus consisted of lectures, panel discussions, and hands-on workshops designed to give the lucky fans who managed to secure a slot the chance to engage directly with some of their creative heroes and, of course, cop a pair of the hottest sneakers on the planet.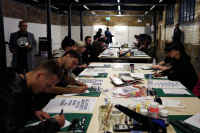 It's no coincidence that these sneakers serve as an aesthetic expression of Abloh's stated intent for Off Campus. Conceptually, they are all about revealing processes typically kept concealed. Like the worskhops, they're designed to empower by sharing information. Stitching usually hidden is left exposed. Fabrics associated with early samples make the final cut. And Abloh's trademark Helvetica labelling and quoting technique is used extensively. His version of the Air Jordan 1 is fully annotated—the shoelaces read "Shoelaces," and the section of the sole that conceals Nike's patented air suspension system is marked "Air."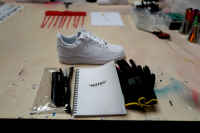 This simple, goofy technique turns out to be particularly effective in exposing the machinations of contemporary branding. Until I saw Abloh's Jordan 1, it had never exactly occurred to me that Nike owns 'air'—the result of nearly 30 years of relentless branding, design, and production. Air Max. Air Jordan. Air Mag, Air Zoom, Air Pegasus. Ask 10 strangers on the street to list off what to comes mind when they hear the word 'air,' and I guarantee several of them will end up at a Nike product. This is an incredible feat of corporate aikido. Nike took something that could not be more fundamental to human life and captured it, literally and figuratively, in a consumer good.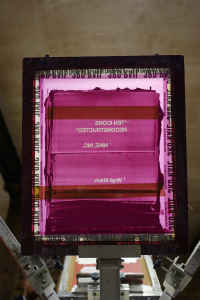 From this angle, it seems inevitable that Nike would collaborate on this level with Abloh, the creative who is redefining the terms of engagement between brand and consumer. With his Off-White project, Abloh jumpstarted the era of participatory branding. Just as Nike honed in on something utterly ubiquitous and made it their own, Abloh created Off-White's visual identity by taking the diagonal hash marks found on infrastructure and institutional signage worldwide and folding them into his own cosmology. Then, he turned that world outwards, encouraging his audience to participate via social media, without requiring that they purchase anything at all.
And now Nike is learning from Abloh. What I saw at Off Campus seemed like the future of marketing. For four days, Nike and Abloh turned a three-story warehouse in Shoreditch into a hive of creative activity. Participants rebuilt t-shirts with designer Martine Rose. They modified Air Force 1s with designer Grace Wales Bonner and empress of Owenscorp Michèle Lamy. They went running with grime artist JME, collaged zines with Brody, talked music with DJ Benji B, and more. Abloh himself was present throughout the weekend, dropping in on workshops, chatting with participants, snapping selfies, and signing autographs.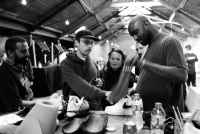 Together, he and Nike created something uniquely memorable. And it was clear that people left Off Campus with an experience whose value is not as easily quantified as the resale price of their new sneakers. When I asked participants what drew them to Off Campus, nearly all offered variations on the same response: Abloh inspired them to pursue their creative passions regardless of their skill level or experience.
"Virgil has broken down the barriers of intimidation," said Martine Rose during one of her workshops. "I've met chemistry students, a guy who works at Carphone Warehouse, a guy studying to be a surgeon. You think of what it means for a guy who works at Carphone Warehouse to get the opportunity to spend two hours with someone he really respects—I don't know how to put a value on that."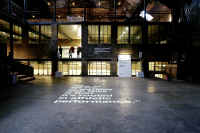 "There seems to have been a cosmic shift in the way all of this works," says Patrick Matomoros, a vintage sourcing guru who lead one of the t-shirt design sessions. "So many designers try and hide and control their process, and I think it's amazing that Virgil is like, 'No, actually, you can do this.' I don't wanna be too serious about it, because at the end it's just t-shirts and tennis shoes, but then again, it's not. There's a Northern Soul song that became a mantra for the scene — 'Love Is a Serious Business.' I think it's beautiful that these kids care so much about it."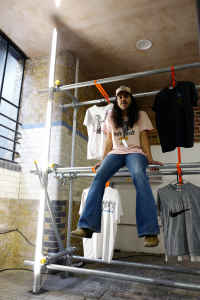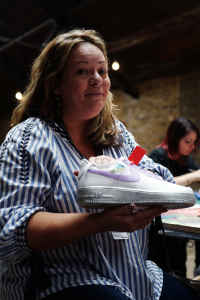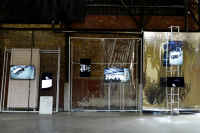 Brody was similarly enthusiastic about the potential of Off Campus, despite its corporate framework: "These days, you have to play with that edge. You have to use these co-opted events as opportunities. Workshops like this are cool because they give kids opportunities to realize they can be creative, they can be tactile, they can be political, they can be original, they can express themselves."
It's important to keep in mind that Off Campus was, as Brody puts it, a co-opted event—an exercise in marketing. But as far as Abloh is concerned, the fact that the event is fundamentally an advertising tactic is immaterial. For him, the corporate-independent binary is an outdated construct. When I sat down with him on the last day of Off Campus, he spelled out the dynamic.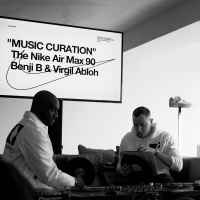 "What happens at the crescendo of any good idea is you can loop it back to being inauthentic," he said, "But I think it's obvious why this is important. We've crashed over the idea of this being a marketing project. You have people wearing competing brands on their feet, in this building, touching Nike product. It's this idea of, 'Hey, let's break the barrier that they're the consumer.' We have Nike designers and Michele Lamy making prototypes with kids that have never taken an art class before. It's gotten to the human root."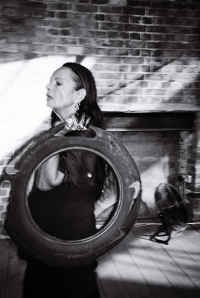 One weakness of Off Campus was revealed during a session with Abloh and Benji B on music curation the day before Abloh and I spoke. At one point, Abloh specifically asked the women in the crowd to tell him which songs they wished they'd hear more often at clubs. One woman used the opportunity to note that Nike hadn't even produced The "Ten" collection in women's sizes. And, indeed, the demographics of Off Campus' participants skewed heavily male.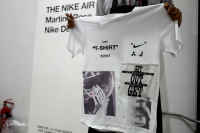 I asked Abloh why he thought that was. "I think you have to ask more girls, they would know," he responded. "Maybe sneakers are just generally a guys' thing. It's not the same, but maybe if there was a class on makeup, it would be all girls. I'm always looking for things to be balanced. I want it to be half women." While it's true that sneaker culture is historically a majority male pursuit, this is changing. For instance, Nike just tapped International Girl Crew, a globally-dispersed collective of women creatives, to rework the Cortez. And the panelists and workshop leaders in both New York and London included an array of impressive women designers and artists. For a designer so devoted to pushing things forward, Abloh's here attitude is weirdly accepting of an unnecessarily limiting status quo, which is a barrier to the realization of the full potential of the Off Campus concept.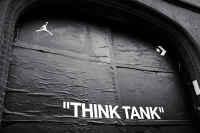 And the potential is huge. It is legitimately exciting to imagine what Off Campus would look like at scale—a permanent fixture providing regular access to creative resources and expertise. The London and New York events could be an early blueprint for such an institution, and a big part of Abloh's lasting legacy. "I've been fortunate to create from a community, so I'm about giving that back," he said. "I'm not about sitting in my lofty apartment indulging in the success of knowing that a bunch of kids are inspired by me. We know these shoes will sell out—that's not the end goal. The end goal is to make a community of people that understand the process of making and the innovation that goes into the Nike brand."
And once that process is revealed to a young person who'd otherwise never be exposed to it, who knows what happens next?
Adam Wray is a senior editor at SSENSE. His writing has also appeared in Vogue, T: The New York Times Style Magazine, The Fader, and more.
Text:

Adam Wray

Photography:

Angelo Dominic Sesto