Corduroy: The Unexpected Summer Staple
Prep Meets Playtime, Feat. Noah, Gucci, and ERL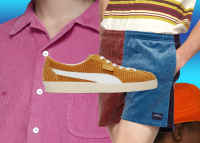 Corduroy is a loaded material. It's nostalgic in a way that feels ancestral, yet also young and playful. Its name is wordplay too, a portmanteau of "cord" and "duroy," for the way its ribbed pattern looks like ropes, and its use of heavy fabric. It was favored by English gentleman in the 18th century, and scholarly-types well into the 1980s, and then repurposed in the 90s in the grunge moment. It also brings to mind Mr. Rogers and Corduroy Bear. It's part equestrian, part Kurt Cobain. The grunge go-to for the prep who wants to sub-out summer staples like linen and khaki, corduroy is the fabric of compromise.

Harmony Yellow Puma Edition Crack CC Sneaker
Some people think corduroy comes from the French corde du roi, which isn't true, but suggests that we all want to see this fabric as elevated. Here the classic Puma sneaker gets a makeover fit for kings. No matter how you understand its etymology, corduroy is just as old-timey and luxurious as the name of this "Inca Gold" colorway implies.

Gucci Pink and Yellow Printed Trousers
You can take the baby out of OshKosh but you can't shake the infantile association corduroy carries. Something about corduroy is just so distinctly nursery. Then of course there's Corduroy the Bear, for those who know their fashion history. Corduroy is a fabric that likes to play, and in this Gucci print, it feels especially Pre-K.

Noah Multicolor Corduroy Winter Running Shorts
Corduroy was really thrust into the fashion forefront in the 70s and 80s by hip prep guys. Today, that hip prep guy is wearing Noah (along with a modern stance on environmental sustainability). And so it's perfectly reasonable that Noah would offer these color-blocked winter running shorts, because preps like short shorts, but also scholastic blazers and sturdy elbow patches.

R13 Orange Corduroy Bucket Hat
R13 brings us a more 90s take on corduroy with the bucket hat shape, paired with a very 70s orange shade of cord that's both The Sugarhill Gang and Liam Gallagher in his day.