With Prada, Off-White and Balenciaga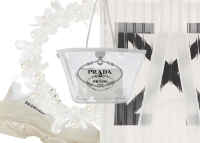 In an epoch of surveillance, transparency can be both friend and foe. Gaining information often requires compromising some of your own. In Scientology, Clear is one of the states in which practitioners become free of old traumas and emotions. Clearly is also how Johnny Nash could see all of the obstacles in his way. For the rest of us, to have clarity is maybe one of the most desirable things we can obtain in 2019. Alternatively, here's a curation of crystal clear products for high visibility and full transparency, available on SSENSE now.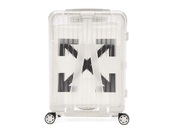 Balenciaga - White Triple S Clear Sole Sneakers
Laundry detergent that is without fragrance and marketed to babies and sensitive types is colorless, too. To be clear is to be simple—and definitely the case with the latest iteration of the Balenciaga Triple S. Inherently bulky and conspicuous by nature, this stripped down white and clear-soled version is as minimal as it gets. Maybe not for wearing in the rain, but indoors while doing laundry, or to bed, certainly. (Quick aside: anyone else reminded of a mouthguard?)
Eastpak - Transparent PVC Padded Pak'r Backpack
Slightly more pliable than its aforementioned hardsided cousin, the Eastpak PVC Padded Pak'r Backpack is a travel option for lighter loads and shorter ventures. That shouldn't keep you from providing some clarity to any willing and wandering eye about what you're packing, though. With two equally transparent compartments, keeping an eye on your belongings has never been easier.

Simone Rocha - Transparent Beaded Choker
Let's be clear, you don't need diamonds when acrylic and glass illuminate and sparkle in just the same way. Forego the pricey (and honestly weighty) gems in favor of something a little lighter and freer and more... surreal? As Salvador Dalí once said, "Those who do not want to imitate anything, produce nothing." Emulate the diamond you wish you had.

Prada - Transparent and White PVC Tote
An expert synthesis of PVC and buffed leather, this tote keeps items secure and on display, with a nod-to-the-nautical motif that says, "splash me with water" and "drink me up" simultaneously. It looks like you could probably do both with this tote, we just can't guarantee that it's water-tight.