Tayla Parx Is On the Wrong Side of a Love Song
And the 25-Year-Old Singer Is Beyond Okay with It
Text:

Molly Lambert

Photography:

Yana Yatsuk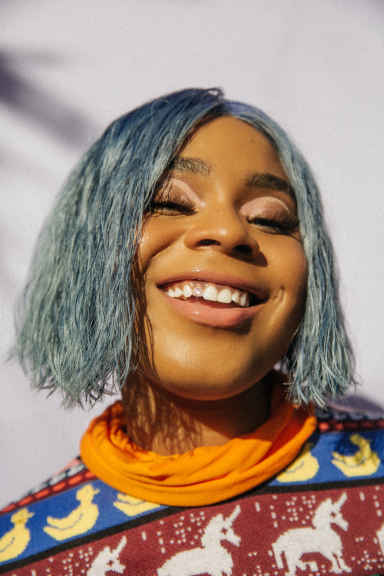 Tayla Parx is unmistakable from the moment she arrives to a cactus garden in Los Angeles with pink hair, neon green eyelashes and a rose bucket hat. From her outfit to her attitude, her bubbly energy is contagious, chatting and laughing with everyone on set. After years of navigating behind the scenes and writing for some of the biggest artists around including Ariana Grande, Parx is ready for you to know her by her own sound. Parx is the stage name of Taylor Monet Parks, the songwriter, artist, and actress who has written on genre-straddling pop songs including Grande's "7 Rings" and "Thank U, Next," Khalid and Normani's "Love Lies," and Panic At The Disco's comeback hit "High Hopes." With her full length solo debut We Need To Talk—and her tri-fold star power—Parx is finally claiming center stage.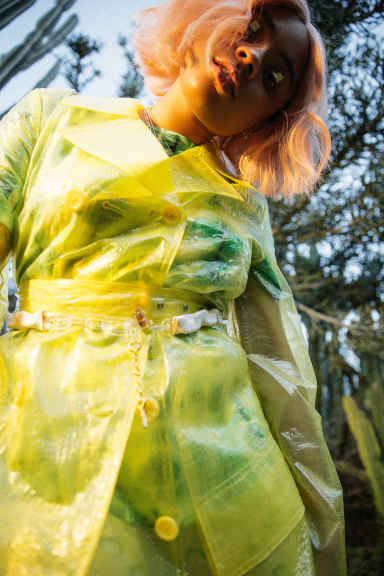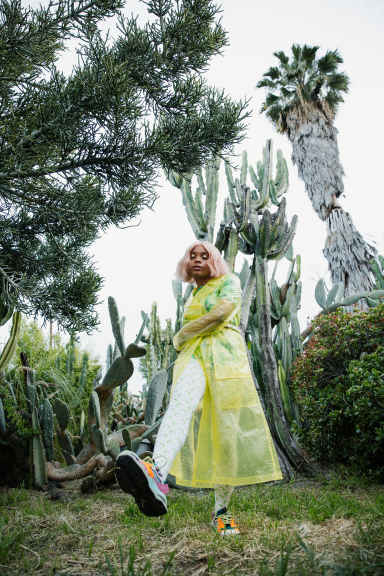 Born in Dallas, her family moved to Corona, a former citrus orchard mecca turned city in the part of Riverside County known as The Inland Empire. She took piano lessons from an early age, and started writing songs in her bedroom. Her parents were "super super supportive" of her musical efforts, and played artists like Babyface and Brian McKnight around the house. Of learning to write songs, she says "I was always drawn to melody and lyrics came later on." She was inspired by Andre 3000, whose conversational free-associative style is definitely in Parx's lyrical stream. She listens to all kinds of music. "I think a beautiful song can kind of go anywhere." She also mentions Missy Elliott as an influence. Missy's collaborative work with Timbaland and artists like Aaliyah is mirrored in the songwriters-and-artists-as-posse vibe cultivated by Parx and her crew.
Parx's first job came at age nine, when she performed in a Kennedy Center show for two years. Her breakthrough was getting cast in the film version of the musical adaptation of Hairspray in the role of Little Inez. When Parx was seventeen, she returned to songwriting more seriously after meeting one of her musical heroes and realizing she could make a living as a lyricist. "I met Babyface because I ended up having a friend that was working at his studio. I went with him one day and from then on I was like, 'Okay, I'm going to be a professional songwriter. Like, lemme do this, not just in my bedroom.'" Parx writes diligently, about 200 songs a year. Her writing process varies. "Sometimes a song comes from a conversation and sometimes a song comes from hearing a chord." Her first major hit was Fifth Harmony's "Boss", the lead single from the girl group's 2014 debut album. That year she also worked on songs for Jennifer Lopez, Mariah Carey, and Keyshia Cole. Since then she's continued building an eclectic roster of collaborators: The Internet, BTS, Janelle Monae, and Quavo. She's been on tour with Anderson .Paak, another artist whose work is not easily categorized into any one particular genre. Of her many credits she is particularly proud of working with The Internet, because it "finally made my younger sister think I was cool."
Parx's style is, to her, about finding balance in opposing ideas. "Whether the melody contradicts the lyrics, or the track contradicts the melody line, I'm going to take a sad thing and make it sound like a party record. I try to find quirky ways of talking about the things that every songwriter talks about—love or sadness. But I always tailor it to the artist I'm writing for." The sessions for Thank U, Next were experimental at Grande's behest, and Grande hired female songwriters like Parx and Victoria Monet with a vision of an album about female compatriotism. "She wanted to do something different than she had done before. She allowed us to get creative and have fun, which I think that some artists have a hard time doing it because it can be hard to let go and allow something new to happen."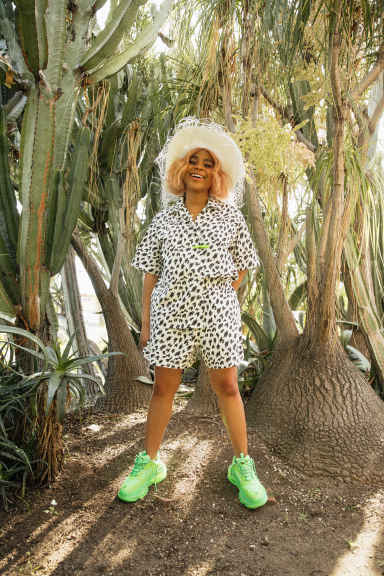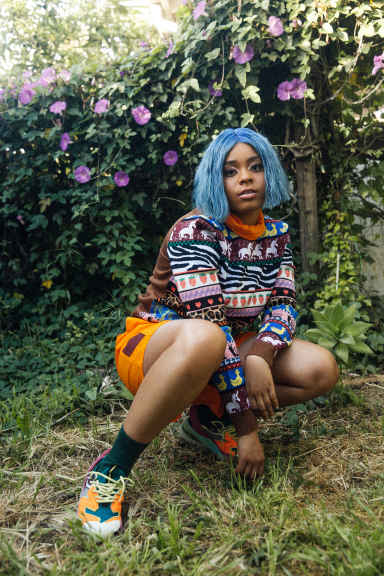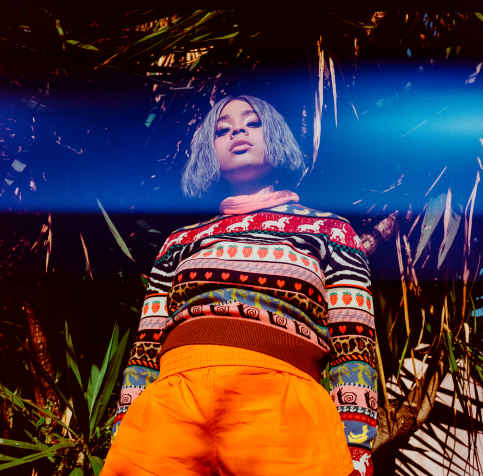 The day they wrote "7 Rings" is memorialized in the song itself. "Literally we showed up to the studio that day and [Grande] wasn't there yet. Then she comes into the room with a big bag from Tiffany's. She apparently blacked out at Tiffany's and was like 'Here you go, let's do this.' It was a thing to solidify friendship and say thank you for being there. It was a really tough week for her and we got an album finished." The idea for the song's interpolation of "My Favorite Things" came about because Parx knew The Sound Of Music was one of Grande's favorite movies, and that the clearance would be expensive but worth it. She wasn't surprised about the controversy over some of the lyrics: "There's always controversy when something is impactful." She thinks people might not have expected songs like "7 Rings" or "Thank U, Next" from Ariana because they simply weren't prepared for change.
These days Parx is listening to Unknown Mortal Orchestra, Tame Impala, and Kacey Musgraves for inspiration. Is Tayla Parx coming for country next? She smiles and says she's actually headed to Nashville for some sessions next week before hopping back on tour with Lizzo. "It's going to be a lot of feminine energy in the air after I just got off the road with a bunch of boys." She's comfortable in any kind of crowd. As she changes her lashes and hair to a different but equally vibrant look, Parx catches up on her phone with her favorite show, NBC's Good Girls, about women who hold up a grocery store together.
She also does voiceover acting in video games like The Sims and Walking Dead, and doesn't rule out an eventual return to acting on screen as well. But for now, Tayla Parx is focused on music and her album. She's ready to introduce people to the real person behind all those songs. "I think people are curious about my side of things and, and I'm happy to get it off my chest. You're gonna hear vulnerability. It's okay to not be okay sometimes. It's okay to be on the wrong side of the love songs sometimes, you know? And also it's okay to say at the end of it all, I turned out just fine," she elaborates. "It's kind of the journey that you experience with 'We need to talk.' We've all been through the "talking phase." Right? And it's something that is confusing for you, for your heart, because you're more than friends and less than lovers. And it's a time where you learn a lot about yourself. You learn a lot about your wants, your needs, your desires. And what your idea of love is."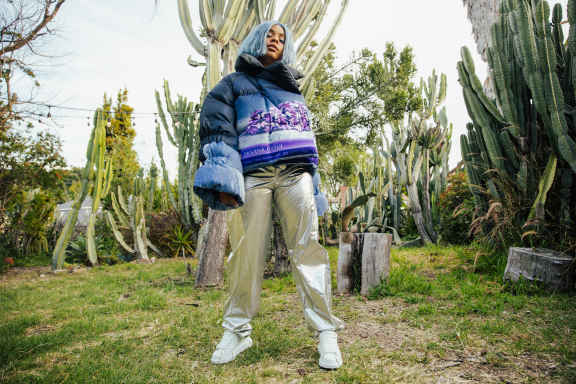 Molly Lambert is a writer from and in Los Angeles.
Text:

Molly Lambert

Photography:

Yana Yatsuk

Styling:

Haylee Ahumada

Hair:

Nina Monique

Makeup:

Andrea Samuels

Production:

Emily Hillgren