The Flexibility of Mesh ft. Gucci, GmbH, and Comme des Garçons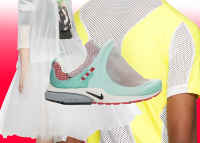 Mesh has long been the fabric of choice for both dance-ready rave-wear and technically innovative athletic gear. Made up in part of holes, it's a fabric both there, and not there, the closest you can come to wearing nothing at all. An interlocking, networked material beloved for its flexibility and breathability, it can provide barely-there sex appeal, and aerobic efficiency—sometimes both at once. For SS19, we find the material in the unexpected, in fashion-forward garments from some of our favorite designers.

Gucci Orange Flashtrek SneakerThe Flashtrek isn't really a sneaker, at least not in the practical sense. It merges sporty mesh with an unconventionally loud shade of orange and an overly chunky, impractical but enticing rubber sole. Here, mesh signals sport, but only to play off the luxurious frivolity of the Flashtrek's more ostentatious design details.
---
GmbH Yellow-and-White Technical T-Shirt
Even without translating their name, it's no surprise this brand is Berlin-based. Their penchant for fitted mesh and kinky fabrics belies their motus as luxury Berghain outfitters. Crossing traditional rave-wear fabrics with technical proficiency and a streetwear sensibility, the GmbH technical t-shirt demonstrates the future of mesh.
---

Junya Watanabe White Asymmetric Cardigan
Never one to play it straight, Junya Watanabe's mesh take is a sweet, sheer gauzy cardigan, given the designer's signature unorthodox treatment with an asymmetrical neckline and inharmonious closure.
---

Comme des Garçons Homme Plus Blue Nike Edition Air Presto Foot Tent Sneaker
Comme des Garçons latest collaboration with Nike produces perhaps the strangest product we've seen from the partnership—and an impressively inventive application of mesh. The sneaker features the typical mesh body expected from an athletic shoe, but is given the bizarre addition of a mesh "shoe tent." A fencing shoe, a beekeeping shoe—however you plan to wear it, this is mesh at its most impervious.
---

Jil Sander Beige-and-Orange Beaded Market Tote
Jil Sander pokes holes in its soft/hard contrast approach to design with this beaded mesh market tote. A fine beige organza is appliqued with tubular orange beads, creating an elegantly oceanic, sieve-like and adaptable update to your ratty everyday tote.