Spray Up with Balenciaga, Alexander McQueen, and A-Cold-Wall*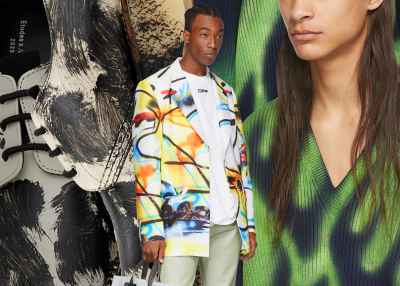 Hit the visual restart button—nothing says fresh like a coat of paint. Whether sprayed, smudged, or splattered, these pieces have got you feeling painterly from head to toe.

Revisit the charm of MS Paint with this Off-White Futura Spray Over Blazer—erratic, fun, and free, it's everything you'd want a free spray to be.

This collab between Etudes and Adieu takes the studio approach and makes it polished. The ecru nature of the crepe soles and buffed leather mimics a raw canvas. Walk your way to a masterpiece.

With a splashes of color rendering brushstroked dimensions, this spray-up galaxy is eulogized in McQueen's signature: the skull.

"Atomic excitation" occurs when copper is heated and absorbs extra energy. As the copper cools, it releases energy as light, always greenish in hue. Hence the green flames—you could say we're atomically excited about this sweater.

Like a chem trail across a night's sky, this Black Over Spray Hoodie mixes equal parts conspiracy and conspicuousness. A-Cold-Wall* stays true to its innovating roots.

The crisp novelty of white denim without that added anxiety of messing it up. Not too shabby!

Waiting for the dust to settle can sometimes be like watching paint dry, and these Maison Margiela Gray Paint Airbag Tabi Boots seem to have devoted time to both. A nod to the label's deconstructive roots, don't keep them waiting any longer.