How to Save a Dying Art with Nigerian Designer Kenneth Ize
The LVMH Prize Nominee Speaks with Antwaun Sargent about Life in Lagos, Textile Weaving, and Empowering His Community Through Fashion
Interview:

Antwaun Sargent

Photography:

Manny Jefferson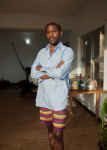 How do you save a dying art? A possible solution is in the styles of Kenneth Ize. The 29-year-old Nigerian designer, with his eponymous label, is experimenting with the rich local textiles of his home country. For centuries craftswomen in Nigerian villages have sat at wooden looms, their hands guided by ritual, to make vibrantly patterned cloth, stitch by stitch. They have passed down, from generation to generation, the traditional fabric, specific to region and tribe. Despite the increasing ubiquity of machine-made Nigerian batik cloth—aso oke, Yoruba for "top cloth," or Akwete, a thin and colorful textile, made using palm, hemp, and cotton in the Ibo state of Abia—Ize calls the technical competency of the Nigerian hand-constructed ware a "dying craft." The artisans "don't really want to do this job anymore," he explains.
In 2013, Ize (pronounced "ee-zay") wanted to use aso oke— the cloth worn equally to everyday celebrations and official gatherings like weddings, tribal ceremonies, and funerals—for his final fashion project at the University of Applied Arts Vienna, where he studied under Hussein Chalayan. The project led him to launch his own brand in 2016. Over the last three years, together with his head weaver Rekiya Momoh (who he affectionately calls "Queen Bee"), he has created five vibrant collections that use the artisanal fabrics throughout. Ize also often mixes the fabrics of different Nigerian regions with Japanese yarns and silk to make utilitarian coats and caftans, that have referenced everything from Wong Kar-wai films to the portraits of women's faces created by the Nigerian artist Fadekemi Ogunsanya. This has made the brand one that peacocks tradition, nodding to a sly sense of unity between the tribes, while conjuring some hope for a future in modern silhouettes that are not concerned with gender or cliché.His ⁠contemporary, loosely-structured and candy-colored designs—that often feature polka dots or clashing stripes of canary, turquoise, grape, and orange on garments such as his signature deconstructed wax-printed trousers⁠ or oversized caftans—have quickly resonated in high fashion and on the street. Kenneth Ize is now stocked in stores such as Browns in London or Alara in Lagos. Beyoncé has ordered pieces while Burna Boy and Donald Glover have worn the label's suiting to astonishing effect. Surprisingly, and refreshingly, Ize doesn't seem to care about winning Western fashion awards—although last year he was shortlisted for the LVMH Prize and is a constant fixture in the global fashion pages.When supermodel Naomi Campbell, arm-in-arm with Alton Mason, one of the most in-demand male models working now, walked his 2019 Arise Fashion Week show in Lagos, Ize recalls being grateful, but skips over the moment to highlight something else: the event afforded him the opportunity to meet with government officials who he had been trying to win over in an effort to create a weaving centre. "I want to be able to impact young people," he says. "I am always thinking about how I can develop my own country with the things I am doing." What Ize seems to know is that art wedded to commerce and ambition can not only illuminate, but transform, both a person and a nation. We spoke on a cloudless day, about the beauty of creating fashion in Nigeria, and his mission to support his community through fashion design.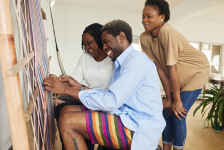 Antwaun Sargent
Kenneth Ize
What's your earliest fashion memory?
My mom had a close relationship with her friends and they were very fashionable and had an interest in dressing up and going out to parties. They would make me sit on the bed to watch them get dressed. My mom would come close to me and touch my face with a little makeup. It gave me a feeling that people could dress up and it could transform them and that's what got me into fashion. What drives me now is passing down our story through fashion.
Luxury is not a new thing that Africa has. There is a lot of luxury here. We had kings and queens and even now township men, who are a part of a really rich culture, very excessive, and extravagant. It's not a poor place.
How do you update traditional fabrics for the person you are designing for? Traditionally, the use of these textiles is very gendered, and your brand is about unisex fashion, about sidelining the limitations that come with gender.
I'm very interested in how this brand could be futuristic, but still traditional. I'm in a space where I'm quite aware of the product that I'm working with. I don't believe there are any rules anymore. I treat this cloth with the freedom that I have to express myself. I don't really think about gender when I'm creating things. For me, growing up and being gay wasn't even a question in my family.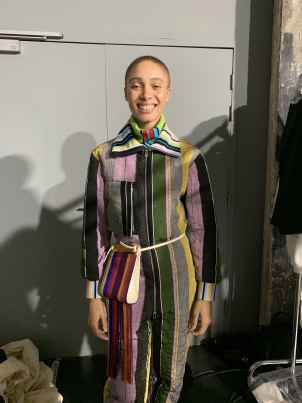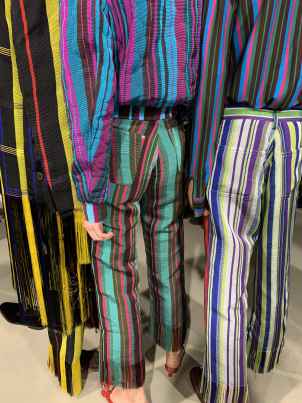 Do you mean it wasn't taboo?
Yeah. This is why it's much easier for me to create and design. When I'm making a collection it comes from a space of freedom. In some ways, it's provocative, given the laws and attitudes.
At the same time, in Lagos and other cosmopolitan African cities, there's this kind of Youthquake happening. Young black creatives are really making their desires known. It seems to have given the city a new energy. Has living in Lagos been inspirational?
This is such an easy question and at the same time, it's such an odd question for me to answer. I'm worried about the government here, so it makes it hard to be inspired by what's happening. There are a lot of challenges even though there's a lot of attention on Lagos right now. I think there are a lot of wrong messages getting across.
So why did you move back a few years ago from Vienna?
To get the work done you actually need to be here. It was also for me to learn about the struggles of my country so I could help. During the time I was creating my first sample, the artisans were hard to find. I was thinking at that time, "Wow, if I could make this happen from here I definitely can make a business out of this fabric." Then I could get people into educational programs and technical assistance to start their own businesses. The artisans are mostly women and I was really moved by their stories.
How did you meet Queen Bee?
I was trying to find a weaver. I had spoken to my cousin, who had just gotten married because I knew she had used the fabric for her wedding gown. She gave me Queen Bee's number. I went to her place in the mainland of Lagos. I explained I wanted to make a sample for a project. She sat down and starting make it right there! I went back the next day and it was so beautiful. I was very surprised how beautiful. I'd been taught that stigma of "if it's made in Africa, it can't be that great."
There is this kind of devaluing of African culture in the West that has influenced our thinking about craftsmanship, fashion, and the making of art on the continent. Was your thinking about her design influenced by that Western stereotype?
Yes. The relationship I have with Queen Bee is so great. We work on the fabric first before sketching anything out. We sit down, I share what I am thinking, and then she says things like, "Yeah, you know, we should add this and this together." So she is a very big influence on my work.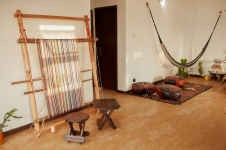 What have you learned about the possibilities of fashion by building a brand in Lagos?
The way our clothes are made is changing the narrative of how fashion can look. Fashion can make people travel to understand another's culture. Fashion is a way of communicating from a distance.
If fashion is a way of communicating from a distance, what's your message to the world?
I want people to understand it's possible in Africa. You can find high luxury, made here by the people, that is very innovative.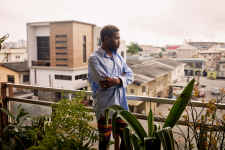 How are you thinking about sustainability as it relates to fashion design?
I think about sustainability in relation to community. How can we create the least environmentally destructive product. How do we also make sure people don't have to sweat to achieve it? I don't believe in waste, so I don't have any wasted products or any wasted fabric. But it's also handmade, so I really respect how much work we put into this thing.
Kenneth Ize is not just about fashion, but, as you said, community and the idea of nation-building.
Yeah. The government is becoming aware of what we are doing with weaving. It would be nice if we could bring it into the Nigerian school curriculum. Here in Nigeria, it just doesn't make any sense for me, as a youth, not to be aware of politics and economic and social development. I'm really focused on how I can empower people with fashion. Fashion could be an exchange, fashion could be an education.
What could be gained from the introduction of traditional weaving techniques in the curriculum of Nigerian schools?
It's a natural resource that we have. It's a part of our culture. I don't know why something very positive about someone's culture shouldn't be taught in school? We have home economics in Nigerian schools and agriculture science. There is no reason why [weaving] shouldn't be there. It could allow people in Nigeria to think about other careers outside of just being a lawyer or doctor. It's about changing the mindset of what is possible.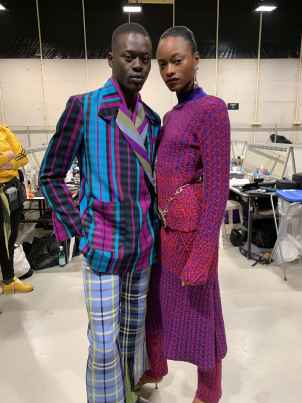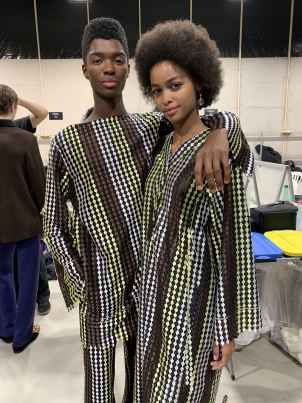 So when you say education, you are also talking about an appreciation of the culture and its histories of fashion and art that have existed but have been undervalued and underacknowledged?
We have to talk about these topics. I am trying to create more awareness with my work. To be an African designer in a magazine without discussing these important issues doesn't really mean anything.
Right, meaning the attention that you have gotten from LVMH, Naomi Campbell, Vogue and the rest of fashion is all cool and good—but it doesn't achieve your goal?
No. It's important to me to be an activist and not just a noise-making one. I want to have an impact. I don't think I've made one dress without a reason. I have to constantly have a reason to make something. I know the problems that we have around us and trying to find a solution to those problems is why I'm designing.
Antwaun Sargent is a writer and critic living in New York City. His first book, 'The New Black Vanguard: Photography between Art and Fashion' is out now from Aperture.
Interview:

Antwaun Sargent

Photography:

Manny Jefferson

Images/Photos Courtesy Of:

Kenneth Ize

Date:

February 24, 2020