Charting the Universe's Most Ubiquitous Color with Burberry, Random Identities, and Enfold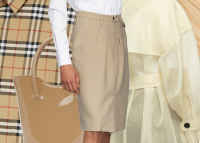 In 2002, a team of astronomers conducted a spectral analysis of our neighboring galaxies and determined the average color of the universe to be a pale, frothy beige. Yes, science has proven that beige is, in fact, the cosmos' most basic color. To be more specific: it's the most elemental of colors. Beige is everything that is, was, or ever will be. It contains multitudes. It's...completely cosmic. Let SSENSE shed new light on the notorious neutral with a survey of the finest beige specimens this side of the Milky Way.

Burberry Beige Check George Short Sleeve Shirt
Created in the 1920s and first used on the lining of Burberry's signature trench coats, the heritage label's trademark Nova tartan has seen a meteoric resurgence in the last decade under the creative directorships of Riccardo Tisci and his predecessor Christopher Bailey. It's appropriate, then, that the iconic camel-beige check shares its name with the astronomical phenomenon resulting in the blinding re-ignition of a dormant star. Shine bright in this short-sleeved button-up iteration.

Enfold Beige Organdie Trench Coat
Rendered in a lightweight organdy fabric, this lunar-hued trench is as diaphanous as the shimmering tail of a comet. Be the celestial body you wish to see in the night sky: swathe yourself in layers ethereal as moonlight.

Hairbrush or hair brush? Bless' objet d'art is crafted from wood and human hair, recalling the Surrealist sculptures of Meret Oppenheim. A relic of our post-postmodern reality, it just might be the perfect artefact to beam up to our extraterrestrial brethren. "Send my love to the aliens. All the best, Bless."


Random Identities Beige Chinos Skirt
You don't need to be a crew member of the USS Enterprise to deck yourself out in an androgynous uniform. Random Identities' Stefano Pilati throws menswear and womenswear conventions into a particle accelerator. The result: a chino-skirt hybrid that proves beige is anything but conventional.