What Do Rolexes and Psychedelics Have in Common?
Collector and Entrepreneur Alejandro Alcocer on the Ineluctable Pull of Time and Objects
Interview:

Zoma Crum-Tesfa

Photography:

Eric Chakeen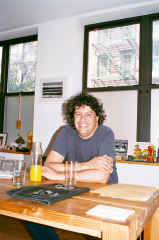 Alejandro Alcocer seems to have lived many lifetimes — all at once. In his early teens, he started a successful business importing skateboards into Mexico. At the age of 16 he was accepted to MIT. By the first half of his 20s, he was working as a cook at the legendary Basque restaurant, Arzak. In the early 2000s, Alcocer started Green Brown Orange, a color-coded kingdom of cafes, sustainability projects, and immersive catering experiences based in New York's Lower East Side. Now, the cook and rare collector works on various endeavors, many of which involve customizing and selling his vast collection of precious objects – from Rolex watches, to Hermes bags, Porsches, and Scandinavian furniture.
Alcocer spoke to Zoma Crum-Tesfa about the life of objects and Manhattan's trash crisis.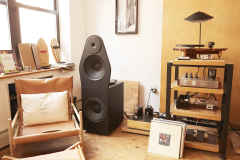 Zoma Crum-Tesfa
Alejandro Alcocer
When I was 23, I was doing a consulting job for a restaurant and the gas main in the kitchen exploded. And there's this piece of equipment called a Salamander, which is a type of broiler, that flew off and cracked my skull. I was in a coma for three months. And it took me a long time to recover my memory. I was very fortunate, because 10 years ago, I was able to have access to this medicine in Gabon, with this Pygmy tribe. It gave me access to my cellular memory. At the time I did it, I was the eighteenth person in the Western world who had taken this medicine.
It allowed me to travel back in time, and realize that time is a construct. For 36 hours your body stays in convulsions, and then you leave your body.
How did that experience change you?
I almost lost my mind when I got back, because I didn't have the support system I needed. There were very few people who knew how this thing really worked on your brain. Because, you see, the eyes are the only organ that doesn't really change. So, in reality, when you look at people's eyes, you can actually see them through time. So every time I would look into someone's eyes, it would trigger a memory. It made living in New York super challenging.
Do you experience these types of connections in other parts of your life?
I've always been very intuitive. Doing this work all over the world for 14 years, you begin to see how symbolism correlates throughout different cultures.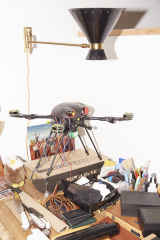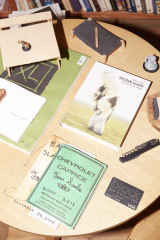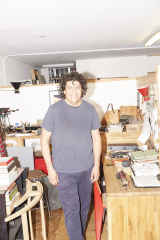 It must also relate to collecting objects as well. When did you begin collecting?
My father gave me my first watch when I was 16. He was an engineer, and he told me that the value of a watch is that, as humans, we focus on things and we create this concept of time. We're the only organism that lives according to time. What a good watch is supposed to do is remind you that there's only X amount of time to do what you want to do. It allows you to be reminded of time — the largest commodity.
What was this first watch he got you?
And then, when my skateboarding business was doing well, I collected Rolex for a long time until I had a very, very sizeable collection. Rolex made this black watch in the 1960s for the Royal Navy station in South Africa. They made 500 pieces. But Rolex is a funny company. Because of Apartheid, and the racism in South Africa, they've since denied backing those watches. That was the only piece missing from my collection. So then I started to research and investigate different ways of turning stainless steel black. We made 150 pieces, and those are the ones that SSENSE has. Every single piece is one of a kind because they're all different years, different models, different patinas, different prices. I collect because I'm interested in the process of acquiring things to understand how they come about.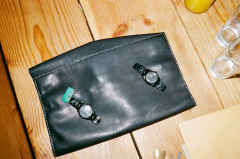 Is that why you started collecting Porsches?
The reason I started is that I wanted to do this project with Porsche where we would do an electric car with the 914. The 914 is like the most iconic car for Porsche. And for some reason they marketed it really poorly, and it never did well. It was the last car that Ferdinand Porsche himself designed, and it came about with a very poignant design decision that he made. The company was on the verge of bankruptcy in the late 60s, and Ferdinand said, "Okay, you know we have the most successful race car, how is it that we can give the regular public the ability to drive something that is very well designed?" But he didn't have enough money to create this type of car in their factory, so he approached Volkswagen. At the time, Volkswagen's only convertible was a two-seater called the Karmann Ghia, and that was nowhere near what Porsche had designed with the 914. So they discontinued that car and released the 914 as a Volkswagen Porsche. But it did really poorly, because for Porsche people it was a Volkswagen, and for Volkswagen people it was an expensive car. It never took off. But when you talk to people who drive cars and race cars, it was one of the best cars Porsche ever made. So what I was trying to do is take the platform from Tesla, and put all the batteries into the 914. But it was very difficult working with Porsche.
It seems like a lot of things you collect have to do with pulling things apart to understand how they work. How does that apply to something like Hermes bags—which you also collect?
The Hermes product is legendary. It's so carefully designed and made. They have this tradition that is difficult to find to this day. It's a company I feel inspired by.
WE'RE THE ONLY ORGANISM THAT LIVES ACCORDING TO TIME.
What do you think of their new watches?
The watches they did in the 70s have very good movements. But the watches they have now are not very good.
What watch do you wear day-to-day?
I wear a Heuer now, when I'm sailing. It's called a Regatta. It was made during the late 60s and early 70s, and its movement was made by Breguet, which still makes some of the best automatic watches.
What attracts you to the objects that you are interested in?
For me, it's the intention with which things are made. You can only achieve good design if the intention is there. I think that things become timeless when they're made with very noble aspirations.
What are some things you'd say to someone who is young and trying to develop their aesthetic and start collecting things?
I have two sons. One is 12 and one is 16. The 16-year-old is at this point where he's going to be acquiring things of his own. But when I talk to him about it, I say that it has to be something that you like. And when you find something you like, you have to find out what it is that you like about it. Why do I like this? Who made it? Why did they make it? These are the questions that allow you to hone your taste.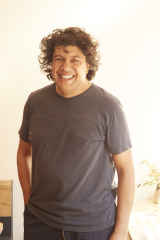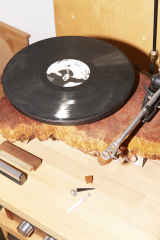 Are there things that fascinate you on the low-brow end of the consumer spectrum?
Most of the things I buy are vintage or recycled, so I'm not familiar with contemporary brands.
You've turned your restaurant and catering business Brown into a zero waste platform. How long has that been an ambition for you?
Yes, we just relaunched it as L'Estudio. We have a ceramics studio next door where we're making all the plates and cups and everything. And eventually we're going to integrate all the clay and everything into our composting farm. I've always been about sustainability and conservation. And now in New York it just becomes more clear that we need to put some urgency into what it means to be sustainable in the city. Manhattan is a very small island, and yet we're throwing out trash like crazy all the time.
It seems like luxury today is shifting towards services and things we rent rather than things we own. As a collector, what do you think of the rise of the "experience economy"?
I think it's a wonderful step in the right direction. In Europe, BMW has this wonderful car-sharing program. You don't need to own a car. The cars are electric, so you don't need gas. You can leave it anywhere. I think we're all going to be sharing things rather than owning things.
Do you think about the objects you house in your collection as being yours? Or where they go after they're no longer yours?
It's always shifting. I get a sofa, and the sofa gets me interested in something else. And then that sofa ends up getting traded for something else, and I get influenced by other stuff. It's always transitional. I'm not attached to anything. It's all part of a process.
MANHATTAN IS A VERY SMALL ISLAND, AND YET WE'RE THROWING OUT TRASH LIKE CRAZY ALL THE TIME.
Interview:

Zoma Crum-Tesfa

Photography:

Eric Chakeen