New Icons: This Bracelet Is Raw Power
Parisian Jewelry Line Le Gramme Tests the Limits of Minimalism with Their Gold Bracelet for Men
Text:

Karen Orton

Photography:

Haw-lin Services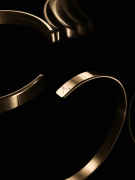 New Icons celebrates the stories behind particularly notable pieces from this season.
It is evident that Le Gramme co-designers Adrien Messié and Erwan Le Louër share a love of minimalist art. Donald Judd's large-scale aluminum sculptures were one of the mutual interests that brought them together during a chance encounter at the Palais de Tokyo. But in our current world of excess, we must ask ourselves: What is the last frontier of minimalism? Austerity, in all its forms, leaves us cold, like a cliché dreamed up in less imaginative times. But what if we define minimalism as a new aesthetic honesty—a radical act that substitutes brand strategy for blankness?
By stripping down gold, silver, and ruthenium to their most elemental forms, Le Gramme embraces jewelry for what it is—valuable metal. Their items are presented as pure commodities, designed around the weight of the metal itself. Fittingly, the label takes its name from the international unit of measurement, the gram, embracing a mathematical standard that feels simultaneously precise, restrained, and clever.
Intimately minimal, the Gold Le 21 Grammes Cuff is a men's bracelet that confesses nothing more than its weight and material: 21 grams of 18 karat yellow gold. Here, the clean lines of the piece leave space for the gold to come into its own. The bracelet's appeal lies in the pleasurable sensation of the cold, heavy weight of gold on your wrist. Its beauty comes from raw physicality.
It is this almost sexual candor that defines the new limits of minimalism, proving that simplicity has a primordial pull. Gold is simultaneously the most ancient and modern metal. It has been the main ingredient in Incan ceremonies, wedding rings, and iPhone motherboards for the past 3,000 years. It therefore feels dishonest to say that gold does not have a seductive power over us. It is power itself.
Text:

Karen Orton

Photography:

Haw-lin Services