Summer Forever: What Is Resort Season?
Tiana Reid on the Essential Extra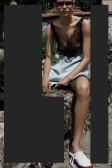 The first time I went to an all-inclusive resort I hadn't yet unpacked my bags and there was a cameraman in my face on the elevator shouting, "Do you want to be on Girls Gone Wild?!" I was 17, it was Cancun, and my friend and I were unchaperoned. I don't remember what I wore (I deleted Facebook years ago so thankfully cannot easily access the receipts) but it probably wasn't much.
In the fashion industry, resort season (also known as the cruise, holiday, pre-spring, or travel collections) refers to a mid-season or pre-season line that is an added segment to the traditional design calendar. The apparent lack of visual or material cohesion to resort season—typically including antagonistic items like beachwear and furs—is in fact not a lack at all, but a unity in difference, a unity that signals a luxury lifestyle tied to leisure, tied to all things extra.
The "resort" in resort season resists the resort of the week-long Caribbean scene prescribed to the North American middle classes. Fashion's resort indexes wealth and fantasy, whereas the all-inclusive resort is more like what Jamaica Kincaid described in her long essay, A Small Place, that is to say, an ugly and empty tourism. In her 1948 poem "Ocean Resort," American writer and painter Elise Asher writes about the glories of a vacation: images like flowers, seagulls, sun, sand, and dawn flourish and wander. Read more than once, however, the rays of sun will begin to burn and suddenly, Asher conjures a Jean Rhys novel, in media res: "ghost-rays of logic," "grandfather clocks unmanned," "vines of arms twin in the mind." Loneliness, desperation, and uneasiness must exist in order for the idea of a vacation to feel necessary. That which does not kill us makes us want a break.
"There were too many dogs … too many people … too many friends … too many laughing kids … too many foreign accents … too much singing and dancing … too many ice cubes tingling … and way too many colors."—Peter Pulitzer speaking at his mother Lilly Pulitzer's funeral
Recreation can take place under any conditions: contentment or malaise, home or away, snow or sun. Kept within bounds, a resort collection typically refers to vacation clothing, the stuff of beach cover-ups and floppy hats or ski gear and bikinis for the Jacuzzi. That is to say, resort clothing is targeted toward women with enough disposable cash to travel in the Euro-American winter months—typically to, duh, a resort. While high fashion is categorically unaffordable to the majority, resort collections reinscribe this difference by aestheticizing the ability to alter one's climate not in the name of ecological disaster, but rather, self-care. It's always summer somewhere. Following the work of deconstructionist Jacques Derrida, American literary critic Jonathan Culler saw the philosophical concept of the supplement as "an essential extra, added to something complete in itself." Riffing on this, resort is not in fact superfluous but becomes necessary, just enough.
Somewhere between doing the most and not doing enough, the seasons are currently changing. Playing on the inconsistency of resort with last year's collection, Céline summed up the multiple meanings of recreation in a world where work and play are entangled, by evoking not fun and holiday but renewal and attitude. In one look, I found the power suit of my dreams: an oversized button-up that looks like it was tie-dyed by Hermann Rorschach and a matching skirt interrupted by black gauze reminiscent of a mourning scarf. The dominant color brought to mind the white flesh of a Saturn peach. Céline also flaunted silky slip dresses, tinted sunglasses Almost Famous' Penny Lane would adore, smart-looking leotards, shaggy shearling coats warm enough for a Canadian winter, and oversized suits to wear in an office. It was clear, when British fashion designer Phoebe Philo presented last year, that night-times' lingerie would linger into the day's affairs. This was a minimalism of nocturnal power, a style far away from the sojourning disconnection insisted upon in typical holiday wear.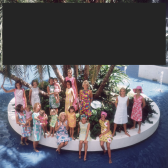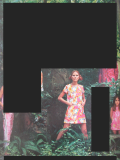 Other 2018 season shows (for example, those by Marni, Balenciaga, Isabel Marant, and Alexander McQueen) included looks served with a lot of flat shoes—a recent resort staple. Almost two years ago, in the first week of May 2016, Chanel showed in Havana, Cuba. Under the direction of Karl Lagerfeld, resort meant three-tiered tulle skirts, fat ties next to broaches, earnest fedoras, small purses, and garage-washed jeans. Almost 60 years ago, resort wear was not so eclectic, and communist rule did not look so cute. In fact, resort was fiercely embodied by one woman's audaciously optimistic brand: Lilly Pulitzer. Her designs are, as the brand's website reads, "Unapologetically Lilly": bright colors, sensible open-toed shoes, slits to let in a cool breeze, peppy patterns mixed to hide a mimosa stain, happiness defined by a shift dress—abstract expressionism for the resort class. After ushering in quintessential American resort wear, socialite and fashion designer Pulitzer died at her home in Palm Beach, Florida, a seasonal town that was established during the late 19th century Gilded Age through two luxury resort hotels, the Royal Poinciana and the Breakers, owned by Henry Flagler. For Lilly Pulitzer's color-happy designs, as in Palm Beach, it is always resort season.
As a child, I used to take either a plane or a 23-hour drive from Toronto, Ontario to Fort Lauderdale, Florida and then a chartered plane to a small place called Crooked Island, in the Bahamas. It was our family vacation: sun, sand, and self-styled hermit crab races. We did not stay in a resort but that did not mean we were not interpellated into resort logic. One day on a fishing and snorkeling trip in our family friend's boat, we happened upon an unexpected storm. The men took out the CB radio, and after a few moments, we headed to the nearest shelter, where our friend had been working: a big huge yacht unlike anything I had ever seen. I was later told it was the Pulitzer Yacht. My cousin and I climbed up the ladder, wearing men's t-shirts, which hung to our knees, and our hair was mangled from a day in salt water. We smelled like fresh tuna, grilled crawfish, the big leaves we had used as plates, and the ingredients of a conch salad–onions, lime, and Scotch bonnet peppers. But boy, were these young Pulitzer girls clean. Hair like the Lisbon sisters and skin as pure as the sound of a flip phone slamming shut (a device they all had). In the middle of the ocean, surrounded by remote islands where people didn't even have landlines or electricity in their homes. And each with a cell of their own! They didn't speak, not to us or to each other.
Etymologically, the noun "resort" comes from an old French word meaning resource, help, aid, or remedy. The "re" in "resort" refers to the again-ness of sortir, the French verb for leaving or going out. A resort is meant to be a place you return to, and maybe even, like Lilly Pulitzer, a place in which you die. If you drive just over an hour south of Palm Beach, where Pulitzer died, following the Atlantic Ocean, you'll get to Miami, which is home to resorts but also home to much else. Set in Miami, the 1985 film Private Resort is about two young white men—Jack and Ben, who could have just as easily gone by their birth names Johnny (Depp) and Rob (Morrow). They are looking for girls on their long weekend vacation. The opening scene to Depp's first starring role features a panning pool-side scene, following every ass in a two-piece. The girls look healthy—that's what smiles, tans, and often whiteness signify. They wear v-cut bikini bottoms and drink out of scooped-out pineapple cups, embellished with flowers almost as aspirationally big as their permed hair. As the camera zooms out toward the landscape, we see an ocean, palm trees, and a manicured lawn. A group of two dozen or so do some kind of choreographed bop of a dance. Jack opens with, "I'm telling ya, this is the place to be." His friend Ben responds, "I'm dreaming, I'm dreaming." Indeed, the version of Freud I have made up in my head says that resort season is a fulfillment of an unbearable kind of wish.
Tiana Reid is a writer, doctoral candidate at Columbia University, and editor at The New Inquiry.