Loose, Free Rhapsody: Meet Filmmaker Josephine Decker
The American Director, Actor, and Performance Artist On Her Latest Movie, "Madeline's Madeline," Co-Starring Miranda July
Interview:

Simran Hans

Photography:

Elizabeth Weinberg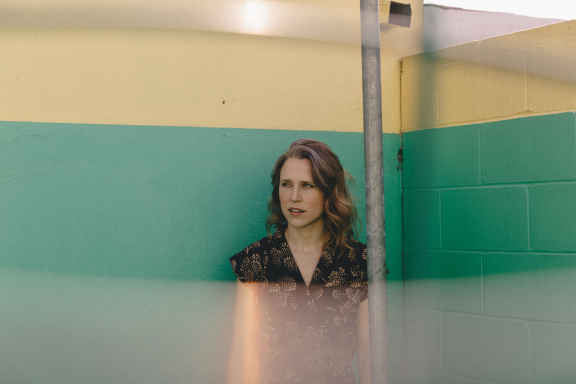 From the Aramaic magdala, the name "Madeline" means "elevated" or "magnificent." Tower. Typifying, it turns out, the title character in filmmaker Josephine Decker's latest project Madeline's Madeline—though the film's narrative structure suggests a madeleine in the Proustian sense: a shivering, bodily memory that arrives in fragments. There is also "Madlyn" by way of Jacques Rivette's 1974 dream odyssey Céline and Julie Go Boating, the sickly child who Juliet Bertot's Céline pretends to nurse. With that film's shifting, shared subjectivity, and transportive boiled sweets (Rivette's own riff on Proust's madeline), there's the slightest trace of its residue detectable here.
The film's Madeline (Helena Howard) is a precocious, mentally unstable sixteen year-old. Butting heads at home with her overbearing mother Regina (Miranda July), she joins an experimental theatre company where she finds a new role model in acting coach Evangeline (Molly Parker). Things become slippery as the emotionally manipulative Evangeline pushes Madeline to mine her personal experiences for the sake of performance. The result is an arresting, visually daring ethical experiment, and Decker's most lucid work yet.
Decker and I arrange to meet for Sunday brunch at a café with chic, anthracite grey walls and a gleaming brass bar in the city's Tiergarten district, some distance from the soulless crush of Potsdamer Platz, where the festival takes place. It's quiet, still a little early for Berlin's hungover hipsters, but Decker is alert and all-ears in a printed silk shirt. In person she's warm and attentive, with an aura of unruffled zen quite unlike the charged intensity of her films.
Decker is "a spiritual person" by her own admission. "I was always interested in acting as this point where you can get to God." Though she had no intention of becoming an actor, she trained as one, learning the Suzuki Method ("you stomp on the ground a bunch") in college and taking clowning workshops with Pig Iron Theatre Company in Philadelphia. Later, Decker went on to teach acting at CalArts. "Acting unlocked me, unlocked my voice, because I was very shy and wasn't that comfortable talking in public."

"You know, early Christianity was really, just small groups of people going to places together through prayer," she tells me. "I feel like one of the last spiritual collectives that we have in our world right now are acting troupes; they go to a place that you can't access alone, or without training. It was being part of a collective and then all going to something infinite together that was really what I was interested in."
While Butter on the Latch was improvised on set from a treatment, and Thou Wast Mild and Lovely was scripted, Madeline's Madeline was built differently. Decker was judging a high school arts contest in New Jersey in 2014 when she first met then-15 year-old Helena Howard. She was so moved by her performance that she spent the next three years constructing a movie around her, through a series of improvisational workshops. "In devised theatre, you don't write a script first, you craft the script from working with actors." She describes this collaboration with actors as "just joyous". The joy seems to flow both ways – in the previous evening's post-screening Q&A, 19 year-old Howard cried on stage, praising Decker for "just getting it" – "it" being both performance and performers.
In Matthew Akers & Jeff Dupre's 2012 documentary Marina Abramovic: The Artist is Present, Decker makes a short, memorable cameo, in which she is escorted from Abramovic's MOMA exhibition for stripping off her dress. "I just wanted to be as vulnerable with her as she makes herself to everyone else," she tells the camera through tears. The ethics of vulnerability – and the vulnerability required to make good art – are the chewy, honey-dipped center of Madeline's Madeline.
The film is uneasy about Evangeline's opportunism in using Madeline's story, inviting viewers to question the ethical tightrope Decker herself walks when it comes to Howard. "I think Evangeline is the character that's the closest comparison to me," Decker says, hinting that the film's queasy acknowledgement of this is a feature, not a bug. "I kind of feel that there's this subtle autobiography that artists bring to their work, that they don't always reveal while they're making it."
As for the tension that arises from the fact that both she and Evangeline are white, while Howard (and therefore, her Madeline) are biracial? "I was interested in looking at the idea of Evangeline as an artist who's focusing and zeroing in on this young woman's life, potentially because she's pregnant with a mixed race baby who's going to look like this girl. In a way she's comping Madeline's experience. She's extremely curious about it because she's curious about the future of her own life. I think that's why, hopefully, that moment has impact, because you kind of realize the artist has deeper intentions, and deeper similarities with the world that she's interested in." When Evangeline's husband is revealed to be African-American, it signals her interest, playing as an a-ha! moment. "I think the other thing about it being a bit subtle is that my partner [filmmaker Malik Vitthal] is black, and I think I was also just writing family systems that connect to mine."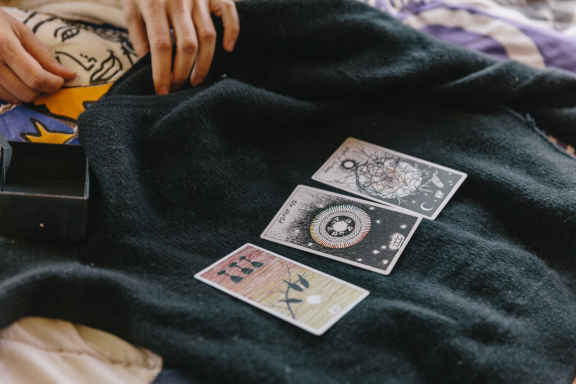 In one scene, Evangeline makes winking reference to Carl Jung's chaos theory, declaring that "in all chaos, there is a cosmos; in all disorder, a secret order", though as per my suspicion, Decker is only half-joking. "I am making fun of this character, but these are some of the defining ways that I think about filmmaking – accentuating dream life over logic. She says, 'The mind swings between sense and nonsense', not between 'right and wrong.'"
How Decker thinks about filmmaking is what I'm most interested in. As her friend and collaborator Miranda July puts it to me over the phone, "Her films feel so loose and free. You sense a lot of improvisation and yet, she's a real cineaste – there's nothing undisciplined about them. When she reached out about acting in the movie, my first thought was, _Well, I could figure out how those movies are made! _"
The key to Madeline's Madeline is in Decker's editing. She explains that George Gershwin's 'Rhapsody in Blue' ("I listened to it like 40 times") was the inspiration for the film's dizzying jazz structure. "It was such an influence in terms of leitmotif, in terms of things repeating and repeating and repeating. A motif appears and transforms and transforms and transforms but keeps appearing even as it's transforming." I tell her that when I watched it, the film's rhythm felt more like a dream, with its revelations emerging between stretches of drifting and hot clarity.
"I don't actually think it's two different things," she offers. "I think there's something about jazz music and ['Rhapsody in Blue'] that's doing what we do when we dream. We fixate on a thing and we talk, it's like tumbling in the washing machines of our minds, we toss it and we toss it, and it gets wetter and wetter and wetter, and turns from a cat into a wet cat into a leopard into a sphinx that we're riding through the sky. That's a little bit like what I wanted the movie to do, to recycle the images."
"…these are some of the defining ways that I think about filmmaking – accentuating dream life over logic."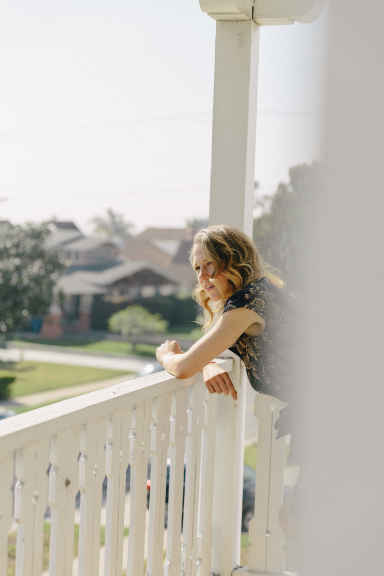 How did she come up with the motif of a cat, an animal that Madeline embodies with uncanny physicality in the film's opening scene ("You are not the cat, you are inside the cat," a nurse's voiceover purrs)? "Helena has a cat, and she loves cats, so I knew it was an animal that as a human, she already knew really intimately." Decker, on the other hand, is allergic. "Also, I think there's something elusive and mysterious and magical, and moody about cats that felt very much in line with that character. I was kind of inspired by Alice in Wonderland in the way that they're following the white rabbit."
These realities are delineated visually, using a smeary lens to create a sticky, feline sense of subjectivity. Decker worked with director of photography and frequent collaborator Ashley Connors, inviting her along to the actors' improv workshops and encouraging her to find a way to make the film's cinematography feel more embodied. "It felt really important obviously to have a very different visual look for the parts when we're inside that mind," she says. "I was like, if the camera is supposed to be the character in these moments, the camera needs to understand breathing and feeling as another person." This idea of a visually distinct subjectivity was something borrowed from Julian Schnabel's 2007 drama The Diving Bell and the Butterfly, told from the perspective of magazine editor Jean-Dominique Bauby, whose body was paralyzed after a stroke. As for other artistic inspirations, she describes Darren Aronofsky's Black Swan as "a big influence on my life, period" (there's also perhaps a similarity between Madeline's athletic, punishing approach to performance and Nina's crazed pursuit of ballerina perfection), and Andrea Arnold's thorny coming of age drama Fish Tank, with its third act turn and teenaged point of view.
"When I was writing it, I knew that there was a darker place I could go with the ending and I did go there, but I changed my mind," says Decker. Which is not to say Madeline's Madeline doesn't go to a dark place; its climax sees Madeline imitating her mother with razor-sharp insight and frightening accuracy. It's a cruelly funny showcase of Howard's range as an actress – but July's Regina isn't the only character that gets cat-scratched in the film's final reel. Still, its explosive, jubilant finale suggests Decker's overall optimism. "I wanted it to be about the salvation and the ecstasy of the imagination too, not just the full-on terror that we inflict on each other."
Simran Hans is a writer and film critic for The Observer in London.
Interview:

Simran Hans

Photography:

Elizabeth Weinberg

Hair and Makeup:

Georgina Peñate