New Icons: Simone Rocha's Kick in the Teeth
New Icons: Gothic Obsession in Sculptural Perspex
Text:

Quynh Tran

Photography:

Kenta Cobayashi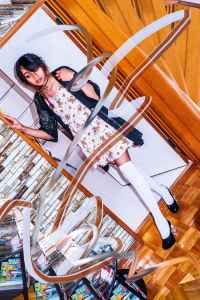 New Icons celebrates the stories behind particularly notable pieces from this season.
When Simone Rocha staged her Spring/Summer 2017 collection at Southwark Cathedral, she didn't just bring Irish land girls to Sunday church—she weaved into the collection an arabesque story of morbid romance à la Edgar Allan Poe, with a visual narrative somewhere between baptismal and sepulchral. Amongst all the pretty lace dresses and religious purity, kinky details flashed a subtle eroticism. Encompassing the eerie allure of the Gothic, her Perspex tooth heels saw the innocent ballet-reminiscent shape give way to ghastly tooth sculptures. This is the ingenious mélange of Rocha's signature girlishness and her penchant for space-age materials.
When Egaeus fell, it was not for the radiant beauty of his betrothed—it was for her shiny white teeth. For the hero of Poe's Gothic tale Berenice, her teeth had become objects of obsessive fixation, promising peace for his clouded mind, if he could only possess them. The pristine ivories represented evanescence, and his fervent lust for them drove the story to its violent end. In the horrific final chapter, Egaeus is awoken from his monomaniacal trance to find that the objects he desired most had not liberated him, but had, in fact, destroyed him. While historical, Poe's parable of object fetishism, of a longing for possession that torments the mind, is a very contemporary narrative—it tells of the constant hunger and fear that impel tragedy.
Drawing from religious attire and a psychological symbol of mortality, mourning, and remembrance, Rocha grasps current socio-political emotions in a most sensible manner. These tooth-heeled pumps are a brilliant confrontation—if not proclamation and parody—of the sentiment of our time, a time driven by the evangelical worship of possession, and the terror of losing it. It is a fantastic visual story of a mythical object of fixation, the tooth, encapsulated in that very capitalist object of fixation, the shoe. Consider the tooth fairy—isn't she a sort of gleaming standard-bearer of capitalism, asking us to trade something of ourselves for a dime? Now, Simone Rocha brings back that something.
Text:

Quynh Tran

Photography:

Kenta Cobayashi