Mackintosh's Prodigy Kiko Kostadinov
Processing the Invisible Purpose of Mackintosh
Interview:

Edward Paginton

Photography:

Tom Ordoyno
Having been tasked with reinventing a label so reputable its most distinguished garment bears its name, Kiko Kostadinov defies expectations. Now as the designer of Mackintosh 0001, he demands a new sense of simplicity.
Within his first year of graduating from Central Saint Martins, the 27-year-old Bulgarian-born designer fast-tracked traditional channels of starting a label. Skipping the preliminary development years, he was accepted onto London's prestigious NEWGEN Menswear talent scheme. Resisting design dichotomies between essentialism and decoration, his structural-expressionist approach resembles that of Richard Rogers and Renzo Piano's Centre Pompidou—a sprawling framework of steel, with its guts wide-open and on-show. It's a celebration of high technology that employs inversion as its modus operandi. By exposing a garment's inner structure, function is revealed—and so too is its hidden elegance. In London, Kostadinov sits down to talk with Edward Paginton about the paradigms of building your own design language, while learning on the job.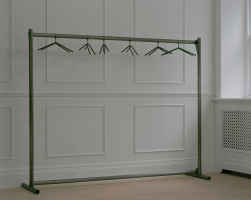 Edward Paginton
Kiko Kostadinov
You reference Arte Povera as an inspiration behind Mackintosh 0001 & 0002 collections. Why Arte Povera?
The reason I tried to build this story for Mackintosh using Arte Povera references is because I was always attracted to the movement—in my own work, but also because I was still finding an identity within my own work. For Mackintosh, it felt like it was the right opportunity to really explore things and artists that I really like. To take some of their principles by repetition of materials, implementing more of an industrial approach that's not so digital or technological. The roughness of it was always quite interesting, so we tried to structure the collections based around the materials. For the first 0001 collection, it was rubber, which for me is the Mackintosh fabric. They own rubber/cotton bonding and have been developing it over generations. There's also the rubber tape that is used for hems on the cuffs, which provides the garment with structure so that it's not flimsy when it's windy. It's about taking those details, relocating them on the body, and pushing them in a certain way. It's not just decoration or a visual reference. I must make sure there are logical reasons for it—not just inserting rubber stripes for decoration.
You're revealing the structure.
Yes, revealing the structure while emphasizing it. To make it even stiffer on the back of the sleeve or the back of the body.
I guess Arte Povera is about acting without the restraints of traditional materials and practices. I think it ties into the ongoing role of construction and industrial processes in your design. Can you talk more about these processes?
I think that also comes from helping my father upon moving to London. I was always around him helping him out with his building to earn some extra money. I spent a lot of time around him and his team in a way. I learned how to make and build spaces, so it was natural for me to look into those raw materials and use them for my own work. I also developed a work ethic. It was like "Okay, today we need to do this," there's no slacking around. It wasn't creative, but it was constructive, very planned and scheduled.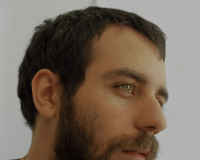 Similarly, "utilitarian" is a term that's often bandied around too much, losing some of its resonance.
It's just a big trend everyone is jumping on. There are a lot of self-proclaimed designers using "industrial elements" and that becomes very surface-based. However, you could talk about designers like Errolson [Hugh] of Acronym. They're very good at what they do because their garments perform a function—keeping you dry, or cycling and running performance. My garments are fashion, first and foremost. I don't do performance. The only performance I try to address is that I wear these clothes, and I think, "What do I carry most of the time around town? I need a pocket for this, or this needs to be deeper, or a space inside for a phone." It's more about daily function. I try to work with the cuts and construction that you wouldn't think twice about.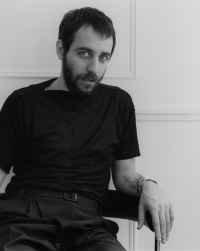 "It's about how to design something in a way that has invisible purpose…"
Like many of your influences, such as Yohji Yamamoto and Jun Takahashi, it's about subtle, unrecognizable differences.
I mean, how often do you buy something and you discover a new feature after a week or two later? I think this type of shopper is fading out. It's about how to design something in a way that has invisible purpose, because my work goes against what I call "flat designing"—a digital process where you send off a pattern and it comes back to you, which happens a lot nowadays. I find the time to rethink the materials and garments.
I think the perception of me and what I do has been dictated by the work I did with Stüssy. A lot of people expected me to move into that very graphically-driven kind of territory. That's not what I like or wanted to do. It was very much about trying to escape that and to be able to build my own design language for my own line. Mackintosh is helping me reinforce that.
I hear you have a huge collection and archive.
I have too many clothes. I'm just applying to rent storage next week for the first time.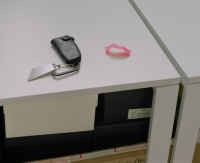 Yes, with my own collections and the two Mackintosh collections. Then I have really big designer archives and a big military and workwear archive. And some other odd things.
When did you start collecting?
Maybe five or six years ago. It's quite big.
And it informs what you're doing?
It's more about reminding myself what somebody else has already done and what already exists, and to not do that. I always think that if I feel I have these trousers in my wardrobe, then we shouldn't try to make them. My job right now is not to remake clothes that I like, it's more about making stuff that can sit next to these things and clash.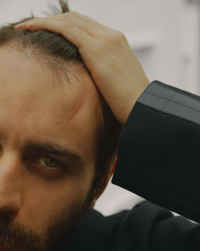 How much have you learned from growing up in Bulgaria?
I haven't really taken away any experience from growing up in Bulgaria. I moved [to London] when I was 15 or so. I didn't want to stay here at all—I wanted to go back and party with my friends and get my parents to send me money from here. That didn't really work out how I planned. I was doing really low-level IT and was like, "I don't want to spend the rest of my life sitting behind a computer," which, ironically, is happening now. I used to play football a lot in Bulgaria, so my uncle used to send me the newest Umbro kits from Lillywhites in London. It was a big deal to be wearing Umbro or Nike, you were, like, the boss. Growing up in Bulgaria, I wasn't really exposed to this culture or art at all.
But that can be a good thing no? Knowledge can be restrictive.
Yes. I think it's forced me to learn my own way. It takes a lot more drive to do things.
As well as your father working construction, your mother was also a cleaner, right?
Yes, she works for me now.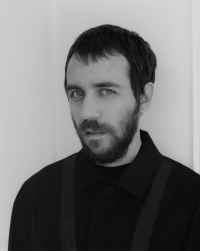 She's my studio manager. She is somebody I obviously trust and I wanted her to be around more. My pattern-cutter from school also works freelance for us—he's around 70.
He did the first five collections for Vivienne Westwood in the 80s. He was the one who worked with Malcolm McLaren, so he's been making and designing patterns and cutting clothes since he was 17. He's been through the 60s, 70s, 80s—he's been through it all, and he's super old-school. The beauty about having someone like him and someone like my mum is they just do the work. There is no ego. Something that Rick Owens once said about interns, which is quite interesting, was why he doesn't have them—he just wants to work with people that know their trade.
What excites you now about working with a brand with such heritage?
I like how it's based on a product that's needed for specific functions. The level of manufacturing blows me away. When we came to see the collection, I was skeptical, but when I held the machine-made pieces, the rubberized material, I was like, "This is something I can definitely work with." I saw their potential and ambition to expand. In terms of what I do, creative direction for the brand, there was no one like me here before. It was essentially a manufacturer in the past. They still do a lot of manufacturing for high-level brands, but there's a big opportunity to put a mark in that time at Mackintosh. I want to make sure that when you look back, it's like the way you look at Hermès and Margiela
—you think, "Wow this was really his way of designing and respecting that brand."
Italian philosopher Stefano Bonaga has talked about the paradox between creativity and being organizational as an "enormous but necessary conflict"—how have you struck a balance?
Both my own label and Mackintosh are in the same level of development, so we learn from each other. Even setting up a company, setting up an account, all these little things you need to do to be able to have a structure. I guess it's about trying to involve some of the creative process into the structure, or about how you structure ideas. It's challenging. The goal is to build a structure, so you can be more creative later on.
Interview:

Edward Paginton

Photography:

Tom Ordoyno