New Icons: In Praise of Socks
An Undercover Essential Shines in Spring/Summer 2016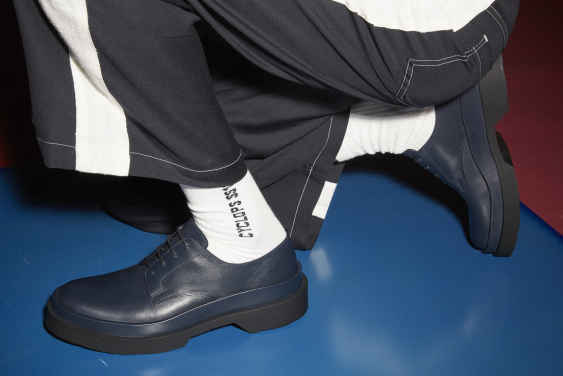 New Icons celebrates the stories behind particularly notable pieces from this season.
Socks are rarely on the receiving end of the cultish devotion that other items of clothing and footwear inspire. The Internet is filled with sneaker fetishists hungering after the next rubber and leather release to sniff, lick, and fondle. But less attention is given to the shoe's underappreciated cousin.
For designers like Rick Owens, Gosha Rubchinskiy, and Rei Kawakubo, socks are an undercover way of telling a deeper story about the spirit of their collection. Socks are a no man's land, ripe for self-expression—whether it's Rubchinskiy's evocation of Soviet art and Russian prowess, or Owens' exploration of the strength of femininity through Greek myth. Granted, a pair of socks reveals less of an obvious narrative than a signature coat of the season, but the appeal of great socks lies in exactly that understatement. They are a flash of color between the trouser leg and the shoe, a hint of something else. There is a deep personal luxury in choosing a comfortable pair of socks to get you through your day. After all, we wear a pair of socks exactly because of how good they feel, and there's nothing sexier than that.
Consuelo Castiglioni told the Wall Street Journal for her Spring/Summer 2016 Marni menswear collection that she sees socks as "an accessory, adding extra color and texture to the outfit." Castiglioni has been at the head of a recent trend that brought socks into the limelight, albeit tinged with slight derision because of their pairing with sandals. Marni and Versace brought together leather sandals with socks for this spring's menswear—a pastel version for Donatella, with Castiglioni choosing a thick, knit variety. At Bottega Veneta, Tim Blanks proclaimed in Vogue, "Socks and sandals, once voted worst fashion faux pas, reign supreme in Milan as the footwear of choice for Spring 2016. German package tourists will be the very height of chic come next summer." Along with blaming the much-maligned German tourist, the Wall Street Journal also apportioned blame to Dads and hippies for starting the trend.
Since the Stone Age, when our ancestors tied animal skins around their ankles with leather ropes, socks have been a sartorial human necessity. Leather socks were upgraded to matted animal hair in ancient Greece, while the earliest surviving socks are a pair of single-knitted socks found along the Nile and dating back to 300-500 A.D. Perhaps not uncoincidentally, they are split-toed, all the better to be worn with sandals. Socks even have a sacred incarnation. In Japan, Shinto priests and Buddhist monks still pad softly through temples and monasteries wearing tabi, the traditional split-toe white socks that have been worn since the 16th century. Ancient wisdom says that separating the big toe has health benefits, both stimulating and relaxing the brain. And in mosques, Hindu and Buddhist temples, and Sikh gurdwaras around the world, visitors must enter the holy premises either barefoot or wearing socks. It wasn't until the mid-20th century in America that the still perennially popular tube sock came into its own, gracing the legs of basketball and soccer players in the late 1960s and taking a starring role in the advent of 1970s fitness culture.
In keeping with the historical sanctity of this humble footwear, designers have started to redirect their attention to socks this season. Owens' black and white calf-high ribbed socks bear the name of his Spring/Summer 2016 "Cyclops" collections, expressing paeans to female strength on one hand, and an aggressive masculinity on the other. Meanwhile, Marcelo Burlon brandishes his pixelated emblem on black and yellow socks, adding to the collection's bold, street-inspired energy, and Boris Bidjan Saberi hints at gender fluidity, pairing shorts with long black and white socks that verge on male hosiery.
In womenswear, both Saint Laurent and Comme des Garçons play with ruffled socks for Spring/Summer 2016, evoking Harajuku girls. Hedi Slimane continues to celebrate eternal youth by pairing his lace-trimmed socks with grunge-inspired black floral lace-up boots. Meanwhile, Gosha Rubchinskiy—who is no stranger to the coming of age narrative himself—releases striped flag socks with a nationalistic bent. Using the red, blue, and white of the Russian (but also, paradoxically, American) flag, Rubchinskiy uses the socks, and the collection as a whole, as an opportunity to evoke both early Soviet art and 70s athleticism in one fell swoop.
By infusing socks with the spirit of their collections, these designers are offering an opportunity to rediscover the pleasures of an understated essential. The quiet power of a pair of socks is to tell a great story as well as keep your feet dry. Surely enough, this should inspire the sock fetishist in all of us.
Text:

Karen Orton

Photography:

Nik Mirus

Styling:

Oliver Stenberg