How Visvim Creates "Future Vintage"
Traveling from Lapland to L.A. with Designer Hiroki Nakamura
Interview:

Xerxes Cook

Photography:

Visvim

An anthropologist of apparel and founder of the cult folkwear brand Visvim, Hiroki Nakamura travels the world with a bunch of empty suitcases seeking out traditional methods of weaving, dyeing, and assembling textiles. When he returns to Tokyo, he publishes his observations on these crafts as small dissertations, and then begins figuring out how to integrate them into our modern cityscapes.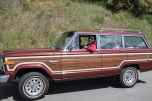 Counting Japanese Edo-era kimonos, Amish patchwork, Native American blankets, Harris Tweed, French crocheting, and the footwear of Finland's Sami people among his inspirations, Hiroki's peripatetic product development process builds on centuries of research and development with the intervention of a few select modern machines.
As such, Visvim is the antithesis of fast fashion. Rather than throwing away these insights every season, Hiroki seeks to evolve the brand's archetypes so they become even more durable as the years go by. He describes the process as the crafting of "future vintage." Xerxes Cook caught up with Hiroki and his wife Kelsi—who designs Visvim's women's collection, WMV—while they were in Paris to learn more about where and when the key moments in the Visvim journey took place.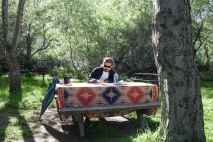 THAT TIME I WENT TO ALASKA AS A TEENAGER…
Xerxes Cook
Hiroki Nakamura
Did you always want to be a designer?
I don't know why, but I was really attracted to outdoor, Americana, utility gear. I'm not that sporty a person, but back then, I thought I was. I went to Alaska with friends as a teenager, and I remember when I was packing I would think about every piece and how the colors would match, even down to the socks and hats. And that I was the only one of my friends who cared.
And when you got there you realized you weren't into chopping wood and setting bear traps?
I had this realization when we were camping. I had so much gear in my backpack my friends were like, "Where are you going?"
I was staying in a dormitory and then one day we decided to go to Hatcher Pass, a little pass where you hike up and snowboard down. I made sure I had my cool outfits where all the colors matched. Even though there was no one else there other than my friends, it was important for me [Laughs]. But because it was so cold, you had to have the right gear, so we went to a shop. My friends didn't even care how these clothes looked; their mentality was that the clothes should function and keep out the snow and the cold. For me, I needed them to look and fit right. And then I thought that instead of being a professional outdoorsman—a guide, perhaps—that maybe I'm more interested in developing or designing the gear itself. It was a key moment.
It's like an initiation, heading out into the wild to know what you want to do with your life.
Yeah. So I started working for an outdoor sporting goods company, designing, selling and doing the marketing. And after a while, I decided I wanted to do something I truly believed in, that would make me happy. So, then I started developing my own line, starting with three styles of shoes, and then denim, as I've been wearing and collecting jeans since I was a teenager.
WHEN I LEARNED HOW TO USE REINDEER SUEDE IN MOCCASINS FROM THE SAMI OF LAPLAND…
The FBT moccasins, which you launched Visvim with and have been evolving ever since, have become one of the brand's most iconic products. What's the story behind them?
My supplier introduced me to reindeer suede, and I felt like, "Wow, this is great stuff," but I wanted to know how they were really used. So me and my team went to Lapland, to Finland to see the Sami, how they use the skins and how they make moccasins out of it. When I was there, my feet were so cold, and so an old lady came and quickly made me a pair of moccasins which we stuffed with hay for insulation. I was really shocked—those shoes the lady gave me were really, really warm. I couldn't believe it, I was like "Wow, these natural, old, things really work!" They didn't have any outsole or anything.
HOW I GOT INTO NAVAJO TEXTILES IN NEW MEXICO…
Native American motifs and textiles are a recurring theme in your designs—is this something you got into on your trip to Alaska?
No, that was something that happened in around 2008 when I was collecting moccasins and I went to New Mexico thinking I could buy loads of them there. Through a friend-of-a-friend I met a guy who sells Navajo blankets. He's a master of old blankets, and owns a trading post in the reservation selling between Native Americans and Americans, as his family has been doing for generations before. I once did a project with a Navajo family where I dyed indigo blankets in Japan and brought those yarns to the family and watched them make me a blanket in their traditional way, using a vertical loom. I learned so much from that type of textile and about how to use cochineal and indigo dyes. It was really inspiring—more like a conceptual project—and eventually these inspirations and experiments find themselves in the collections.


On your website, you've published dissertations on the textiles of the Ainu, Japan's indigenous people—are you trying to highlight the lives of marginalized people, that may be more in touch with nature than the rest of the world today? Why are you so drawn to tribal societies and their crafts?
I feel that tribal stuff is more interesting as it's closer to your real life. When I say real life, it's not only equipment, tools, or utility things. It's something real. For example, with the Ainu, they wear necklaces made from glass beads. I've never seen it outside of one museum, but sometimes I just want to grab it and wear it, it's so cool looking—almost like how Native Americans wear their beads. I'm sure the Ainu wanted to wear those necklaces to get attention from ladies, or make themselves look powerful.
The same reasons as today…
Yeah, the same reasons as today! The Ainu were one of the oldest tribes in Japan, before people came from the mainland. Imperial cultures, kingdoms—they have beautiful stuff as well, but something just speaks to me more directly with tribal crafts. Native Americans have a unique sense of beauty which I think most of us in the modern world have lost in our daily lives. It's more organic, and in tune with living in nature. The connection is much more direct.
IF YOU GO TO AMAMI ISLAND IN THE SOUTH OF JAPAN YOU'LL FIND MY FABRICS SITTING IN THE MUD OF RICE FIELDS…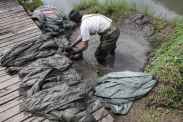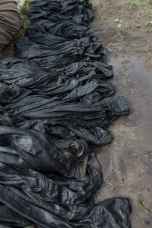 When did you first get into natural dyes?
It was when I was developing my denim in Japan, deconstructing every element right down to the individual slab structure of the fabric so we could begin reconstructing them as jeans. We were experimenting with color, trying to find the right shade of indigo. At the time I was really frustrated with how modern machinery would make the colors flat—accurate, but flat—and I wanted something more uneven, with more character, patina. And I was like, "Wow, this natural dye stuff really opens up whole worlds of creating uneven, interesting things." That was another real turning point: that instead of needing hundreds of workers, I can use live bacteria to do their job, where the end result is really uneven and with character and looks almost done by hand. Have I told you about mud dye?
Mud dye has traditionally been used to dye kimonos. On Amami island, off Kyushu, there they dye by literally dipping fabrics into the rice fields. The color isn't of mud, it comes from the metals found in the mud. A special mud that comes from a volcano, and that mud is high in minerals like iron, which is mixed with ash from a plum tree to give a beautiful dark brown color. It's a chemical reaction that causes the color. We've used a lot of that technique—if you go there, you'll see a hundred of our bomber jackets being dipped into the rice farms!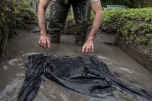 I've never met someone as passionate about natural dyes as you.
It is really exciting to me! Especially when you mix it with manufacturing in a modern way—it opens up a lot of possibilities. Sometimes we use a technique where we bury shoes in the mud. We dig a hole in the ground, and put them there for two weeks, then dig them out and clean off the bacteria. We just don't sell those shoes wholesale.
Where did you shoot the lookbook for the Spring/Summer 2017 collection? It looks a bit like Frank Lloyd Wright's Ennis House, the Aztec-inspired building that was used in Blade Runner, but the roof tiles look Japanese.
It is a Frank Lloyd Wright building, but it's the Imperial Hotel in Japan. It was an old hotel in Tokyo which they moved to a park in Aichi prefecture. They moved the furniture and everything so it's perfectly preserved. It's not only a one-off hotel, it's more like a village, with 30 buildings by Frank Lloyd Wright.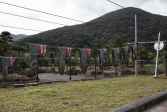 Do you and Kelsi take empty suitcases with you on your road trips for all the stuff you collect along the way?
We still do. We visit material shows, or like this time when we come to Paris, we see things that inspire us and we pick up stuff. We travel with a lot of empty suitcases. I used to travel with five suitcases.
And then sometimes I never open them!
Interview:

Xerxes Cook

Photography:

Visvim