Chris Kraus' Advice for A Young-Girl
Interview:

Fiona Duncan

Photography:

Max Farago / Total Management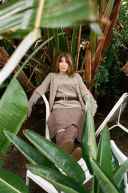 In 1997, Chris Kraus published I Love Dick, an epistolary romantic comedy about projection, authority, and crushing desire. 20 years and thousands of selfies later, the gag-titled novel is being made into a mainstream TV show (Amazon, August, Jill Soloway).
In 2012, I started researching what I was then calling "the cult of Kraus." Her fans—we were multiplying. From my position as an independent bookseller, first in Montreal then Manhattan, I noticed more and more young-ish image-conscious majority-women buying her books. Over the next four years, I stalked the phenomena—flying to London for a conference devoted to the living author and archiving every new media mention of her, I interviewed dozens of Chris Kraus readers, as well as intimates (Emily Gould, Eileen Myles), and of course: her gracious self. By the time the I Love Dick TV show was announced, I'd already decided not to publish my study as I'd come to see my tendency to trend-watch as a mental illness, plus: Chris had become real to me.
Chris is narrowly figured like a teenager with a pelvic groovy walk and a similarly flirtatious discursive manner. Her gaze is mirroring, lucid, and flat. She can smile with her eyes alone. Poetic and theoretical, she is also commonsensical. Street-smart. She deals in real estate. This business accounts for the freedom of her speech. She's never relied on her art for rent.
For Chris, Dick is history. Since 1997, she's released three more novels, two collections of essays, and several political pamphlets. She's taught, mentored, and toured—cast as a kind of rock star public intellectual. And she's continued to edit with Semiotext(e), her publishing home since 1990, which she manages alongside Sylvère Lotringer and Hedi El Kholti.
Right before the aughts bubble burst, Chris sold most of her realty holdings in L.A., where Semiotext(e) is based, moving her business to Albuquerque, NM. She kept one property, which she lives in now. Blocks from MacArthur Park, where you can buy fake IDs and feed Canadian geese, Chris' home is hilled high enough to see the Hollywood sign. There are two houses behind her gate, one interiorly orange and wood toned, the other pale pink and white. The day of our interview, Chris' block smelled like a laundromat. We were scheduled between two photoshoots; she greeted me in full hair and makeup. The front room of her orange house was all set—two folding chairs, separated by a small table, faced each other at an angle and evoked a live audience and stage. (Chris used to be an actress, theatre student, and filmmaker.) We started talking off-the-record about books until I remembered what I was there for, and—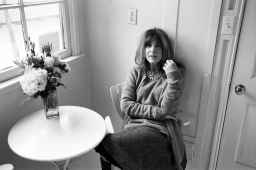 I've been obsessively reading Fanny Howe.
In the introduction to Hatred of Capitalism you say that Fanny Howe is crazy.
Yes. I don't know if she liked that! I meant it as a compliment. [Laughs]
Are many of the authors you publish crazy? Or, what does crazy mean?
There's a great line from Deleuze that Sylvère and I used to shoot back and forth, which is, "A friend is someone who lets you see their crazy side." We feel that everyone we publish, we kind of know their crazy side. It manifests in their work and that's why we like it. Semiotext(e)... it's like a curated artwork as much as a company. It's a kind of vision or aesthetic that's so multi-valenced. And it's an extended family. We tend to do more than one book with each person.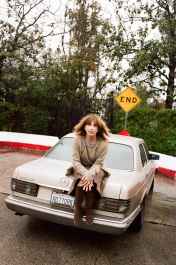 the Semiotext(e) house style is an old cashmere pullover sweater
Do you ever have disagreements about what to bring in?
Not seriously. Sometimes it will be: Sylvère likes X, and I don't like X, and Hedi's on the fence. But we never have come to blows over it. Basically, it's like a good marriage, where if one person feels strongly about a project and the other two don't, it's okay, let them do it.
When we first met in 2012, I was working as a fashion journalist. You recommended two books from Semiotext(e) to me. They were consciousness-changing, especially Tiqqun's Theory of a Young-Girl. (The other book was Bernadette Corporation's Reena Spaulings.) Could you say something about these titles? Why might they be relevant to a fashionable mind?
In Reena Spaulings, New York explodes in apocalypse while Reena's doing an underwear shoot. Pretty funny! Tiqqun's Theory of a Young-Girl, translated by Ariana Reines, spoke perfectly to that moment, 2012, and it's not dated yet. Tiqqun divorces the descriptor "young-girl" from gender or age and defines it where it belongs: as an existential, consumerist state that places its subject in a perpetual desire to please, smiling and lost in an abyss of need.
Who in the Semiotext(e) roster has the best style? What's it like?
In L.A., the Semiotext(e) house style is an old cashmere pullover sweater, camel or navy or black, sourced—at least by me—from thrift stores. I think probably we're all copying Hedi; he does it best.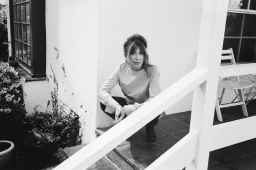 Could you tell us who Hedi is? When did he join Semiotext(e)?
Hedi El Kholti started doing design in 2001 and became a co-editor in 2004. Before he arrived, Semiotext(e) was still kind of frozen in time: there were the "boy books," Sylvère's Foreign Agents French theory books, and my "girl books," first-person fiction. Hedi's an incredible archivist and artist. He grew up in Morocco and lived in Paris before moving to L.A., and he has an incredible range of culture. The list became wider, more nuanced, although it's still very hard to define: sex, culture, politics, literature. He's also the Managing Editor, and he's turned Semiotext(e) into a stronger, more professional enterprise, in the most creative and non-corporate ways.
Semiotext(e) covers are amazing. Do you have favorites?
There was a great Marilyn Minter cover for Masha Tupitsyn's Beauty Talk and Monsters. Hedi just designed the cover for my Acker book. He's using an image by the artist photographer Kaucyila Brooke who took pictures of Kathy Acker's clothes, so the cover is her ghostly black leather jacket on a hanger.
In 1997, Kathy Acker died at age 50, the same year as her friend and literary ally William S. Burroughs. Acker and Burroughs were pirates, icons of cool, so serious about language, they called for its end, settling to cut it up until then. But Kathy was a girl. Her public image was limiting, and loving freedom, she hated that. She was perennially broke. Soon after Acker's death, and the publication of I Love Dick, Chris Kraus started researching a biography of the late author, whom Semiotext(e) had published. (They also published Burroughs.) That project was paused. Kraus just finished the biography. Titled After Kathy Acker, it's forthcoming from Semiotext(e) in August.
Kathy seemed very determined.
She was very determined to have a big career as a writer, and that dictated a lot of the choices. Some of them backfired. Her extreme "bad girl" image of the 80s was striking, but it locked her into one moment. It's taken twenty years for the work to be separated out from the photos of her. Kathy pursued icon-hood with great zeal, but she was also encouraged to do it as a marketing tool. Her work was difficult, highly intellectual. She came to accept her publisher's idea that by presenting herself as the proto-punk bad girl, her work would be more viable, marketable.
Did she contradict herself often? Present herself differently to different people?
Definitely. Going through archives, that's a sort of guilty pleasure, catching people out on all their white lies. She said X to this person and Y to another about the same thing. Often she'd choose a man, sometimes a lover, sometimes not, more often he was, as her "silent partner" when she was writing a book. She'd write intensely to that person, and share pages with him. Parts of the letters sometimes found their way into the books. Up through Don Quixote, she directed each of her books toward someone.
Every book is a love letter. Most things I write are to an audience of one...
You feel like you have a secret addressee? I do too.
Who's the addressee of the Acker book?
Hedi. The book circles around things we've talked about over the years about how history is made. We both felt a revulsion for the nostalgia about Olde Tyme New York: the history of the city in the 70s and 80s has been so mythologized. Having been alive long enough to see the disparity between how life is lived, and how it's historicized, it's really horrifying. Giving a more honest depiction of these eras was one of my goals in the book. I didn't choose to do it because Kathy is my favorite writer. Researching her biography became a way of creating an alternate history of different eras, using her as a marker to move through time. She's a fascinating marker because she's so complex and contradictory. She's unlikable in many respects, but then she'll redeem herself. She would think she was redeeming herself through her kind of faux vulnerability and helplessness, but really she redeems herself through her hard work and discipline. That's the only thing that lasts—hard work and discipline.
Are we going to get to talk about boyfriends in the interview?
What are some of the myths of the past? Who's doing the mythologizing? What's it servicing?
Oh, I don't want to name names, but—you know. There've been an awful lot of memoirs of that era, and photo exhibitions, ephemera, etc. As if 70s or 80s NYC was the last avant-garde. It's always the last avant-garde. A memoir tells the story of one person's success, and in the process, edits a lot of other stuff out. That's how art stars are made. But in the process, the supporting players, the boredom and texture of time as it's actually lived all disappear.
Are any of the myths true?
True, false, simultaneously. Somebody's truth is always someone else's lie. What matters more is how history speaks to the present.
Are we going to get to talk about boyfriends in the interview?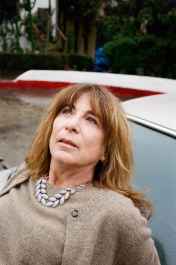 So much of getting to know a person is like auditioning for the role of girlfriend, and that's awful.
We can talk about boyfriends. I always end up in relationships… in love.
I slept with a lot of people, but I didn't have a lot of boyfriends. Before I met Philip, my partner, when I first moved out to L.A., I was kind of trying to sleep with as many people as possible, making up for a deficit. Now I have this kind of boring, monogamous life. Or maybe not so boring. The whole boyfriend thing… It's scary to navigate. So much of getting to know a person is like auditioning for the role of girlfriend, and that's awful.
I know. Do young women ask you for counsel often? Your fan base, as I've experienced it, consists of many "Young-Girls." The I Love Dick devotees...
All time time! The writer Joanna Walsh and I did an event last summer in London, kind of riffing on this. We invited the ticketed audience to submit questions to us in advance, and we'd answer them onstage, like two Agony Aunts.
Do you remember any of the questions you got asked?
There was a really difficult question about a three-way romance. And a few about obsessive crushes, of course.
What authors might you recommend to a Young-Girl?
Writers who've been important to me include Rachel Nagelberg, Natasha Stagg, Joni Murphy, Natasha Soobramanien, Cecilia Pavon, Emily Gould, and Sheila Heti. It's good to read your contemporaries, of all demographics. It's also good to read from the past. Balzac's Splendours and Miseries of the Courtesans was especially important to me when I was one.
How many hours a day do you spend reading?
Some days none, some days one or two.
Do you read many books at a same time?
What's Semiotext(e) going to publish next?
In the fall, we're doing Jackie Wang's Carceral Capitalism. She's been doing amazing work on institutionalized racism, especially through the criminal justice system. We've also been republishing Gary Indiana's work. This season, Three Month Fever, is coming out. That's his psychobiography of Andrew Cunanan, the guy who killed Versace. Chris Glazek wrote the introduction. We're also doing a new work with the Invisible Committee called Now. We haven't got the manuscript yet.
Interview:

Fiona Duncan

Photography:

Max Farago / Total Management