Packing a Pouch with Versace, Prada, and Polo Sport
Knock-Out Belt Bags and Luxury Lanyards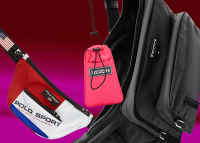 When it comes to accessories, the latest heavy-weight hitter is the pouch. The unlikely contender gains its advantage through its pared-down, no-fuss functionality. Whether a cross-body clout sack, a minimalist belt bag, or a lanyard just big enough for a phone and a card, this season champions the hands-free pouch.

Where a fanny pack was maybe once the garb of an embarrassing dad or a cautionary tourist, it is no longer sequestered to the realm of the oblivious. Prada's 90s-feeling Grey Mountain Pouch is curated clout-pack at its finest.

Something dangling from around the neck has an incredible power to officiate. A badge, a whistle, a festival pass—a long strap is the look of all access. Loewe's sophisticated luxury lanyard makes a case for rendering your credentials in supple Spanish leather.

Versace White Stamped Logo Pouch
Versace Jeans Couture's lightweight wristlet is more like an envelope than a purse. And that envelope contains a message saying: I love Versace, and I don't want to carry anything that weighs more than the combined weight of my cellphone, my JUUL, and my credit card.

Polo Ralph Lauren Silver & Red Stadium Pouch
Polo's silver-and-red Stadium Pouch is a hyper-nostalgic reissue, harkening back to the iconic and beloved designs of 90s Polo Sport collections, and those sexy, sporty, primary-hued ad campaigns we can't forget, some 30 years later. Pure Americana, in pouch form.

This neon, padded Versace neck pouch is like a tiny sleeping bag for your most prized possessions. Cuddle your essentials into this plush nylon neck bag, toggle up the drawstring fastening, and wear it close to your heart.