Expect More Everything From Luka Sabbat
Hanging Out in Montreal with the Millennial Renaissance Man
Interview:

Adam Wray

Photography:

Rebecca Storm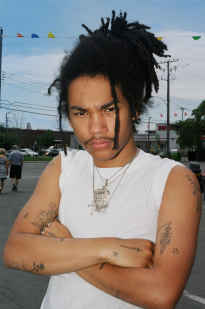 "On a scale of one to ten, how much did your neck hurt?" Mid-prep for a photo shoot, Luka Sabbat is quizzing a hair and makeup artist about his tattoos. Already thoroughly inked, the 19-year-old model/influencer raised between Paris, New York, and the internet is planning on having some work done on his neck when he can find the time. That will be easier said than done.
Between modeling, working on the amorphous project that he and collaborator Noah Dillon have dubbed Hot Mess, and an endless, international itinerary, Sabbat's free time is scarce. He is in Montreal for less than 24 hours, speaking on a panel hosted by SSENSE themed around the nature of hype—a concept with which Sabbat is intimately acquainted. Considering how much of last night bled into this morning, he is impressively chipper. Then again, Sabbat is no stranger to losing sleep. For him, partying is also work, an essential part of the captured-and-shared lifestyle that has made him ubiquitous in a certain youth-centric, fashion-obsessed corner of the internet.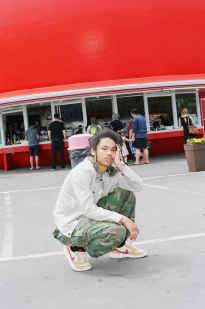 .
At dinner the previous evening, his father, Clark, told me how he's always stressed to Luka that he should never limit the scope of his dreams. While it's a message many parents impart to their children, not everyone internalizes it as fully as Luka. His Hot Mess project already includes photo exhibits and a clothing line, with a furniture collection and a short film planned. "The script's already done and everything," he tells me. Sabbat represents a spirit of boundless creativity endemic to his hyper-connected generation. For him, anything conceivable is not only permissible, but attainable.
During the photo shoot, Sabbat is approached by a group of young women asking if he'll take a photo with them. I ask him if he's getting used to those types of requests. He demurs, saying it doesn't happen all that often. That might not be the case for much longer.
Over a breakfast of french toast and orange julep from the Montreal institution Gibeau Orange Julep—described both charmingly and accurately on Google Maps as an "iconic giant orange orb"—Sabbat and I chatted about video games, the genius of Rei Kawakubo, and his love of furniture.
I've always wanted to make video games. With a collection, you can make clothes for people, but with video games you can create a universe. That's so hard. Brands put their shit in video games now. Vivienne Westwood had her shit in Final Fantasy. Acronym has their shit in Deus Ex. And video game characters have the illest swag. I dress like I'm in a video game. I put together outfits inspired by Dudley from Street Fighter IV. That's the Balenciaga red striped pants with the Wales Bonner shirt. Tekken has some of the illest outfits, period. I can't dress like Yoshimitsu, but he's on my mood board.
ON HIS EARLIEST FASHION MEMORY
I remember crying at some fashion show. Being held by this super famous model, Katouche Niane. Then, probably seeing the Virginia Creeper Raf Simons show. That was one of the hardest things I've ever seen in my life. When we used to live in Tribeca, we had a shit ton of fashion books, and I was going through them, doing my research, when I came across it.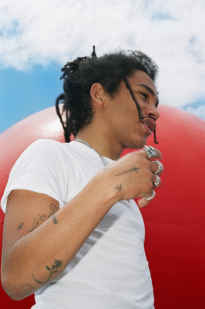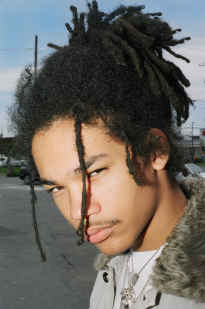 ON WHERE HE'D LIKE TO LIVE
Probably Tokyo. Breh, the fashion. The food, too, but mostly just the fashion. The illest swag. The illest culture. I would live in Tokyo any day. In New York, I rarely see a fit that makes me go, 'Wooooow.' Whenever I see something that impresses me, it's never a fashion guy, it'll be some old guy in a suit that fits funny but looks sick on him. In Japan, there are so many hard-ass fits.
Breh, that's part of an environment. You walk into a room, and the furniture is the mood. It's the vibe. You instantly know how you feel about that room. I want to design the furniture for my own house so when I walk in, it feels like me, it feels like my energy, it feels like the crib, you know? Furniture is way cooler than clothes, for sure. Fuck clothes. With furniture, you can get super creative with textures. You can make furniture as big as you want it to be or as small as you want it to be. It can be functional or impractical but cool-looking. You can play with fabrics, you can play with wood, you can play with concrete, you can play with metal. A million and one things. You can play with marble. You can't make pants out of marble. Well, you probably could if you made tiny, little marble squares. Like armor or something.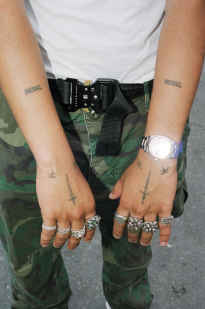 "She's one of the hardest of all time. She's definitely top five. I don't believe at any point in her career she referenced another designer. I don't even know where she pulls inspiration from. Maybe, like, a weird Frank Gehry building or something. I can't even imagine what her mood board looks like. She probably doesn't have one, to be honest. Name another person that had Basquiat walk their show—you can't. There's no such person. I think that's one of the hardest things that's ever happened in fashion."
ON THE ESSENTIAL PURPOSE OF SNEAKERS
These are already dirty, but I don't care because I never plan on selling them. And it says to wear them on the box, or you're a poser. They're sneakers, you're supposed to wear them.
That was never my intention, but it's pretty crazy that I am. My attitude, even with clothes, was never, like, 'This fit is for the kids.' It's more just, 'I like these pants a lot.' There are a lot of things people are doing because of me. I don't even want to take credit for it because I hate being that guy on the internet, and also because it doesn't matter. I just think it's cool that people are doing it. It's not about credit or who did it first, but it does feel good to know you did it first. That's good enough. I'm chilling.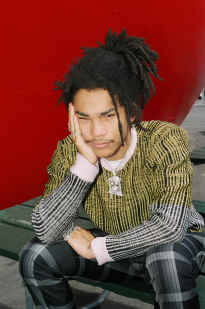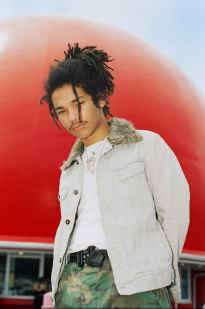 I love L.A. but it's the same shit all year. Winter in New York sucks, but I get super creative during the winter. I just incubate.
She's the best. Just her energy. She has her own opinions and she's super unbiased. If something is garbage, she's gonna tell me it's garbage, even if I love it. She's super creative. She has a really good eye, really good taste in general. She grew up in Costa Rica, away from fashion. Now she knows her shit. She has the best intentions, the most good-hearted person. My whole Hot Mess collection is all stuff I want to see her wearing. A lot of things I do are inspired by her, or based on her. I guess she's my muse.
ON WHAT'S NEXT FOR HOT MESS
More content, more shows, more clothes, more books. A movie. Furniture in the next two years, hopefully.
Interview:

Adam Wray

Photography:

Rebecca Storm