Context is Everything With Ava Nirui
The Helmut Lang Digital Editor on Luxury and Counterfeit Culture
Text:

Romany Williams

Photography:

Ava Nirui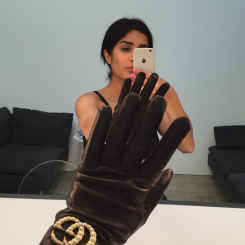 Ava Nirui is in the pit. Shayne Oliver's inaugural Helmut Lang collection is the most hyped show of New York Fashion Week Spring/Summer 18 and the petite digital editor with freshly-dyed red hair is crouched behind an iPhone on a tripod, shrouded by photographers with giant digital cameras in the press pit. In a baggy Helmut Lang logo tee and matching zip-up sweater, she is not here to flex in the front row. She's ready to work.
Under new Editor-in-Residence Isabella Burley, Ava Nirui is in charge of Helmut Lang's digital creative strategy and is helping to shape a new identity for the brand following its relaunch. She's been working full time in fashion's digital realm for years, first in her native Australia followed by a relocation to NYC four years ago. Throughout her career she's unintentionally amassed a sizeable Instagram following, a detail that seems to dominate most conversations surrounding her. In her own words "Instagram is such an awful, insane, amazing, terrible thing. It's nuts." She's known online for her passion-projects-gone-viral. Like when she reinvented Barbie's wardrobe as personal fan-art for her favorite designers. Or the one-off bootlegs and logo flips of luxury brands. The irony that she now works with many of the brands that she remixed in her work is not lost. These irreverent after work projects gained her massive notoriety by accident—and even a Dapper Dan cosign—but they by no means define her.
In the bottom right hand corner of the new Helmut Lang website it says 'The only COMPANY that cares for YOU'—a slogan pulled from a fake Helmut Lang ad shot by David Sims from 1995. "Helmut Lang was a very humorous guy," says Nirui. "There was this old—I think it was underwear packaging that Isabella found—that said, 'Warning: lack of charisma could be fatal, Helmut Lang 1990 all jokes reserved.' She's really looking to bring that humor back."
That classic Jenny Holzer phrase made sense within the context of 90s Helmut Lang and it still does today. Humor and context, it turns out, are now more important than ever.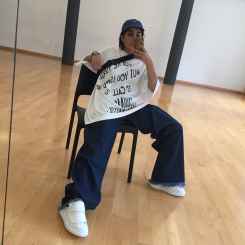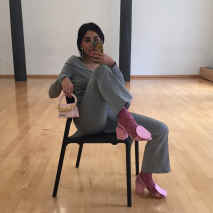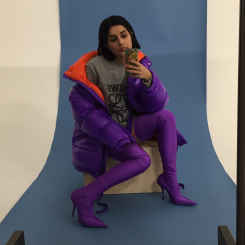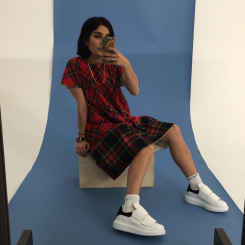 Your first introduction to fashion was designing and screen-printing t-shirts in high school with your friends.
Yeah, it was during the time that electronic and house music was a thing, and the clothing line was very much based on that culture. It was all neon t-shirts. I remember there was a t-shirt that had Pacman on it. It was honestly the worst thing on earth. I was in the ninth grade and we would sell them at school, that was the first experience I had physically making something.
And your mom was really into high fashion at the time.
Yeah totally. She was doing her PhD and she didn't have that much money so she would go and buy these beautiful bootlegs, they were so good that they would fool everyone. If anyone asked her she'd say it's fake, but for the most part people were like, 'how does she have all these amazing clothes and expensive bags and accessories?' She was good at fooling people.
That's a real skill, like the way people are obsessed with picking vintage, it's kind of the same hunt if you're into finding the perfect bootleg version of a luxury handbag.
Generally in history—and especially in Australia where everyone was super affluent—bootlegs were not accepted. People really looked down on them, so at the time, I wouldn't say I was embarrassed by it, but I was confused for sure, because I went to a private high school where all the girls had expensive bags and convertibles and amazing houses. I didn't understand, it didn't register for me, and I was so ignorant to think that. Buying a bootleg is just as cool as buying the real thing.
"To me clothes are not just clothes. They're not just pieces of material sewn together. There's information there and when you consider all the elements that go into it, it's far more than just a garment."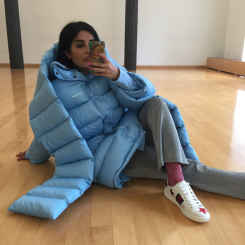 That was the culture at the time, there was a huge crackdown on the counterfeit goods trade, reality TV was blowing up, we were worshipping Paris Hilton and the people who could afford all the real pieces.
I remember my mom gave me this hand-me-down Prada bag when I was in tenth grade and I felt really embarrassed at school because it wasn't authentic Prada. I went to a party and this guy there was like 'nice Rada bag' and I looked down and saw that the 'P' of the Prada logo had fallen off. I remember being so humiliated. But 100% now, if I still had that 'Rada' bag that would be so cool. I was such a product of my environment and I think I was just scared to take risks when it came to fashion. When you're a teenager you want to impress people.
Does your mom recognize her influence on you at this point?
To be honest when I was doing the bootleg project she truly didn't understand it, she thinks it's so strange. The thing is, the bootlegs that she was carrying looked identical to the original. The things I'm making are a new take on an iconic brand, it's not me trying to make an exact copy of something. Also, they're not supposed to be wearable, which is obviously why I never sold anything. They were just meant to be funny and satirical and I think some people missed the point in that way, which is fine, I don't expect everyone to understand it. The word bootleg—my boyfriend once said to me—isn't a reflection of what I'm actually doing. What I'm doing is repurposing or re-contextualizing, it's not technically a bootleg. But whatever you want to call it, it's not meant to be an exact copy of an existing product.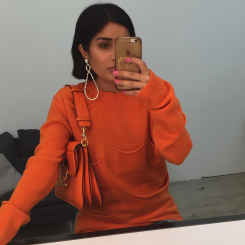 What role do you think satire plays on Instagram specifically? When people are double tapping, how much are they understanding it?
Recently Dapper Dan's son called me and I was almost in tears. He told me how much they appreciate what I'm doing and how much Dan really gets it and understands what I'm standing for and the message behind my work. That was honestly the best thing from the best person I could have ever heard, he's been such a huge inspiration. People fully miss the point of my work and it happens so often. It's funny because it's not only followers that are missing the point, it's often media outlets that are covering my work as well. People said I should make an online store and sell things, and that's precisely why I never did that. I'm not trying to monetize off this commentary. That's not the purpose of it. I was trying to point out in a funny way how obsessed people are with designer culture—including myself—I love designer brands and I love fakes. Originally and throughout it was meant to comment on how obsessed we are as a society with material items and how you can just slap a logo on something and the value of it will completely change. A lot of people who actually work in the fashion industry or people I really respect truly understand where it's coming from, they think it's funny or stupid.
That project started out as a reaction to the saturation of designer logos and then it itself became saturated. It's painfully meta how that happened.
It's bizarre when you consider the context I made the sweaters in. All these little brands started replicating the Gucci Champion hoodie. If you go on Etsy and type in 'Ava Nirui' or 'Gucci Champion' there are a significant amount of them out there. Kids will see the hoodies on Instagram and then comment 'this isn't authentic' and they're not referring to authentic Gucci, they mean because I didn't make it. There are so many layers to it. There's my bootleg, and then my bootleg got bootlegged, and then my bootleg became the authentic. It's insane. I honestly feel like I created a beast.
Let's talk about your Nike project with Alex Lee. It's an extension of the ethos behind the bootlegs but on a much grander scale, it's cool because it can't necessarily be replicated the same way your bootlegs were.
Alex is one of the most brilliant people I know—he is also a creative and he's got such a unique perspective. Nike offered to give us some Air Max's for Air Max day to manipulate in any way. I wanted to repurpose the shoes so they would have multiple functions, so Alex and I conceptualized eight different pairs. We were inspired—in part—by what's going on in the world right now and we tried to make a subtle cultural and political statement. The Velcro shoes for example, we thought were funny in part because it's absurd, something that would never exist, but we made one in white and one in black to reflect unity. Or the bulletproof shoes for example, people could perceive that any which way. The one that looks like blood but we angled it so it was tomato sauce. There were a few other subtle messages, it was kind of like, if you get it, you get it, and if you don't that's fine too.
"I went to a party and this guy there was like 'nice Rada bag' and I looked down and saw that the 'P' of the Prada logo had fallen off."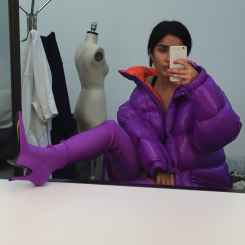 When you're working in such proximity to expensive clothes all the time, you get so accustomed to it, they become somewhat hypernormalized. How do you navigate and decipher meaning in this industry?
Clothes stand for something, so I think dependent on what they are, they're worth something. Their value far surpasses how much money you're paying for them because they are something you can hold onto forever if the quality is there. I like designer clothing because it stands for something super important and you're not going to get the same effect out of an H&M sweatshirt or something from Forever 21, it's just not the same. To me clothes are not just clothes. They're not just pieces of material sewn together. There's information there and when you consider all the elements that go into it, it's far more than just a garment.
Helmut Lang comes to mind immediately when we talk about clothes that stand for something. That experimental spirit is living on through the new company structure—set up like a magazine with Isabella Burley as editor in residence. No one has tried this before, what's it like being involved in a new business model like that?
I started here about six months ago and I had worked with Isabella in a smaller capacity at Dazed where she's the editor in chief, so when she presented me with the opportunity I jumped at it because to me Helmut Lang is such an important legacy brand with an amazing past, it's been awesome working here under Isabella. She's really focused on taking the brand back to its original ideals and core that it was built upon. She wants to celebrate the history and the archive. Her vision is super art focused which I really respect. It's been a pleasure working under her.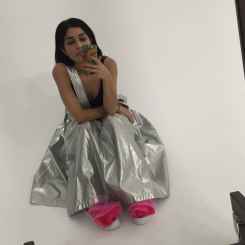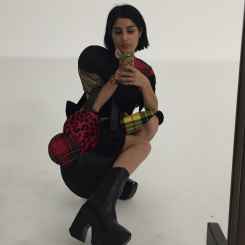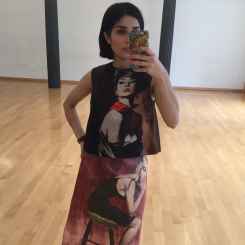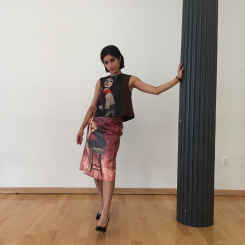 As digital editor, another brand-new position within the company, how do you approach that? What does it entail?
My role is really amazing because it allows me to be somewhat involved in all elements of the creative, from digital marketing and shoot concepts to new collaborations and social media. We're a very small team which is amazing because it gives you tons of freedom, but I work really closely with Isabella on all creative sides. She's so welcoming of new ideas and new approaches.
The first campaign involved a crazy team, what was the idea behind it?
Isabella really tried to keep it as true to old Helmut as possible, so an eclectic cast like Alek Wek who is an old Helmut model, Nicky Rat who is a fucking rock star and Larry Clark who is obviously an icon. It was a combination of new and old, people from Helmut's history, someone like Traci Lords who actually did an amazing Helmut spread back in 1995 for Details magazine where she was wearing all custom Helmut Lang. The cast was so great and I feel like it was a true reflection of her new direction and an ode to old Helmut Lang as well. We're embracing the history rather than turning our backs on it. To me Helmut Lang is the most important designer ever, his influence is immeasurable.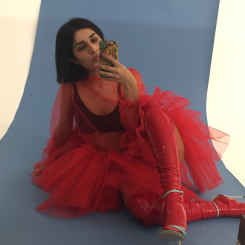 Romany Williams is a stylist and associate editor at SSENSE.
Text:

Romany Williams

Photography:

Ava Nirui

Styling:

Ava Nirui