Contemporary Contrapposto
Imagining Technology's Influence on a Classical Pose
Text:

Rebecca Storm

Photography:

Rebecca Storm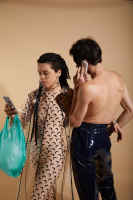 In classical Western art, contrapposto was used to communicate emotion. An air of calm, contentment, or anguish. Botticelli's Birth of Venus. Michaelangelo's David. Today, the way we communicate naturally intertwines with machines. What some call bad posture is, arguably, our bodies relaxing into technology's hold on us.
In her 1984 essay, "A Cyborg Manifesto," the prophetic theorist Donna Haraway deduced that "...in our time, a mythic time, we are all chimeras, theorized and fabricated hybrids of machine and organism." Unlike most futuristic things—which have the potential to age poorly—this statement has become more relevant with time. As with any fluctuation in a system of beliefs, our physical selves have slowly begun to adapt to our technological appendages. The transfiguration of the human silhouette, based on our constant need for stimulation.
The obscene angle of your own double chin when your self-facing camera catches you by surprise. The daily chore of trying to type with one hand while supporting your weight on one elbow. We're hunched over phones at dinner; tangled in a mess of errant earbud cords on the bus; balancing a laptop on our chests in bed. Are we simply conduits for our machines, or do the limitations of our bodies force us to be autonomous?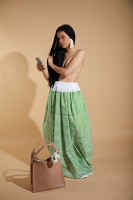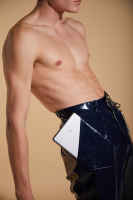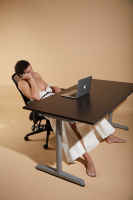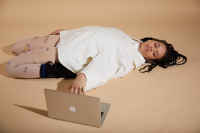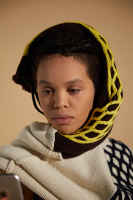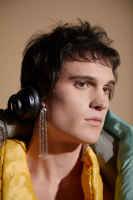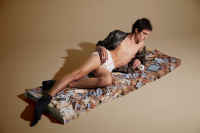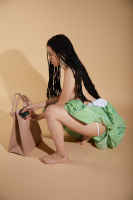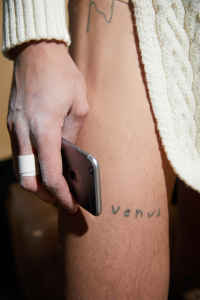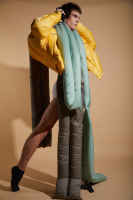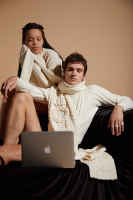 Rebecca Storm is a photographer and editor at SSENSE. She is also an editor at Editorial Magazine.
Text:

Rebecca Storm

Photography:

Rebecca Storm

Styling:

Charlotte Ghesquiere

Hair and Makeup:

Andrew Ly / Teamm Managament

Models:

Chloé Chauvet, Terrance Richard / Faces Mgmt