The Next It Sneaker Already Exists, You Just Haven't Worn It Yet
A Field Guide to the Footwear Trend Mill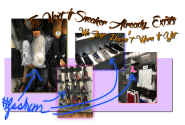 Most people think that "cool" is something subjective and undefinable. But in reality, cool is no more than a constellation of novelty, nostalgia, danger, and the absurd. In the context of sneaker culture, cool is a force that eats pre-existing codes. It occupies the discarded silhouettes of the recent past and recaptures far flung specialty items. This past season's "It" sneakers resembled orthopedic running shoes for the elderly, something unseen in fashion before. This suggests that what comes next will more likely emerge from a website outfitting enthusiasts for kite-surfing, or squash, than on a runway.
Where then, if they already exist, is the next cool sneaker hiding?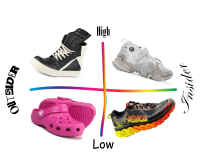 Sneakers have carved out a culture and identity that is distinct from fashion more generally. As a symbol, they have ascended to a unique position of status and sartorial might. Over a decade deep into the sneaker trend, we have passed peak sneaker. We have entered a somewhat baroque phase of the sneaker-head craze. Balenciaga and Gucci, among others, have explored the outer limits of rich detail and ornate embellishment. Whatever the next sneaker is, it will need to contend with the complexity and extravagance of the current moment in shoe design.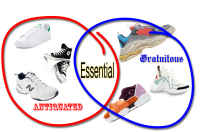 By way of response to the carnivalesque turn, designers have been quick to reinterpret classic sneakers, imbuing them with an uncanny mimetic quality, a footstep out of time, that is simultaneously cool and cringe. These "essential" sneakers lack the cache of being genuine originals, but make up for it by offering a rarified, refined, improved likeness. Both mass market classics and designer reproductions latch onto lingering nostalgia in music, online, in the air, for exhuming its corresponding footwear to be cool. Converse = 1960s, Stan Smith = 1970s, Fila = 1980s, New Balance = 1990s.
Increasingly, designers are pushing deeper than ever to source inspiration. In the past few years, hiking boots, water shoes, orthopedics, boxing shoes, socks and combat boots have all served as reference points for penetrating designs. Utility, rather than nostalgia, is the root and challenge behind what designers hope will make their new shoe cool. Yet there remains a tension between the original design and a designer's interpretation of the shoe. They attempt to mask the outsider status of a shoe whose aesthetics were born purely out of service to their function. They are often inherently ugly—but in this context, ugly is new and new is almost always cool. It's an attempt to invest the wearer with some greater social or cultural understanding. In this way it is the diametric opposite of the designer "classic." However, a shoe can only signify understanding. It cannot contain it.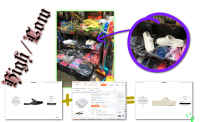 Eventually, the well will run dry, and the rapacious growth that has been driven by novel (or not so novel) new designs will slow. Perhaps the only way for designers to continue innovating is to move as close as possible to the basis of their designs? Perhaps it is the original sneakers that are the coolest of all—the rest mere echoes and corruptions? Or is it even possible that cool sneakers as a social reality are becoming increasingly unviable?
It is worth noting that our formula for cool sneakers complies with the timeless fashion dictum of "high and low." The height of luxury intermingling with the low of proletarian utility. This seems relevant in the context of "fashion sneakers" more broadly, as an item that is inherently for the masses being elevated to the level of runway fashion. In the past this has seemed like the sure-fire way to predict and divine what counts as cool, but for the sake of this exercise, a more subtle approach is required. Not least because the root of the utilitarian sneaker is class appropriation.
There is one activity whose footwear has been so thoroughly mined for inspiration as to create an entire category of women's shoe unto itself. Dance might be the answer. It is high-class, technical, and aesthetic. The ballet flat is so ubiquitous and banal that its origin story gets obscured. I'm suggesting here that a ballet flat is in fact the next cool sneaker. Far from it. But the range and scope of what constitutes a dance shoe is vast, and as yet mostly untapped by hipsters and designers. Specifically, jazz and modern dance shoes come in sneaker form. They have a wholly unique profile and design, informed by a specific set of technical requirements, yet they are loosely meant to resemble sneakers. Capezio Dansneakers® might just be our moment's holy grail of cool sneakers.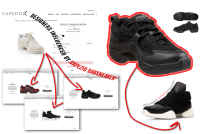 All of which is not to say that they haven't already been the basis for a number of different designer and mass-market sneakers over the years—particularly the distinctive split arch under the shoe—but never before has an effort been made to take the origin of this subtle trend and wear it like a re-issued Stan Smith or New Balance. The shoes fall somewhere between high and low. Their origins are patrician, yet they are deeply insider, which is why I propose that if the idea of a cool sneaker is even tenable today, then Capezios are about to have their turn.
Vince Patti is an artist based in Brooklyn.
Text:

Vince Patti

Images/Photos Courtesy Of:

Vince Patti