New Icons: Back to Basics
New Icons: Repetto's Black Cendrillon Ballerina Reminds Us that Sometimes It's Not that Complicated
Text:

Zoma Crum-Tesfa

Photography:

Kenta Cobayashi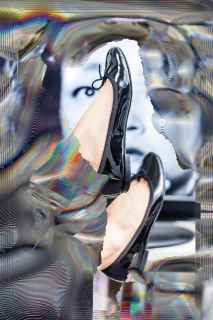 New Icons celebrates the stories behind particularly notable pieces from this season.
Repetto was established in 1947 by Rose Repetto, a mother who made shoes for her son to dance in. With such a raison d'être, the shoes became the envy of many. Soon actress Brigitte Bardot asked Ms. Repetto to make a shoe as soft and flexible as a ballet slipper that she could wear everyday, and voilà! An attitude of the era was encapsulated forevermore in the Cendrillon.
Fast forward for a moment to the present day: There was a time when I had a Kim K RSS feed on my phone, but it became too painful. I had to delete it. Every time I got an alert that dear Kim attempted to wear lace-ups or thigh-high/platform-whatevers through airport security, I wanted to scream, "Enough!"
What is this Kafkaesque charade we play?
In this often too cruel world, sometimes the cruelest gesture of all is the inability to allow ourselves to lean in to the so-called "basic." The basic resides within each of us, a sort of "will suffer no fools" attitude that we call upon to get us through bureaucratic indignities like security checks, finals week, and any job requiring you to wear black. On such occasions, some of us may reach for a loafer or an oxford, or perhaps even a one-inch woodblock heel, but nothing is so perfectly nonchalant as the ballet flat. Simple and to the point, the ballet flat is truly a resonate icon of our time. It is worn by all, from starlets to First Ladies, from college co-eds to the experienced club mistresses who tuck them into their purse until the end of the night. These slippers whisper, "shh…enough."
Taking its name from Prokofiev's ballet and dear protagonist, the wonderfully ephemeral Cendrillon debuted with Bardot in the film Et Dieu…créa la femme. Together a statement was made about the sexuality and attitudes of the contemporary woman, from which we all descend. Today, that attitude is not forgotten, yet it is being marginalized somehow. Various brands have sullied the name of the ballet flat, using the simplicity of their arousing style as a conduit for something less thought-through. However, to paraphrase the final admission of Kafka's protagonist in "A Hunger Artist," let us not starve ourselves because we never found a dish we liked! In patent black with grosgrain trim, these shoes don't just say "enough," they remind onlookers that for some of us, sometimes, it's not that complicated.
Text:

Zoma Crum-Tesfa

Photography:

Kenta Cobayashi