Yaminah Mayo Doesn't Want to Influence Anyone

Chronicling the Come Up of Blogger Spicy Mayo
Interview:

Erika Houle

Photography:

Brad Ogbonna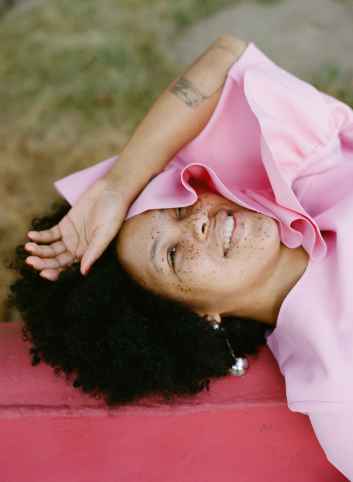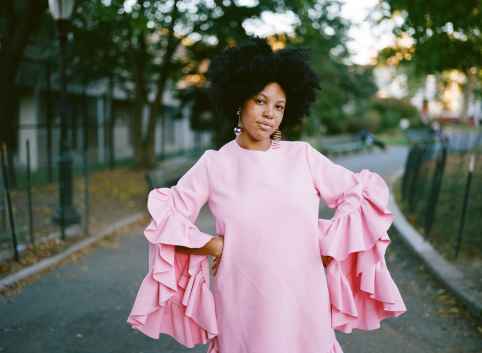 Yaminah Mayo is exactly what she dubs herself: spicy. She sports crop tops to brunch, favors the color orange, and selectively dictates her own schedule.
She never hesitates to strike a statuesque pose—no matter where in Brooklyn—and uses phrases like "It's getting raw like sushi out here!" in reference to America's current political climate. With an insouciant sense of humor and a freckle-painted face that (quite literally) glows, the 25-year-old blogger is here to be real, not followed.
Mayo isn't satisfied with a seat at the table of modern-day influencers. Despite the lucrative allure, her intentions are not to sell product. Amid a sea of solicitous brands, she recognizes her individual accountability. "If it doesn't align to exactly what I want to do, I'm not going to do it," she says. Instead, Mayo aims to foster communities of like-minded women and create environments that reflect her ethos. By day, she works as a receptionist at NYC women's club, The Wing. By night, she practices affirmations and gives vent to her cultural scrutiny on social media. Her fashion clout is merely the foundation for her platform—"I'm manifesting my best life one outfit at a time," she says.
In just a few years, Mayo has hosted iTunes podcast Girl on the Glo, been the face of Mansur Gavriel, and honed the reputable voice of her personal blog, Spicy Mayo. I asked her for a glimpse of a day in her life, but inevitably, she had a much larger story to share. From struggling with school to swearing by Solange, Mayo divulged how she put herself on the map.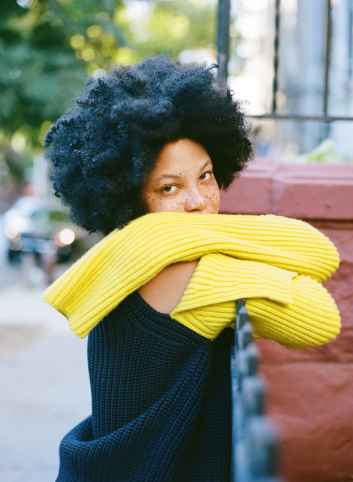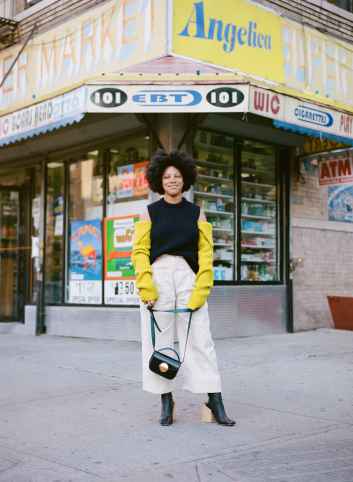 ON OVERCOMING ACADEMIC APATHY
Boston is a huge educational hub. When I was younger I was doing programs at Harvard Medical School and Boston University of Medicine because that's just what you did. It was really cool but also intimidating—everyone was always going for the top grade and I was just in class like, "I don't even care about this stuff." At one point, I would literally catch the train back and forth between stops the whole day because I did not want to be at school. I went to Northeastern University for a year, but I was distracted. I had a boyfriend who was always cheating on me so I was always investigating him instead of doing homework. I ended up leaving because I hated it.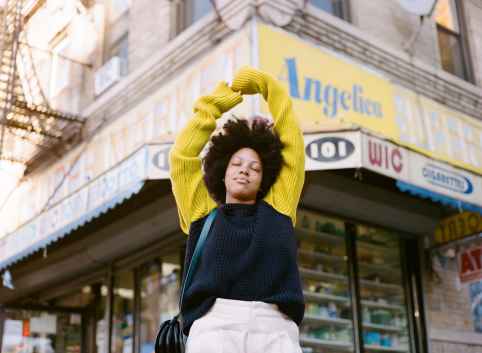 ON INVENTING OPPORTUNITY
I was volunteering at the International Film Festival of Boston and I met Lake Bell. How to Make It in America had just been cancelled, so I went up to her like, "Oh my gosh, I loved your show, I'm trying to get into writing," and gave her a piece of paper with my email and phone number, which was pretty bold. A couple weeks later I got an email from the producer who was then working on Nurse Jackie. I took it as something way bigger than it was, and when I met with him he was like, "Come back next Friday and we'll show you around." I came back and met with the costume designers behind production's back. I went to their doorway like, "Hey, I'm an intern here. If you guys need help, just let me know." They were like, "Be back tomorrow at 7AM." [Laughs] I did that for the rest of the season. I remember one day there was all this extra security because Michelle Obama was in the building. I didn't get to see her—Secret Service does not play—but being in the same building as her was enough for me. I would catch a bus on Monday night, figure out a place to stay for two days, get to set, be exhausted and malnourished, and sleep when we would pick up clothes. No one approved it, I was a backdoor intern. My mom was like, "Just move to New York."
ON NAVIGATING NEW YORK
I moved to New York in 2014. You know that episode of Girls where Hannah looks in the mirror and says, "I live in New York so I'm naturally interesting"? That is the biggest truth I have ever lived in my life. I could literally be like, "Yeah, I pooped today," and someone would be like, "Oh my god, how was that in New York?" I knew I wanted to be in the creative industry to work in fashion, so I started working at Opening Ceremony after three attempts—when I want something, I want it. That introduced me to a high-level clientele—I remember I helped Miranda July figure out something to wear for one of her book signings. I didn't know who she was at the time. She was like, "I just wrote a book," and I was like, "Do you want to wear this Kenzo or not?" I helped out Abbi Jacobson from Broad City and I described her sweater as a Cosby sweater during the controversy—I was like, "Oh my gosh, why did I just say that?" Andre Leon Talley said two words to me and I was like, "I am fashion." It was a cool place to hang out. It taught me you don't have to be a jerk to be ballsy. You don't have to cross lines in order to get your point across. Sometimes you do, but not all the time.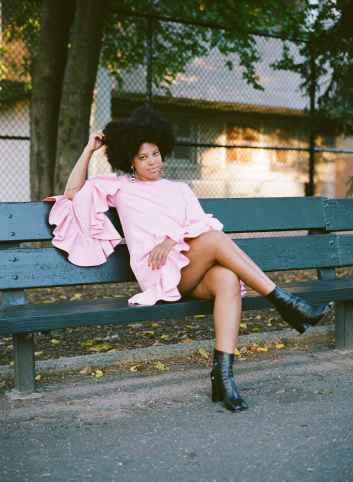 You don't have to be a jerk to be ballsy. You don't have to cross lines in order to get your point across.
ON THE MAKING OF A NAME
There's this spot called Mikey's Burger where we would go to gossip about what was going on at work, who was getting fired and why. They had this spicy mayo that I loved putting on my cheese fries, I would drown it. This girl was like, "Okay Spicy Mayo!" When I was trying to figure out a name, I wanted it to be something funny that I could use for a long time that wasn't cheesy. I love fashion, but I want to talk about it in a different way. Not like, "This is my favourite shirt because it's pink and I love pink."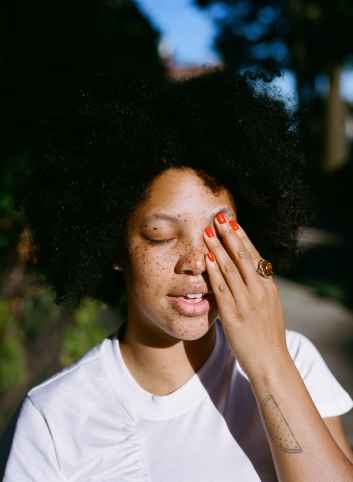 ON LOOKING TO SOLANGE
When my biggest motivation, Solange, had her blog on Tumblr, it was like my Sunday Times. I would not look at it the whole week and then on Sundays, with tea, I would just scroll. It introduced me to her friends like Melina Matsoukas who shot some of my favorite music videos in high school, and who now directs Insecure, which is my favorite show. She introduced me to so many people who influence my work as much as she does. The fact that she doesn't compromise herself is one thing I'm trying to apply to my life now. With people saying, "We want to work with you, we want to send you this stuff, but there's no pay," when I'm basically doing their marketing, that's not how it works. I had to have that conversation with my agent this week. They sent me out for an e-cigarette casting and I don't smoke. I sent in the crappiest video I could because I did not want to get it, but I wasn't going to flake.
I love fashion, but I want to talk about it in a different way.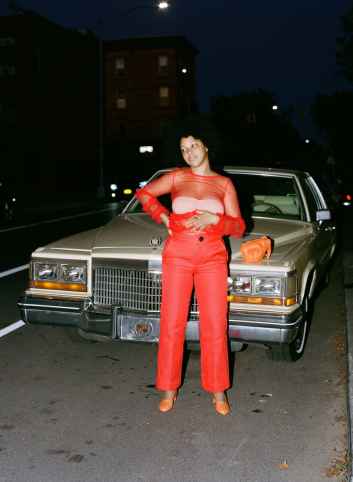 ON CREATING COMMUNITIES
I want my blog to be raw, I don't want it to be too curated. I hate feeling like I'm lying to people. I don't even tell people to buy the stuff I wear. I don't want to sell products as much as I want to create community. My goal is to start creating events that put communities in the center and focus on that, as opposed to just being like, "I'm an influencer." I really despise that word, I don't want to influence anybody to do anything they do not want to do. There's nothing wrong with that, but if you're not helping anybody else, what's the point?
Interview:

Erika Houle

Photography:

Brad Ogbonna

Styling:

Yaminah Mayo