User Experience:
Glossier NY
Placebo Makeup, Emotional Commerce, and Design "For Women"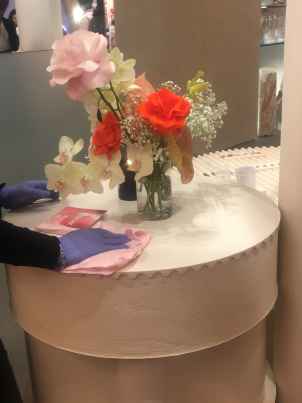 In New York, all of the brands that advertise to you everywhere online suddenly sprout up as physical stores. In an As-Seen-on-Instagram inversion, a link solidifies into a brick-and-mortar flagship, where a brand then flexes its ability to design a space around a homepage. Given that it's what's on the inside that counts, how does a blog-turned-beauty brand famous for its eyebrow gel design an interior?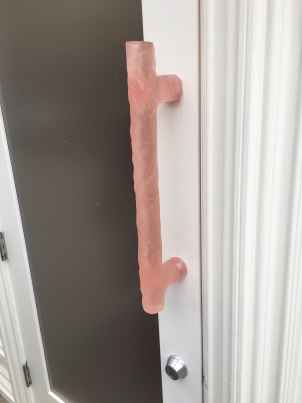 "The brand's done to the building the same thing they promise to do to your face."
Glossier is a brand for women—like the beautiful, internet-famous women they find to represent them. Paloma Elsesser, Coco Baudelle, "real" girls sought through social media for their magnetic personalities. In a video-tour of the dewy pink new space on Lafayette—the brand's done to the building the same thing they promise to do to your face—Glossier brings along Instagram-adored Paloma to guide us around in a satiny robe, as if it's her home, as if you're having a slumber party.
In real life, unguided by Paloma, I enter the new flagship—the door handle has been replaced with a pink thick phallic icicle thing that also seems dewy, but isn't. It reminds me of those crystal chakra dildos, which conflate self-care (masturbation) with vague spirituality. Inside there is a grand, kidney-colored stairway with a granular pebbly texture. The pinks and reds make me think of the episode of The Magic School Bus where Miss Frizzle takes the class inside the human body. As I ascend the staircase, I look up to see a circular skylight giving off a soft "light at the end of the tunnel" halo. This is what you might see if you were drowning and trying to swim towards the surface.
At the top of the stairs there are some very small grey-pink chairs that look to be made of plaster of Paris, and not like something you would want to sit on. Between them is a plinth-y table with a top that's scalloped like icing on a cake (One of the jumpsuit girls chimes in that the table is made from old moisturizer lids). A Byredo candle sits on top—making the whole place smell floral—and next to it is an exquisite arrangement of flowers which seem fake but on closer inspection are real. The flowers, their upkeep no doubt an enormous money-suck, and the scattered slabs of unpolished marble and granite, betray a desperation to associate with the organic. If nothing else, I like the flowers: they are so beautiful, so expensive, and remind me of Bjork, who embodies a kind of femininity that is comforting to think of in this moment.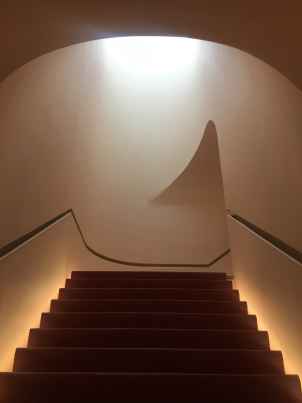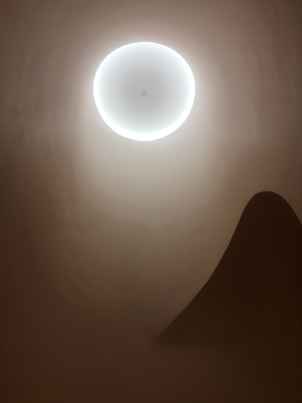 "This is what you might see if you were drowning and trying to swim towards the surface."
Glossier is very consistently pink. Pink, and an old-blood red. It's pearly and glowy, synthesizing both the human idea of heaven (diffused light) and the human body as it is on earth (oozy, leaky, gooey, wet). There are touches of peachy-orange in places, accent colours, like in the Bjork bouquets—roses, orchids, other flowers I don't know the name of. On one wall is a plush red bench mimicking engorged lips. This is clearly design "for women," yet it seems like a parody of design for women, the adult version of painting a baby girl's nursery pink.
I've always thought the products here are sort of variations on well-branded Vaseline. As one of the harbingers of "no-make-up make-up," riding a wave of the moment where dew is everything—in which wetness truly is the essence of beauty!—Glossier products aren't really meant to be noticed. They are meant to make the wearer look so slightly smudged. This is placebo makeup. Which is not to say placebo makeup is not effective in making someone feel better—more beautiful, more in control. (Glossier, until recently, did not publish their formulations, as CEO Emily Weiss believes the customer does not care what's in a product, so long as it works—in this instance, what's on the inside doesn't count).
This new flagship is part of what Weiss calls "emotional commerce." That is, a business model which wants to reaffirm retail as experiential—related to art and discovery—which means they include things like the Wet Bar, a passage with sinks and mirrors on either side to make the customer feel like they are at home in their own bathroom. Glossier does not, however, have an actual bathroom—"There's a Starbucks down the street," one of the "Offline Editors" tells me. (So I go to the Starbucks down the street, wait for fifteen minutes to use the bathroom as a woman blow dries her hair under the hand-dryer, and then return.)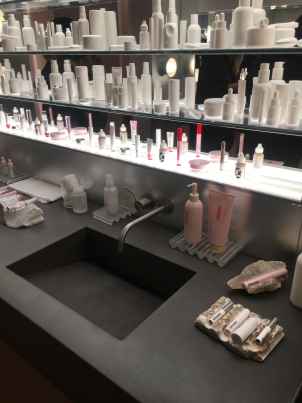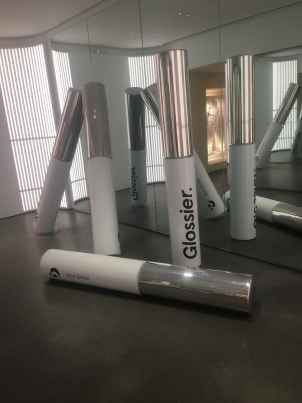 "I don't particularly like Boy Brow because I already have Man Brows."
Beyond the Wet Bar, there is something many pieces written about the store at the time of its opening mention as an exciting feature: The Boy Brow Room, in which larger-than-life-sized replicas of the brand's eyebrow gel lean against each other, surrounded by mirrors. I guess you would call these "sculptures." This room is intended to be an "experience," to produce "content moments," and I'm underwhelmed. (Keep in mind I don't particularly like Boy Brow because I already have Man Brows, and that I hardly use social media so I have no use for an Instagram room.)
I reflect on Amanda Hess' existential summer of Instagrammable pop-ups, which she wrote about for the New York Times: "By classifying these places as experiences, their creators seem to imply that something happens there. But what? Most human experiences don't have to announce themselves as such. They just do what they do. A film tells a story. A museum facilitates meaning between the viewer and a work of art. Even a basic carnival ride produces pleasing physical sensations."
Through "emotional commerce," creativity, discovery, and community are facilitated at Glossier insofar as those customer feelings amount to profit. Being creative means taking selfies to indirectly promote the brand to your friends online. Discovery means trying on products and buying them, and community means either talking to the associates who are paid to be friendly, standing near other people interested in feeling beautiful, or convincing a stranger they need what you have.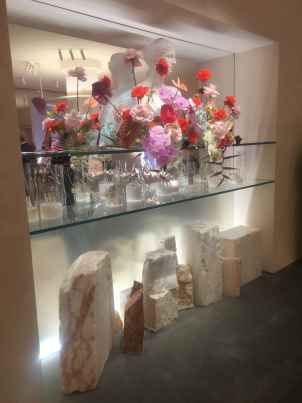 "The most that these spaces can offer is the facsimile of traditional pleasures. They take nature and art and knowledge-seeking, flatten them into sight gags and stick them to every stray surface," says Hess. There are mirrors everywhere, and some of them have "YOU LOOK GOOD" written on them, representing thousands of Girlboss content moments waiting to be born.
The popularity of Glossier recalls a certain era in the mid-2000s when cupcakes were really exciting, even somehow emblematic of female empowerment. Sprinkles and cakes and fantasies of girlishness, leaning into being an adult child. The Glossier flagship feels to me equivalent to a Cupcake ATM, a hybrid of cute-sy and girly and opportunistic—gooey sweet and commercially efficient (their featherweight products arrive at the customer after sale by way of conveyor belt).
Glossier's popular Milky Jelly cleanser is a rosy, viscous frosting-like substance—a confection you put on your face rather than in it. Someone recently told me that "milks" are more moisturizing than gels or foams, which strip too much of the skin's natural oils—this is the kind of thing I learn now without even trying. With winter and its drudgery here again, I can't argue that a girl needs more moisture and something, anything—a cupcake, a Jelly Cleanser—to make her feel good.
I do my final circle of the store, asking myself why I'm here. I see the brand's signature pink employee jumpsuit, framed and lit like a Rock and Roll Hall of Fame relic. Can a beauty brand have any influence on what we wear? Online, desperate customers have asked for years where they can buy Glossier's pink boilersuit. To everyone's continued surprise, they are not available for sale–they are custom-dyed and exclusively for the employees. You can however, purchase an identical knock-off, now on deep discount at a number of online stores, or a great-many pieces from SS19 collections in a very Glossier palette—pink, peach, red.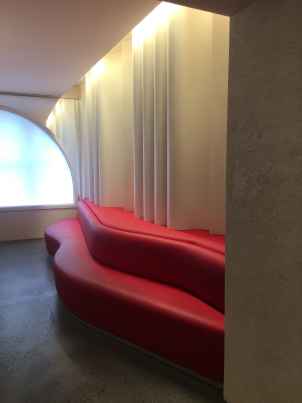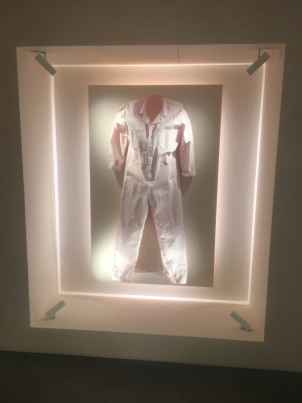 Olivia Whittick is an editor at SSENSE. She is also managing editor at Editorial Magazine.