Nothing is Sacred for Creative Director Mike Meiré
The Influential Designer Sits Down With Adriano Sack to Talk Logos, 032c Magazine, Augmented Reality, and Le Corbusier's Ass
Photography:

Adrian Crispin

Interview:

Adriano Sack
The following piece is part of our week devoted to Creative Directors.
We have our last drink at one a.m. in a cocktail bar called MD in Cologne's Belgisches Viertel, just a couple of blocks from where Mike Meiré lives with his wife Michelle Elie and his three sons. He talks about his building plans for his agency Meiré und Meiré that he has been running with his brother Marc since 1987. Two landmarks, as he calls them modestly, one by David Adjaye, the other by Neri & Hu. There are still some issues with the building permits but Mr. Meiré is not one to give in to obstacles tiny or huge.
Meiré, 54, is a creative director, artist, and designer whose work for cutting edge magazines like 032c and Garage, as well as for major clients like BMW and Telekom, is constantly blurring the lines between customer service and concept art. We have been chatting for almost nine hours and if I recall correctly there has not been a dull second. His mind is as fast as his omnivorous appetite for fame, fun, and fortune requires. His self-deprecating humor balances his childlike need for acknowledgment and attention. He is wearing his signature Tom Ford glasses and a dark blue sweatshirt with a "Bauhaus" print that he designed for the 100th birthday of the legendary German art school. "Should we have a last drink at the hotel bar?" he asks half-convincingly when he drops me off. The next morning he texts me that he fell asleep at his kitchen desk with the fork in the Nutella jar. Hard to believe but true: even insatiable over-achievers sometimes need to sleep. But let's rewind to the conversation we had on a Friday afternoon in January at his agency called "Factory" and his art studio called "Atelier".
I feel quite close to you in my everyday life. In my bathroom, there is a pink Courrèges-bathtub and next to it the famous three-legged Stool 60 by Finnish architect Alvar Aalto that you modified in different color variations. The seat is painted in white, two legs are wooden, one is pink. What is that: appropriation art? Product design? A game?
A little bit of both. You can only do that kind of game with a truly iconic piece. It allows you to play with the perception. I asked myself back then: What is the current Zeitgeist? The mood was "embrace the mistake." So I took the stool and painted the legs individually so it looks different from any perspective. My approach is either intellectual or totally impulsive and spontaneous. What I like is to "Schumpeter," a verb named after the economist Joseph Schumpeter. You enter stable and learned systems and try to shatter them. You discover mistakes—or install them. That is rather anarchic but you achieve innovation. My color palette oscillates between Bauhaus and Memphis. The second big design revolution of the 20th century.
There were only these two. Both stood for anarchy. Memphis was following the rules of passion. But so did Bauhaus as we are learning today. There was a lot of parties and fooling around. And both were movements driven by formal questions. A Memphis chair is by no means less comfortable than a Bauhaus chair. And the latter was looking for new standards. The designers had the urge to make quality accessible and available. For years I have been fascinated by the Monoblock, this omnipresent, cheap, ugly plastic chair. Being a visually sensitive person this thing was killing me: you are at a precious place like Venice and boom! there it is. One day I found a monoblock on the street, took it to our Factory, and with an edding (felt-tip pen) I scribbled all the words that I associated with Bauhaus glorious past: Le Corbusier, L'esprit nouveau, Mies van der Rohe, Heroic Modernism. I wanted to neutralize the ugliness by adding an aesthetically important reference system.
What is the first question you ask yourself when working on a project?
How to break through the conditioning. I get the best ideas in German trains because the wifi is so terrible. The images take 30 minutes to slowly crawl down your screen, there are all sorts of amazing bugs, mistakes, and misshapes. You can do wonderful screenshots.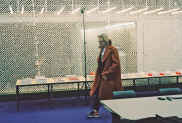 The portfolio of your agency Meiré und Meiré is vast. You might be best know though for your editorial work for 032c and Garage. What was the kick?
When Joerg Koch, founder, and publisher of 032c, came to Cologne, the agency was full of stuffed animals in cages that I needed for an art installation. "Mike, you are even crazier than me. Would you do 032c? The next issue is about energy experimentation," Joerg asked rather bluntly. I started out making the font/the text less readable. One of my initial considerations was: What does a dangerous magazine look like? I turned the logo from white to black. That's meaner. And I stretched the font. That lead to my first shit storm. For any typographer that was an absolute no-go. I was considered one of the pioneers of the "new ugly".
Nope. We thought it might look interesting. I am always looking for the code of now.
What else is important for a magazine?
Sex. I learned that from Peter Saville. But in the end, each magazine poses its own unique questions and challenges: for Kid's Wear we created a so-called liquid identity, each issue looks completely different. And for Kunstforum we replaced the logo by a bar of red color.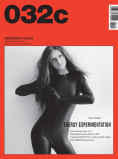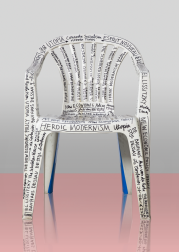 Nothing is sacred. For Garage, we created a font combining seven different fonts with software that picks the letters randomly. Subversive typo-punk. Dasha Zhukova, the founder, did not really notice first which might have to do with the fact that she looked at the layouts on her Blackberry. Eventually, she told me that we had a really cool font. One of her main goals was a playful, human approach for the digital age. Which is why we developed the first Garage app for Augmented Reality. For the seventh issue, Charlotte Stockdale photographed the three supermodels Cara Delevingne, Anja Rubik, and Binx Walton with the iconic Jeff Koons bunny ears. With the data from Koons's studio we programmed his first virtual artwork, the Lady Bug. We used print as a stage for 3D-augmentation. After that came the collaborations with Beats by Dr. Dre/Apple and Marvel comics. Which was one of the reasons that Vice bought the magazine. Our agency does not make money with editorial jobs but we learn a lot and develop case studies for other clients.
I am torn. On one hand, tradition defines the value of a company. On the other hand: Why do we reanimate corpses all the time? More and more companies like Rimowa or Burberry throw away their identities and appear in post-digital flat-design. But maybe these young entrepreneurs like Antoine Arnault are right: Who really cares where the grooves in the aluminum suitcases come from? That they were derived from lightweight aviation construction? Is that still relevant? What seems iconic and precious today was profoundly radical at the beginning. You have to get rid of things to create new icons. If you do not take risks today, don't be surprised if there are not new classics 20 years from now.
Hell, no. I fight for the light. I am a mind designer. My teacher was Gerd Gerken. I was working for Brockhaus in the 90s and he was a coach for the sales team. One of his seminars was called "Selling by Nonselling". I thought that was pretty kicking. I was so in love with this man. He was 25 years older than me, incredibly clean and straightforward, Yohji Yamamoto total look in dark blue. So eloquent! During his lectures he was playing ambient sounds by Brian Eno and burning incense. He explained to the salespeople that they had to establish secret complicity with the client. He needs to discover the advantages of the product himself. You only guide him through the process, but you do NOT sell anything.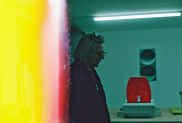 Is that your technique as well?
Sure. I was with him for 11 years. He started mind design, blurring conventional medicine with high tech and establishing a new shamanism. With dances, breathing and eating rituals. We met once a year with a group of people in Worpswede: nuclear scientists, cancer patients, start-ups, all sorts of people. I was perfect for him: 27 years old, recently married, Porsche, totally successful. Everybody asked us for advice. And I wondered: Who could I ask? As a mind designer you are aware that you can configure your own hard disc. The basic question is: How do I find my personal bliss? How can you be convincing during a presentation? Very simple: When you enter the room you touch objects. Later on, you stand in front of a window (aura boost) and your gaze is roaming through the room. The objects you touched earlier remind you to smile.
Next to the Factory, there is a little, two-story studio where you produce art. Do you see yourself as an artist?
I have always been one. I did not start out in the 80s to be a creative director.
What is the difference between your work as a creative director and as an artist?
Over there in the Factory things have to be didactic. I have to be able to explain them. I create my art in the slipstream of my other activities. Sometimes I take some clay and say to myself: the sculpture has to be finished in 15 minutes. That is a result of constantly working with deadlines of course. I could brood about formality for years. I just don't feel like it.
Do you feel accepted by the art world?
Forget it. Not in this life. But I know I did some really good pieces. In the end, it's up to others to decide. Tomorrow I go to an opening in Soest. One of my early works with newspaper is hanging next to an On Kawara. That is pretty cool. Quality prevails. The art world feels uncomfortable if somebody does not have a traditional academic background. But look at Warhol. He started as a graphic designer, too.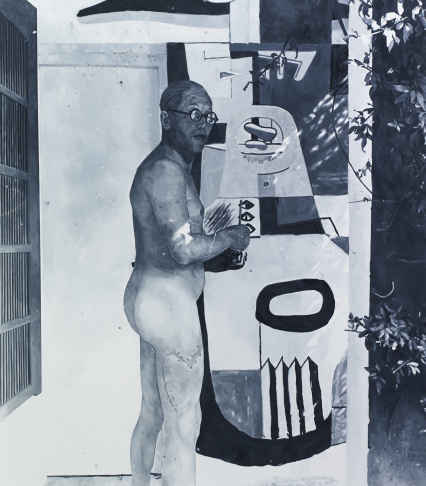 There is an old photo, that I had painted in oil. It shows Le Corbusier, naked, painting the beach house of Eileen Gray. He was the superstar architect at that time, but Gray had just built the iconic house E1027. He was not even invited, but he is standing there, naked, only dressed with his signature glasses. A perfect metaphor for the ambiguity of being. Intellect and instinct. He can't allow the masterpiece to be seen by the world and has to piss on it. Like a stray dog marking his territory. The image is an incunabulum of everything that interests me: naked asses, instinct, standards, ratio, control, loss of control. Bauhaus at its best. Today everybody collects art and if I look at works of Ida Ekblad, Yngve Holen, or Anne Imhof, I think about the now, the art market, whatever. But not with the Le Corbusier photo-turned-into-a-painting. I've been coming back again and again to it in my creative process. Right now it is the biggest piece of art in my eyes. Art is about giving soul to objects. And it is enough to touch just one other person with it.
Adriano Sack is the style editor of the Berlin-based Sunday newspaper Welt am Sonntag and wrote several books, among them "The Curious World of Drugs and Their Friends".
Photography:

Adrian Crispin

Interview:

Adriano Sack

Images/Photos Courtesy Of:

Meiré und Meiré