Future Curves: Buckminster Fuller
A Look at the Designs That Invented the Spirit of Tech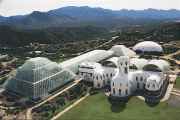 "We are called to be the architects of the future, not its victims," said inventor-philosopher Buckminster Fuller. Envisioning a world where "industrialization trends swiftly and altogether transcendentally to man's conscious planning," Fuller believed in technology's absolute potential. He saw architecture itself as a tool for change, making his work an early instance of the Silicon Valley push to deploy tech to solve social problems. While other mid-century architects were focused on streamlining traditional forms, Fuller's experimental designs fundamentally reimagined habitable space. His geodesic dome, first erected in 1949 as a concept for military housing, has come to represent not just his work but an alternative aesthetic focused on finding radical, communal ways of living outside the norm. Since the 1960s, Fuller-inspired domes have appeared across the cultural landscape, from rural communes, to music festivals, to iconic institutions like the Montreal Biosphere. An alien break from the dominant square discipline of most 20th century structures, they represent a countercultural vision of modern architecture—a glimpse into another design timeline with different and increasingly appealing values.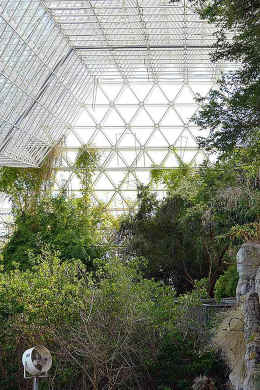 In the 1920s, Fuller began experimenting with modular housing, creating his Dymaxion House—a portmanteau of dynamic, maximum, and tension—which promised to be a fully mass-produced home that could be airlifted anywhere by dirigible. The Dymaxion House was an aerodynamic silver dome, designed to maximize efficiency of air flow and usage of space, and it was meant to be affordable—Fuller was onto the tiny home trend long before it returned as a millennial obsession. Around the same time, Le Corbusier in Europe was working on his own version of efficient housing, or what he called "a machine for living in." But where Le Corbusier's focus was on the aesthetics of minimalism—less is more as aesthetic praxis—Fuller insisted on doing more with less.
Fuller's focus on "doing" aligned his work consciously with technology rather than design. Instead of being conceived primarily as aesthetic space, his buildings were designed not as machines to live in but machines for living, where the home was a solution not just for one family but for humanity's collective problems. "I have come upon the thought that housing was responsible for practically all of our ills—this preconceived idea of doing things on a vanity basis rather than having things done on the basis of the clearest, most intelligent research test of science," he said. Like today's Silicon Valley technologists who see every issue as an endlessly scalable challenge to overcome, Fuller saw his Dymaxion House as a practical solution to a global housing shortage.
"His buildings were designed not as machines to live in but machines for living."



Fuller's dome was conceived not simply as architecture, but as a symbol of new forms of social and spatial organization. In the same way that the dome's frame is composed of identical, mutually-supporting triangles, Fuller imagined an infinitely-scalable social infrastructure that was focused on efficient collectivity rather than individual identity. In 1960s communes like Drop City in southern Colorado, American hippies made domes out of everything they could collect from scrap heaps, from car metal to bottle caps, in what became a viral craze for the alternate mode of living promised by the dome's elemental shape. Fuller's preference for function over personal expression extended to clothing, arguing in conversation with the Maharashi Mahesh Yogi in 1971 that expressive personal style did not support the greater social well-being. Fuller said that his fashion sense was that of a "second-rate bank clerk" because he felt that when he was focused on his own style he wasn't "turning his faculties to the advantage of others."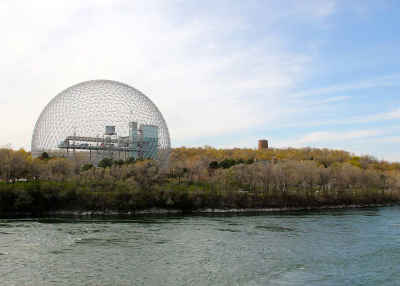 "Fuller's work offers a kind of visual language for at least one strain of radical imagination."
Fuller's function-over-form, solution-oriented ethos is resonant in this current moment of instability. Faced with social and environmental breakdown, we find ourselves contemplating stark options: revolutionary social change of some form or another, or a kind of aestheticized resignation to our unknown futures. If most of the prevailing aesthetic trends are about making our descent into dystopia as cool or simply endurable as possible, Fuller's work offers a kind of visual language for at least one strain of radical imagination. At the Montreal Biosphere, a structure designed by Fuller for the 1967 World Fair, the dome itself is an airy suggestion of the museum's global focus. Within the globe, the exhibition spaces of the museum appear, elevated, like so many granaries in a factory. Entering the museum is a bit like stepping into a world focused on environmental sustainability, fundamentally different from the overheating, oversaturated one we currently inhabit.

But even as Fuller's domes and their ubiquity speak to our desire for a utopic option, their various implementations sometimes end up suggesting its opposite. The inspirational purity of the Montreal Biosphere, whose climate is even managed cleanly by the circulation of groundwater, has its own dark mirror in Tucson's Biosphere II, a geodesic structure designed to replicate the Earth that ended up closing because it was consumed by its own toxic byproducts and organizational infighting.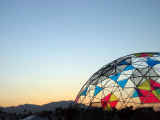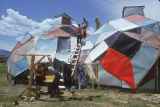 In Fuller's 1975 essay on how he imagined the year 2025, he wrote, in his characteristically eccentric style: "There will be one world management organization similar to but greatly improved over those of the 20th century U.S.A. 'city manager' functions. The one world management will be taking its instructions directly from the computer read-out volitions of the majority. When the majority discovers a given decision is leading humanity into trouble, the popular realization will be immediately computer manifest and the world management will alter the course accordingly." Fuller's imagined Big Data-managed global society is, in the contemporary political era, hardly utopic, but eerily familiar and on-trend. Like smart homes and all-connected-everything, what sounds efficient and freeing may also create new issues and fallibilities. The questions Fuller's work provokes, in his faith that technology can overcome our failings, are the same posed by more modern attempts to moderate our social and environmental issues technologically. Are we approaching an era of technologically-assisted darkness, or post-apocalyptic light? Are we on the cusp of revolution, and if so, whose? We know technology is transforming us, but is it for better or for worse?